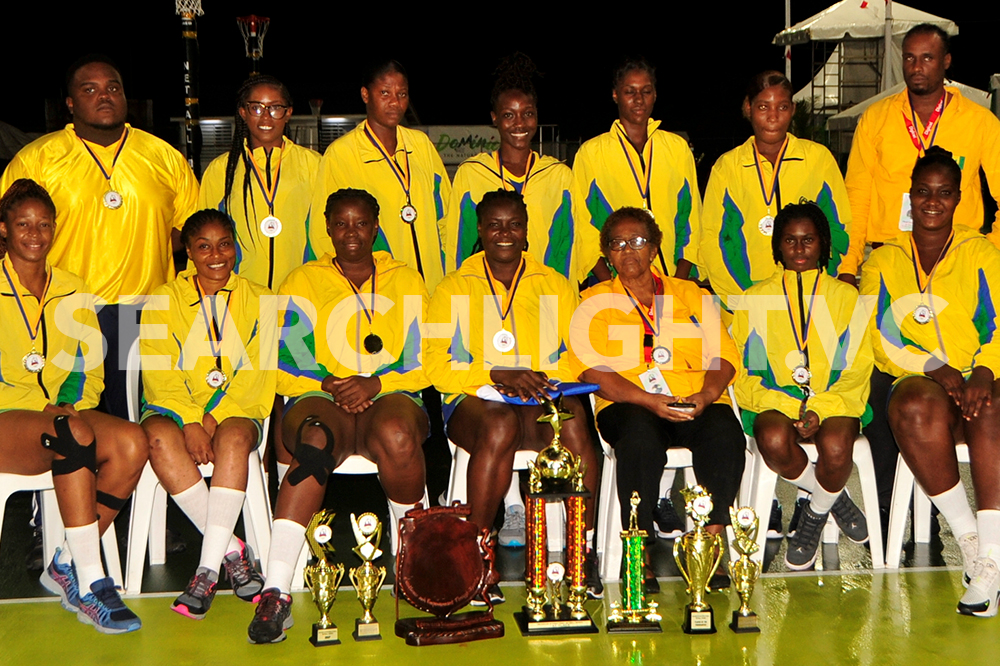 Front Page
February 22, 2022
SVG dedicates winning OECS/ECCB netball tourney to sacrificial helpers of the team
Captain of the victorious St Vincent and the Grenadines (SVG) team in the just concluded OECS/ECCB International Netball Series, Vasha Adams is pleased that her squad stayed focussed on and attained their desired outcome, which was to win the tournament.
She was also pleased with the support her team received as they battled in the February 12-18 tournament in Roseau, Dominica and succeeded in lifting the Gloria Ballantyne trophy by defeating St Lucia 39-17 in the rain affected deciding game on Friday night, February 18.
Both SVG and St Lucia went into the tournament on 16 points, each having been beaten by Barbados.
"Winning the 2022 OECS/ECCB International Netball Series means a lot, not just to us who have just competed in the tournament but…St. Vincent (and the Grenadines) on a whole," Adams told SEARCHLIGHT.
"It shows that netball is still a sport that young ladies enjoy playing and younger girls would love to learn and would grow up loving as well. "The amount of support that we got while competing in this tournament from back home was superb," Adams noted.
"We had people watching and listening to netball because we were winning games. Once you start winning games the support starts coming on very strong, and I can say netball is on the rise in St. Vincent. I have been saying this for a while now. I would like to see netball become a household name again. At one time we were ranked number 10, number 8 in the world, and I would love to see netball get back to that stage,"added Adams who was team coach and player.
She coached the team in 2019 when St. Vincent and the Grenadines hosted the first OECS/ECCB International Netball Series in 2019, in which the hosts placed second to Grenada, and St Lucia placed third "Being a coach/player is something that I always wanted to do," Adams said.
"Coming out of retirement and to play in the (2022) tournament, and to win it means a lot to me. I am not saying that because I played that we won, no. We won as a team because our team has a mixture of experienced players and young players," she explained.
Shania Pompey, who made the national team for the first time captured three awards at the closing ceremony. This Adams pointed out, "shows that we the older players are motivating the young players to take part in netball so they can explore what it is that netball has to offer."
Adams said there are persons "who sacrificed their time to help us in training and they did things for us that we did not expect them to do to help make us better as a team and we dedicated this championship to them."
Among those persons are Woodrow "Killy" Williams and Chester Morgan. Williams, she said would call every morning to give the team a pep talk, and Morgan worked with the team on strength and fitness.
"This the fittest that our team has been in a while since I have been playing netball."
The intensity of the St Luia/SVG final game was diminished due injuries to St Lucia's Shem Maxwell and Alana Paul and two other players; with two others sidelined having tested positive for COVID-19. The two players who were on their substitutes bench for the tournament decider were the injured ones.
Adams said that "St Lucia always comes with very good netballers and St Lucia is one of the teams that always gives us a good game. The competition is always tight between St. Vincent (and the Grenadines) and St Lucia, and between St. Vincent (and the Grenadines) and Grenada in the OECS.
"We were looking forward to playing a full game, a full four quarters but because of the rain which was beyond our control this was not possible. St Lucia is a very good team, I enjoyed playing with them."
Speaking of her relation with Shem Maxwell, Adams said: "I have been playing against Shem Maxwell since the days when they had the Eastern Caribbean Champ of Champions Club Netball tournament. She played for Shamrock and I have been playing for Maples, and that is a while back.
"So Shem being a shooter and a defender she would have given strength to the St Lucia team. I respect her as a player and as a coach because I know that she coaches as well, so I have a huge amount of respect for her. She is a very calm player, she does not have an attitude problem on the court or anything like that. The only attitude she has on court is to motivate her players to make them better. I have the maximum amount of respect for Shem Maxwell.
Adams said that she is very satisfied with her squad.
"We are not perfect. We as human beings on a whole are not perfect. At times we would let our guards down. At times you would see some attitude displayed but when we are on the court we go to play netball. Everybody puts their best foot forward. Before we left home we set goals. We wanted to win the tournament. We are going to go out and we are going to fight to win the tournament."
The team was given a very warm reception at the Argyle International Airport on their return home.