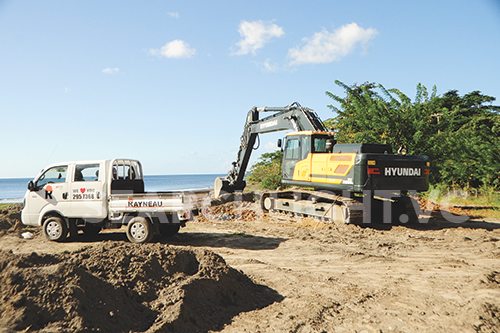 Front Page
February 11, 2022
Rayneau to pay $12,000 a year for quarry land
The company that will establish quarry operations in the Richmond area on almost 59 acres of government land, will pay $12,000 per year for the next three decades.
The government of St Vincent and the Grenadines (SVG), will also receive $2 for every tonne of aggregates exported from the quarry.
According to Senator Julian Francis,this is the agreement that was brokered between the government and the St Lucia-based firm, Rayneau Group of Companies with regard to the quarry being established in the North Leeward constituency.
"There will be a mechanism put in place to measure production and government will get $2 per tonne so when I gave you an example that a barge comes in here with 7000 tonnes of aggregate from overseas. If that was going out at 7000 tonnes, we would get $14,000 out of it for one barge of stone," Francis explained during a press conference on Thursday, February 10.
He also disclosed that the government will be putting "absolutely no money in the project".
Francis, a former minister of Transport and Works for three terms under the ULP administration, has played an integral role in the government's quest for the establishment of a quarry in that area since the early 2000s.
The government minister, who now has responsibility for Urban Development, noted that a study had been carried out by a British consultant in 2001, who identified Richmond as the best area to establish a quarry.
And this week he said that "we have been living on that asset for years", in an area that is one of the safest, as there are no residential properties in close proximity and a road network already exists.
Rayneau Gajadhar, Managing Director of Rayneau Group of Companies recently told a local media entity that only one per cent of the stones from the quarry will be for local consumption while the remaining 99 per cent will be exported.
But local officials, including Prime Minister Dr Ralph Gonsalves, have said this is not the case.
"There is a condition that exports will always be subject to local demand," Francis said at yesterday's press conference.
"In fact, we suffered for that. Even when we were importing when COVID came in, because the then government in St Lucia refused to allow any aggregate to leave St Lucia, Martinique and as far up as Dominica because quarries were working like day on, day off. Supplies were getting low and so on and remember St Lucia had a big shut down for many months so I just want to clear that up."
The government minister referenced the major construction projects that are earmarked to take place in SVG, including a number of hotels, and said that this country will get what aggregate is necessary for construction and the remainder will be exported.
Francis noted however, that Lowmans Bay has been earmarked for the storage of aggregate from the Richmond quarry so that it will be easier for persons on the Windward side of the island and other Leeward communities to access the aggregate.