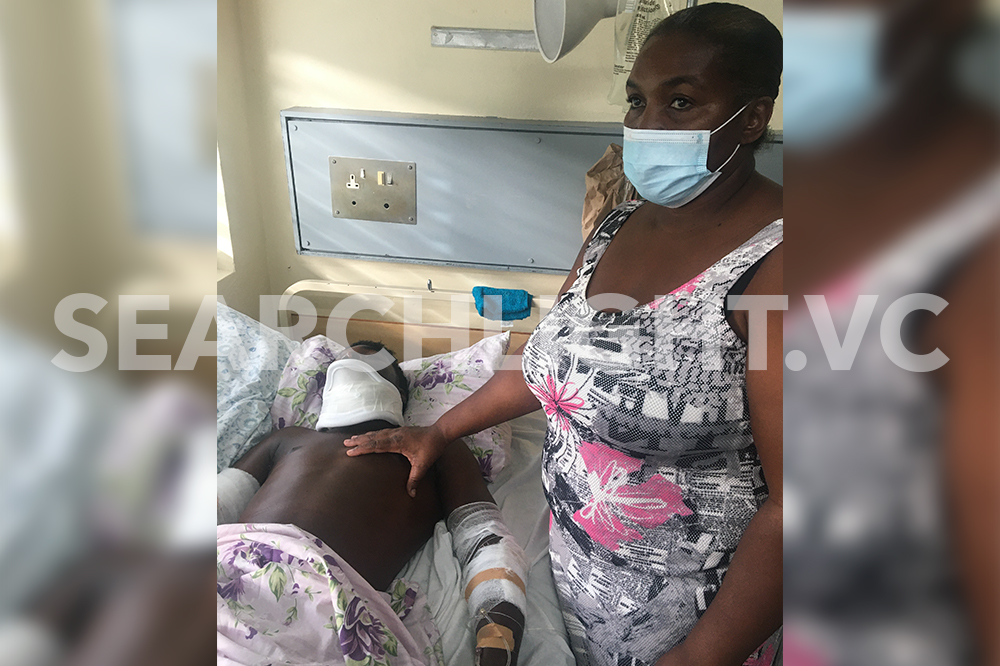 Front Page
February 8, 2022
Teen dies days after accident in police chase
Cjae Weekes, 18, was lying next to his mother at their Argyle home on the evening of February 1, filling out an application form to join the Royal St Vincent and the Grenadines Police Force.
A day later, he was lying in a hospital bed paralysed from the chest down as a result of a broken spine, and with broken leg, injuries he told her were sustained from police running him over with a vehicle.
And on Sunday morning, sometime after 3:00 a.m, his mother, Natasha Weekes watched as he took his last breath in that same hospital bed at the Milton Cato Memorial Hospital.
"He did just want to see me before he died…" the grieving mother told SEARCHLIGHT yesterday, noting that she had returned to her son's bedside on Sunday morning after receiving a call informing her that he didn't appear to be doing well.
She said that when she arrived, his heart rate was declining and rose consistently once he heard her voice.
Weekes said some time passed, in which she fell asleep, and when she eventually checked on him, his heart rate had again dropped, and he died moments after.
The 18-year-old was admitted to hospital last Wednesday, February 2, with multiple injuries, including a broken spine which left the majority of his body paralysed, a broken left leg and large bruises about his body.
The teen told his mother that his injuries were as a result of being run over while on a motorbike in Vermont, by police who had been chasing him and a friend from Questelles.
Weekes explained that her son was in Questelles getting a tyre he had purchased for his motorbike because he had bought the wrong one.
"He say he see the police vehicle but he overtake a jeep…when he overtake the jeep, he see the police like try to stop but he think was the jeep so they still going but after they see the police start to come up on them, they still ah speed because he said, he didn't walk with the permit. He gave me the permit that same day because I was supposed to organise something so I had the permit in my bag and the friend say he didn't walk with his permit either," she told SEARCHLIGHT.
The Argyle woman also said her son told her that during the chase, a police officer in the vehicle pushed out his hand and hit him (Cjae) in the chest, and the bike lost control.
Weekes said she was informed that police had taken her son to the hospital but when she got there, no officer had been present.
"…He ah say 'mommy, them wilfully ahna, them wilfully'. Me even say, if a police come bring your child, they supposed to dey there with your child. They not supposed to just leave your child and gone. Nobody was there," she said.
The mother, who said she is employed at the Prime Minister's residence, related that she made a call and an officer subsequently showed up at the hospital inquiring if 'there somebody here who get in an accident'? They want to know if they alive or dead".
"…The way they take him up; they na take their time to take him up because he telling them he in pain and they not take their time to take him up. I don't believe his spine woulda [damage] that bad if they had take their time to take him up…" she said.
Weekes told SEARCHLIGHT she had been given a different version of the story from officers, which did not involve them running her son over.
And she called on authorities to tell the truth about what happened that day.
"I hearing another side of story from them, something different but they are working on it. Investigating it and all of that. I'm just sorry my son had to go that way. They could've handled it in a different way because it's an accident but they hiding a lot of things. They're not saying what happen because he could tell me what happen…and what break for their vehicle but they not saying that. They just say he get in an accident," Weekes said yesterday.
Commissioner of Police, Colin John confirmed that the matter was being investigated and that he preferred not to share specific details.
But he said that based on reports reaching him from police officers and witnesses, the officers did not run over the youngster with the vehicle.
"I don't want to go into it but the basic information is that he went over an embankment and suffered injuries as a result of that…I wouldn't want to delve into it any further because the matter is under investigation and I wouldn't want to prejudice the investigation in anyway," John told SEARCHLIGHT.