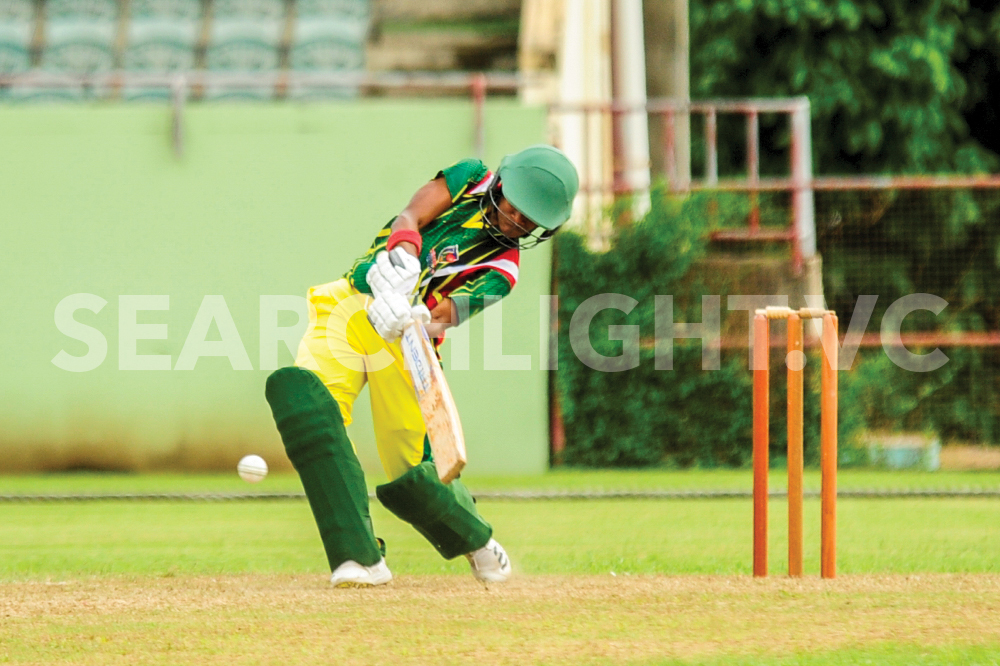 Front Page
January 28, 2022
Windward Islands Under-19 women grab stunning victory over USA
The Windward Islands Under-19 female cricket team pulled one back in the four match series against the touring USA Under-19 when they pulled off a stunning victory at the Arnos Vale One playing field yesterday, January 26.
Led by an inspiring innings from skipper Zaida James, the Windwards team won the game by five wickets to place the series at 2 games to one in favour of the USA Under-19 Women.
With this bit of wind in their sails, the Windwards lasses will seek to square the 4-match series.
James won the toss and inserted the tourists under cloudy skies. However the Americans got off to a flyer, losing their first wicket in the seventh over – 1 for 51; Snigdha Paul for 15.
James marshalled her troops and they pegged back the Americans who were only able to score 63 runs in the next 15 overs. The other wickets fell at 2 for 54, 3 for 72, 4 for 84, and 5 for 87, totalling 113 for 5 in 20 overs.
Extras contributed 21 made up of 1 leg-bye, 4 no-balls, and 16 wides, as the bowlers in the later stages made up for the loose bowling in the first five overs. Abinie St Jean took 2 for 20, Zaida James 1 for 10, Hernia Cooper 1 for 11, and Destiny Edward 1 for 18.
In reply, the Windwards opening pair of Skyy Smith and Zaida James took the score to 37 before Smith was bowled for 15. James was joined by Namiah Marcellin, and the pair took the score to 97; Marcellin dismissed for 22. It soon became 3 for 99 when Denella Crease was run out for 1; then 4 for 112 when Abinie St Jean was bowled for 2.
Zaida James remained 40 not out although her team-mates got a scare when she attempted to close out the game and was caught at mid-on, but to the relief of some and the pain of others, the umpire's outstretched right hand signalled no-ball!
Having crossed, Nesha Alexander who had just joined James at the wicket hit the winning runs to spark scenes of jubilation in the Windward Islands dressing room.
The American bowlers delivered 31 extras comprising 2 byes, 2 no-balls, and 27 wides. Bowling for the USA Under-19 women, Tya Gonsalves took one for 5, Snigdha Paul one for 7, and Laasya Priya Mullapudi one for 16, as the Windward Islands Under-19 women won by 5 wickets; 114 for 5 in 18.4 overs.
The final match in the series bowls off at 10.00 a.m today at the Arnos Vale one playing field.