Posted on
Vincentian students arrive in UK to pursue undergraduate degrees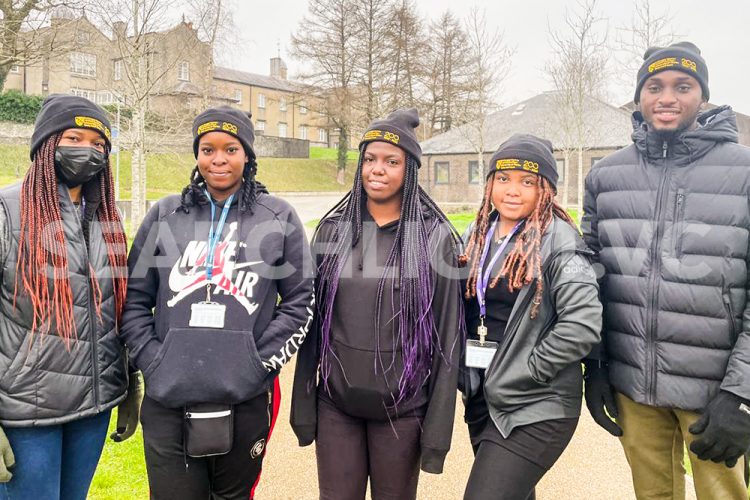 Thirty-seven Vincentians are now in the United Kingdom where they will pursue three-year undergraduate studies in a range of subject areas at the University of Wales Trinity St David (UWTSD).
The students, who arrived in the United Kingdom in the wee hours of last Thursday morning, are said to be settling in well.
"Arrival and settling into our flats went smoothly, the school provided welcome packages that included food and warm clothing items and other things," Kelene Frederick, a 20-year-old student from Belair told SEARCHLIGHT.
Frederick, who will be pursuing a Bachelor of Science Degree in Quantity Surveying said for now, the Vincentian students will continue online classes, as has been the case since last November, but will commence face-to face classes next week.
"Our classes are online for now, but we will head out to our respective campuses for face-to-face classes next week. Everyone here is friendly and willing to offer help 24/7. We are all grateful for this opportunity," Frederick said.
Forty scholarships were awarded for undergraduate studies, but three students did not travel to Wales for different reasons, Prime Minister Dr Ralph Gonsalves said on WE FM's "Issue at Hand" programme last Sunday. One student is recovering from COVID-19 infection, one is pregnant and a third student declined the award. He said the student who declined the award did so too late for a replacement to be found, while the other two will continue to do their work online and will join the others in Wales later.
The undergraduates will read for degrees in Civil Engineering, Early Years Education & Care; English & History; English with Education Studies; Health, Nutrition & Lifestyle; International Development & Global Politics; History with Economics and Quantity Surveying.
Fifteen additional scholarships have been awarded for postgraduate degrees which will be delivered fully online in the areas of Modern Literature; Master's in Business Administration (MBA); Digital Skills for Health & Care Professionals; International Hotel Management; Modern Literature; and Sustainability Leadership.
The Prime Minister said he is "really happy" about the awards which have a value of about £4.5 million. He again thanked His Royal Highness Prince Charles, the Prince of Wales; Medwin Hughes, the Vice Chancellor; and the UWTSD, which he said is "quite a good school and one which has long been established."
Gonsalves said he hopes to visit the students at UWTSD sometime during this year.
"But I want to do it as soon as possible to see how they are settling in and to meet the administration at UWTSD and for us to keep an ongoing relationship to see if we can have more and more scholarships to see what modalities we can work out in those respects."
The Prime Minister said his visit to UWTSD may be as early as next month as he has to travel through England on his way to Dubai on February 14. He however said if this does not work out, he will go on another occasion seeing that the students will be there for three years.
The 37 undergraduates departed the Argyle International Airport last Wednesday, January 19 on board a direct flight of Virgin Atlantic Airways to London.
Their departure was witnessed by their families and friends, as well as Chief Personnel Officer Arlene Regisford-Sam and Director of Training (Ag.) LouAnne Thomas.