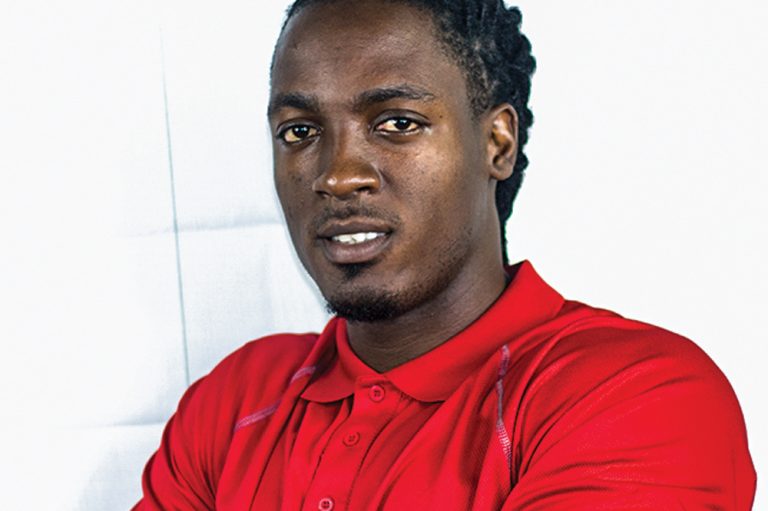 Front Page
January 21, 2022
Businessman makes daring citizen's arrest
A young entrepreneur was able to use quick thinking and athleticism to detain a youngster long enough for him to be taken into police custody and recover two missing scooters.
Kit Horne, the owner of delivery service, 'We Deliver', was transported into what felt like an action movie on Thursday, January 13 when he spotted and gave chase to a youngster, who appeared to be riding one of two scooters that went missing from Horne's property two weeks prior.
Horne told SEARCHLIGHT this week that the first scooter went missing on December 29, 2021 from its parked position outside his home in Gomea.
As soon as he realised what had happened, he made a report to the Calliaqua Police Station.
"St Vincent is a small place but I never felt as if I was getting back that scooter because most scooter parts are interchangeable so I figured they would swap parts for another one. I never thought that it would've been riding and all that," he said.
The disappearance of this scooter seemed to signal more bad luck for the entrepreneur's business, especially after being knocked off one of his scooters almost six months before while travelling on the Fountain stretch.
That incident left the second vehicle in his fleet damaged, but after one scooter went missing he had made the decision to try fixing the damaged scooter in order to continue his business.
However, this second, damaged scooter also went missing from Horne's home a week later.
"I don't understand how I could be so good to people and all them things here happen to me. I was like, I have to go through this whole police process again but anyways I went to the police station, made the report," Horne said.
Just days after the disappearance of the second scooter the businessman said someone sent a photo to one of his relatives of someone perched on what appeared to be one of his scooters.
This was at least the third sighting of the scooter, and Horne felt hopeful because each time, specific characteristics were identified that allowed him to feel confident that it was in fact his motor scooter.
"I went to the police station, told the police we met there…'I have information on one of the scooters that I reported missing'.
He said to me that as much as I have a photo, I would need to see it physically for myself. He said what if we go there and its not there? He said, if you could, just make a little drive by, just to make sure it's still there and call them…"
Horne told SEARCHLIGHT that he went with a friend in search of the scooter in the area in which it was spotted. And while doing a casual drive through, he saw a young man travelling in their direction on what appeared to be one of his scooters.
"I telling my bredrin, 'that ain't my scooter'? Before he even answered me, I done take the jeep I driving and block the road. Me and the man collide. He tried to run and I used the driver's door to try block him from running. I jumped out the jeep to grab him but in my haste, I never pulled up the hand brakes…"
Horne said he returned briefly to the jeep to pull up the brakes to prevent it from moving, and then gave chase on foot to the man on the scooter, who had evaded capture and was now heading in the opposite direction.
He again went in search of the scooter, this time, hoping to find it abandoned on the side of the road, and the perpetrator long gone.
But minutes later, Horne spotted the young man on the motor vehicle once again.
"When we reach close to the youth man, the youth man jumped off the scooter, abandon the bike and he start to run back down the road, full speed. So I jumped out the jeep, kicked off my slippers and run down the road behind him…" said Horne, who is a Rugby player.
"I realised that he started watching in yards. You could tell that he knows that if he stays on the main, I'm going to catch him.
So he watch a yard but when he tried running down in the yard now, he tripped and before he even landed on the ground properly, me done catch the man."
Horne said it was another 20 minutes before the police arrived during which time, he observed that the perpetrator was wearing a uniform of the St Vincent and the Grenadines Community College (SVGCC), and could not have been more than 20 years old.
The second scooter was recovered at the youngster's home, which was nearby to where he was caught on January 13.
Horne told SEARCHLIGHT that one scooter, that was originally black, was sprayed to be white and sported a different license plate.
'We Deliver' celebrates its first anniversary as a business this month.
In fact, Horne was featured in SEARCHLIGHT on this exact day in 2021; a year later he is again in the news because of an incident that has seriously affected his budding business.
"I still haven't worked for the year. For the tail end of last year, I was using a car because at Christmas time, deliveries are bigger. You have cakes and bottles and big gifts. So it was better to use the car; but to do deliveries — one, with gas prices, how they are, and two- just finding parking in Kingstown, it doesn't even make sense. I need a scooter to continue my business," he said, adding that the scooters are still in police custody.
The 32-year-old also told SEARCHLIGHT that both scooters had been severely scrapped by perpetrators.
"The ideal outcome for me is for them man pay to fix back my scooters back to working order because when I tell you, the man scrap my bike dem, them man scrap my bike dem. To me, you jail a man and then what? And then I still have two non functioning scooters — well one is still functioning but I may not be even able to say that because I don't know the issues with it now.
Imagine I have a scooter that has handle bars looking like it belongs on a bicycle. Them man scrap that bike terribly," Horne said.
Ozem Oliver, a 19-year-old resident of Glen appeared in the Kingstown Magistrate's Court on Monday, January 17 to answer to a number of charges, two of which relate to Horne's scooters.
This matter was adjourned to January 24 and transferred to the Calliaqua Magistrate's Court where Oliver will answer to charges that: between January 9 and 10 at Gomea, he took motor bike PH91 without the consent of the owner or any lawful authority; and that between January 1 and 13, at Glen, he knowing or believing one black Razor 150cc scooter to be stolen goods, dishonestly received it for his own benefit.