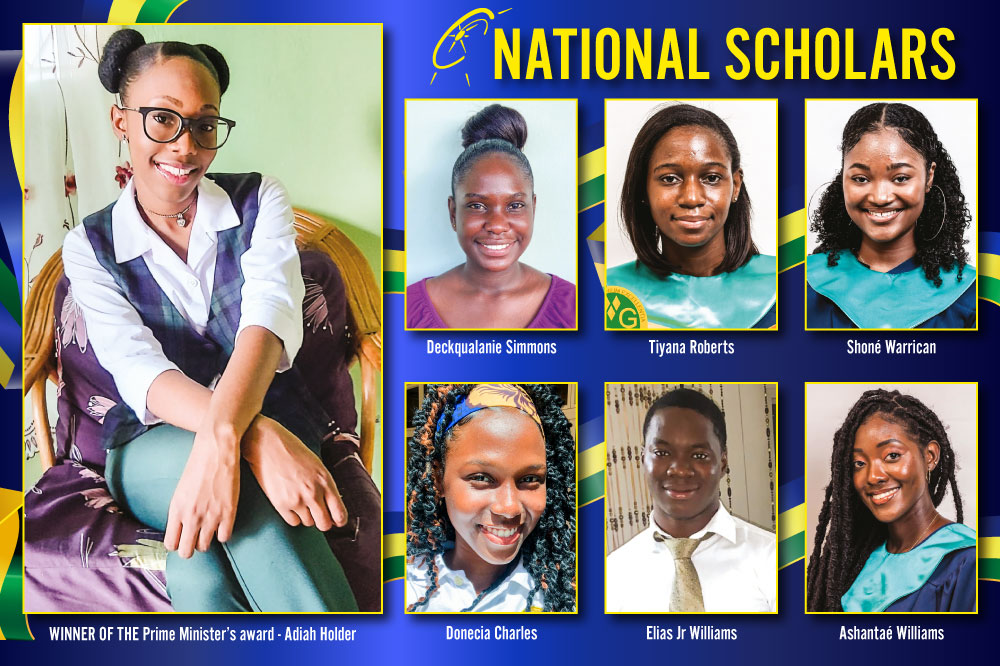 Front Page
January 7, 2022
61 students awarded Scholarships, Exhibitions and Bursaries
Sixty-one scholarships, inclusive of seven national scholarship awards, have been awarded to students in St Vincent and the Grenadines (SVG), who have performed exceptionally at the 2021 CAPE and Associate Degree programmes.
Prime Minister Dr Ralph Gonsalves said on radio this week that despite the economic challenges caused by the covid pandemic, these scholarships demonstrate that his government will not "compromise on the education of our young people".
Adiah Holder, the 2021 valedictorian for the Division of Sciences, Arts and General Studies at the Community College, and a consistent academic achiever received the Prime Minister's Award.
She is included with six others who have all been awarded national scholarships that will span a 5-year period, valued at approximately $560,000 each.
The other six scholars are: Deckqualanie Simmons; Elrias Jr Williams; Donecia Charles; Tiyana Roberts; Shoné Warrican and Ashantaé Williams.
"I may just say this — the national scholarships may go up to eight because I understand one person has questioned the scores for his computer course, unit 2 I think, and I don't know what will happen to that score when CXC replies…" the Prime Minister said on NBC radio on Wednesday morning.
He said the student will be awarded a scholarship if the grade returned elevates him sufficiently to receive the award.
This year, 16 national exhibition scholarships were awarded. These scholarships are tenable for three years.
The recipients are: Anwon Dells; Denai Alexander; Jayden Bissessar; Minchu Keizer; N'Yah McKenzie; Hosea Nichols; Oniefa Nickie; Zuania Baptiste; Shaunté Da Santos; Kyle John; Wesley Ottley; Damita Browne; Jovianne Edwards; Lavinia Lavia; Keon Richardson and Rianne Stowe.
Three special award scholarships have also been awarded to students this year. These scholars will receive the same benefits as national exhibition scholarships.
One of these scholarships; the Maurice Bishop Special Award was bestowed on Dessita Lewis, a national of Grenada who met the academic criteria for the special award scholarship, having completed an Associate Degree programme at the SVGCC.
The other two special awards recipients are Fleurisia Wyllie and Fransisca Alexander-Holder.
Thirty-five bursaries, valued at $25,000 annually over three years have also been awarded to students who performed well at both the CAPE and Associate Degree levels.
These students are: Gifphon Alexander; Elleann Bailey; Shaviel John; Tyrese Tucker; Nathaniel Williams; Anakie Cadougan; Alisa Best; Kelian Browne; Sabrina Brereton; Rishad Oliver; Cassanna Laborde; Whennecia Lockhart; Devante Roberts; Randall Roberts; Kemi-Ann Roberts; Shanniah Ferguson; Beyonce Jacobs; Josiah Samuel; Xaverna Black; Jolesia May; Alison Antoine; Latisha John; Nadicia John; Tony Laidlow-Young; Shantell Welcome; Cadeshe Caine; Subrina Caine; Rochelle Franklyn; Avadil Hamilton; Tamara Cain; Tiffany Phillips; Casheria Walker; Ramon James and Molecia Isaacs.