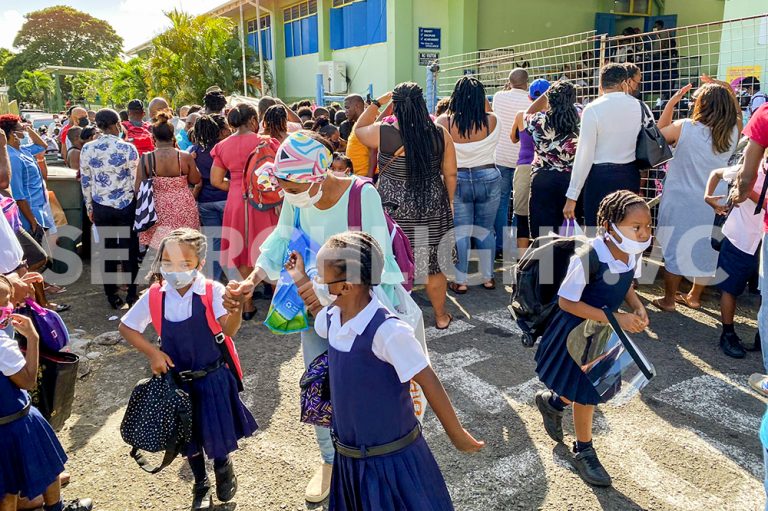 Front Page
January 4, 2022
Full-time classes back in session
"Chaos" is the word one parent used to describe the scene outside one primary school yesterday afternoon when all the children were let out to meet their waiting parents.
"The crowd; it's too much," Adica Thomas said, as she waited for a relative a distance away from the crowded entrance at the Kingstown
Preparatory School (KPS) with her 5-year-old son.
"They should've had a different procedure of how they do it, like letting out class by class. That would've been better than everybody coming out one time. From the smallest right up to the biggest and when one set clears the entrance, then you let out another class."
The Ministry of Education, in a release dated December 29, 2021 stated that after consultation with the Ministry of Health, the decision was made for all schools to resume face to face instruction on January 3, 2022.
When the final bell rang at 3:00 pm at KPS yesterday, a number of parents had already lined the fence outside the school compound to collect their children.
The crowd at one of the entrances quickly grew as parents congregated to greet the streams of children being let out of the compound.
The primary school has a population of more than 800 children.
It was at least 10 minutes before the crowd completely dispersed.
Like many institutions in the country, KPS has implemented a number of protocols to protect the school population from contracting COVID-19.
These include sanitising upon entry, staggered meal times and encouraging students to wear masks, as well as taking additional masks to school.
This is the first time since 2020 that the entire student population of all schools in St Vincent and the Grenadines will be fully engaged in face-to-face instruction.
Thomas said she doesn't like online learning and would rather her son be at school.
But when it comes to the crowded pickups on afternoons, she would appreciate if more thought went into the process.
Another mother, Naquita Haynes said she was happy that her children are back in the classroom full-time for face-to-face instruction.
But she admitted that she was a little worried about "the whole COVID-19 situation and they're saying this new variant is out as well so what to expect, I don't know".
"It's like you're sending them out but you still have it in the back of your head that something could happen. That's the last thing a parent needs but I'm still glad they're back at school because it's better for them because the online thing, I couldn't handle," Haynes told SEARCHLIGHT.
She explained that she worked in a daycare and so assisting her 6-year-old with online learning and looking after other young children proved a little difficult.
Other parents outside the KPS entrance could be heard complaining about the crowd at the entrance yesterday afternoon as all the students were let out of class.
Several other students from schools in Kingstown could also be seen walking the streets yesterday; some in full school uniform and others in jeans and T-shirts with respective school emblems.