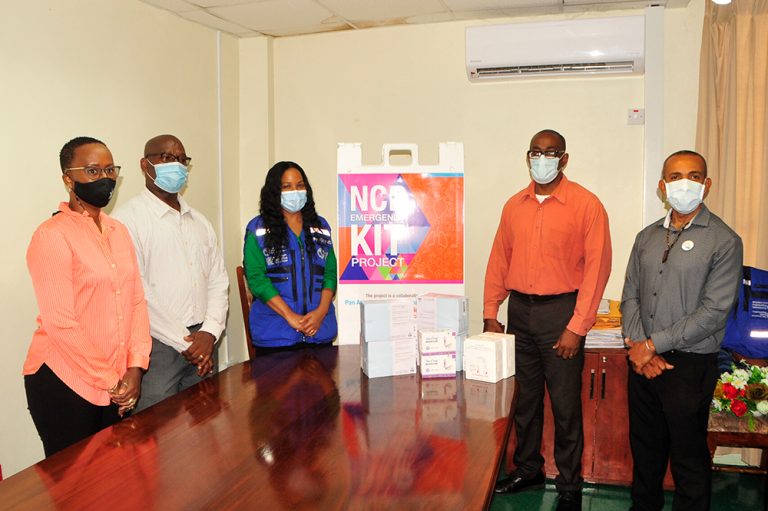 Front Page
November 30, 2021
SVG receives medical kits from PAHO to help in the treatment of non-comunicable diseases
One day after the world marked World Diabetes Day on Sunday November 14, the Ministry of Health Wellness and the Environment received two non-communicable disease(NCD) kits from the Pan American Health Organisation(PAHO) the range of NCDs.
Speaking at a ceremony where the kits were handed over PAHO's country programme specialist for St. Vincent and the Grenadines(SVG), Nicole Slack-Liburd said, "These kits as well as the training associated with their use, is a partnership between PAHO and Yale University. Over the course of several weeks, PAHO trained several district medical officers, nurses, and pharmacists.
She said further: "It is our hope that these supplies will complement the resources of the Ministry of Health, Wellness, and the Environment and increase the quality of life for persons living with diabetes".
The NCD kits are a pre-packed set of essential medicines and medical devices which are tailored to meet the priority NCD health needs of patients affected by diabetes.
"These kits are made available at an opportune time considering the exacerbation of health challenges in the aftermath of the recent volcanic eruptions. While the emphasis initially would have been on meeting the medication needs of persons who were displaced, we acknowledge the fact that it is desirable…that a wider cross section of the NCD population will in fact benefit from having access to the components of the NCD kits," Chief Pharmacist within the Ministry of Health, Levi Walker said.
One kit is designed to meet the needs of 10,000 persons for a three-month period during an emergency. The donated kits contain medicines such as metfomin, insulin, and devices such as inhalers, stethoscopes, thermometers, and syringes for the treatment of diabetes, hypertension, and chronic respiratory diseases.
Walker pointed out that: "These kits will certainly fortify our arsenal to treat and control non-communicable diseases in St. Vincent and the Grenadines. I am confident that many of our clients who access health care at several of our facilities will benefit from having access to these medications and medical supplies."
The need for such medicines is exacerbated during times of emergencies such as the recent volcanic eruptions which resulted in the displacement of many diabetics some of whom were unable to take their medicines with them to public or private shelters.
The impact of such emergencies on the health system can also be compounded due to logistical and other issues which can lead to poor self-management, thereby increasing complications.