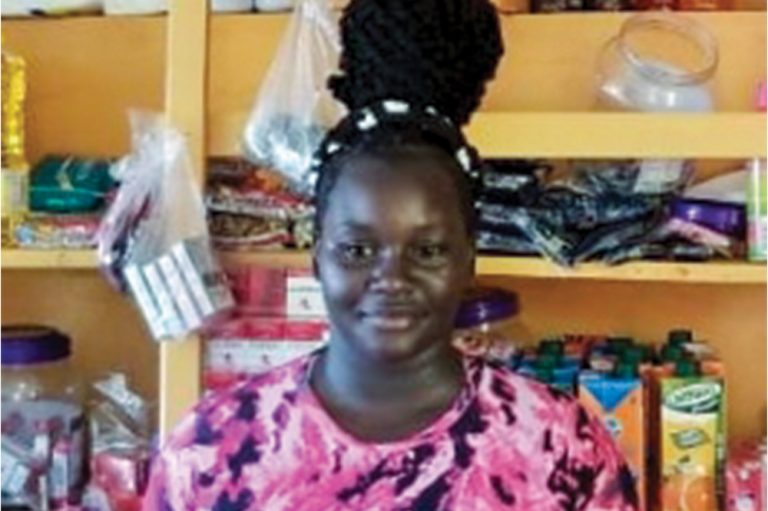 Front Page
November 26, 2021
Makeba goes viral again
Makeba Martin is the epitome of the adage: 'seven times rise seven times fall' and a young woman worthy of having her story told.
Back in 2016, Makeba, a 14-year-old student of the St Joseph's Convent Marriaqua (SJCM) had her photo go viral on social media where it was shared more than 50,000 times collectively on Facebook and Instagram.
Makeba's journey to fame, popularity and world-wide recognition began on Tuesday October 20, 2016 when she journeyed to Kingstown to be part of the biannual National Heritage Organisation (NHO) National Cultural Parade.
While in the parade, the lass from Fairbairn Pasture was spotted by local cameraman Rohan Billingy of I-Candi Pictures who asked her permission to take her photograph.
Billingy who has a Facebook page called I-Candi Pictures said he was attracted to her natural "shy" look.
But, the fame which accompanied circulation of the picture had a damning effect as Makeba went from going viral for her beauty to going viral in several other recordings, including one showing her being beaten by her mother and one showing her in a fight at a bus top as her life took a downward spiral.
Now Makeba is going viral again, but positively, like she did in 2016, and it's all over a post she made on Instagram last Tuesday November 23.
The post states:
"My name is Makeba Martin as many of you will know. You'd know the:
1) Makeba who Mama beat with the level.
2) The pretty black girl whose picture went viral few years ago.
3) The pregnant girl who was sleeping under Gonsalves Liquor few years ago.
4) Makeba in the video with a sex toy.
5) Makeba who went viral on many other occasions.
6) Makeba who was kicked out and had to sleep under friend's bed.
I had no resting place from time to time after my mum put me out (I was hurt at that time but as I grew I realise my mum was hurting even more).
Few years ago my mother who goes by the nickname "Mama" who owned the business Mama's Corner fell ill and was unable to continue her business. She's now in bed. However she then had to give the shop up (renting it) for some time, to someone because she was unable to as mentioned.
Today, this is Makeba, a mother of two daughters at the age of 20. TODAY makes 6 months since I took over "Mama's Corner." Yes EVERYTHING in this shop was bought by me, I sacrificed a lot .Being a mother of two children at such a young age has changed me. I realise that one day they'd need me just as much as I needed my mother. I know I will have to provide for them, I know that they'd want to have someone they can look up to. I may have [fallen] short, got pregnant, slept on the streets but it never stopped me from showing persons "who Makeba wants to be."
I'm still not perfect and may make mistakes today, tomorrow or even right now but I'm trying and that's what is important. Many persons had a lot to say about my actions which were wrong at that time and I couldn't see I was wrong but I'm thankful that I learned, learned at such a young age still. I'd always do my best to make persons around me proud because I know there are persons who still cheer for me.
Thanks to all those who would [have] encouraged me from time to time. It didn't matter then but it does now and I'm still thankful & always remember it doesn't matter when it is done but ONCE IT IS DONE and I'm not DONE either, more businesses coming soon," the post ended.
SEARCHLIGHT reached out to Makeba on Wednesday and in an interview she warned teenagers to, among other things listen to parents' advice and beware of bad company.
"After the photo went viral it had a bad effect because I thought I was on the world, I think I had it all….a lot of boys were coming around," said the Fairbairn Pasture resident who was in third form at the time the picture was taken.
She said when the fame started getting to her head a short while after the photo went viral, she began disobeying her mother, oftentimes staying in the minivan she took on evenings when returning home from school and bypassing her home to go into Kingstown to hang out with friends.
" I would constantly go to town with friends, making bad decisions…and coming home late…," said Makeba who added that someone filmed her mom beating her one afternoon when she had got home late and that video also went viral.
She said after she got pregnant in 2019 at the age of 16, her mom asked her to leave her home as she did not approve of the pregnancy.
Makeba had nowhere to go and became homeless as the male who impregnated her gave no support.
"Yes…I use to sleep on the street because mom had thrown me out…all over on the streets, many places… under Gonsalves Liquors…," she recalled. After about two weeks she begged her mother to take her back home.
"Being homeless is bad. Being hungry, not being able to bathe as I should and so forth," said the mother of girls aged two years and 10 months respectively.
"Go to school, take education seriously because you don't know what would behold of you in the outcome.
"I learn and I will never go back. It's not even an option to think about,"she said of her bad times while noting that bad friends played a big part in her disobedience.
She however noted that friends can be bad and good and heaped praise on her cousin Arielle Sealey, her sister Amanda Martin and boyfriend Carvin Baptiste for helping her get back on her feet.
"I wrote the post because basically I want people to see who I am today and who I was and to promote my business and see if I can get help to uplift my business," Makeba explained to SEARCHLIGHT.
She has taken over "Mama's Corner", a hangout spot at Fairbairn that was quite popular back in the day, but took a nose dive after Makeba's mother Gillian Martin, got sick.
Makeba sells soft drinks, alcohol, and items like cigarettes and bleach, along with food stuff like corned-beef, sausage, sugar and rice.
"It's been six months and things go up and down. I am thinking about ordering clothes to sell and so forth," Makeba said of her business that opens from 8:00 a.m.
"I won't get all I want overnight. It's going to take time so I'm not rushing anything. I am trying to raise funds to buy a stove so I can do food for sale every day," Makeba explained.
She added that since the most recent post on Instagram, persons have contacted her asking for permission to give inspirational talks to their daughters and she would do the first such talk this Saturday at her home.
Makeba advises teenagers, "listen to parents and remember the seven Bs, 'books before boys because boys bring baby' and a child is not easy to maintain especially if the father is not in their life."