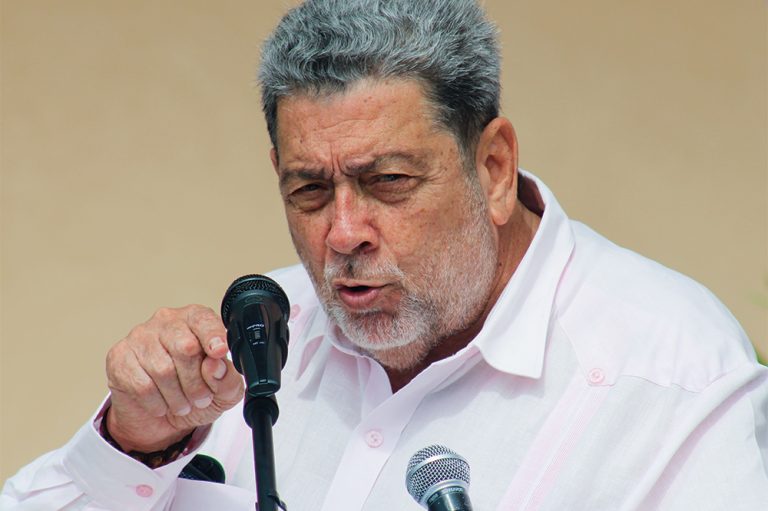 Front Page
November 19, 2021
Unvaccinated public workers not allowed on job from today
As of today, November 19, any public worker required to be vaccinated against COVID-19 would be committing an act of misconduct if they show up to work without having taken the jab.
"…You can turn up. I'm not gonna send the police after you. I'm not gonna use any force or anything like that. Obviously if anybody misbehave and so on, the police have to be called to maintain order but you will just turn up and make yourself look silly because the law says if you turn up and you're not supposed to turn up because you're not tested in the case where testing is required, or vaccinated in the case where vaccination is required, that will be misconduct and you would be liable under the public service regulations," Prime Minister Dr Ralph Gonsalves said during during his weekly appearance on NBC's Face to Face morning programme on Wednesday.
The SR&O No 28 — The Public Health (Public bodies Special Measures) Rules of 2021 officially comes into effect today and require that certain groups of workers take a COVID-19 jab in order to continue working in their respective areas.
Failure to be vaccinated will result in workers being deemed to be absent from duty without leave.
In keeping with public service regulations, any worker who is absent from duty without leave for 10 working days, unless declared otherwise by the Public Service Commission, shall be deemed to have resigned from their office and ceases to be an employee of the state.
"And at the end of those 10 working days, which for the civil servants, mean essentially Monday to Friday, Monday to Friday of two weeks, so it will take you to early December —but remember this, you're not going to get paid for those days and then you would've abandoned your job and you would've resigned," Gonsalves said.
He added that these workers would also lose all benefits because they would have been deemed as having abandoned their posts.
A worker who has received at least the first dose of a COVID-19 vaccine is treated as being vaccinated and must take the second dose within the period approved by the manufacturer of the particular vaccine.
As such, if at any point within the 10-day period that a worker decides to take the jab, they will be allowed back to work.
"If for instance on Day nine of that 10 day period, you decide you're gonna take the test or you're gonna take the vaccine but you were turning up to work all the time. When you turn up in those days without the test or the vaccine, it will be misconduct," the prime minister said.
He added: "obviously, if you don't turn up at all, then you automatically go and nobody gonna bring you up for misconduct, but if you try to play the game to the end, you will be brought up for misconduct under the public service regulation with the penalties under that, as per the regulations — and remember this: the Civil Service Orders, by an Act of Parliament, are now part of the regulations".
Employees who do not fall within a category mandated to take the vaccine will also be required at certain times to present a negative rapid or PCR test to their employer on reporting to work.
Gonsalves said on Wednesday that failure to present the result of this test when required will also be considered misconduct.
This specifically applies to all workers who are required to be vaccinated and governed by the public service regulations: public health service workers including doctors and nurses; teachers; prison officers; immigration officers; permanent secretaries and heads of departments.
Provisions for the police differ slightly in that the Police Act states that an officer is deemed to have deserted his post if he is absent without leave for 48 hours.
"…In order to not make the police be different in this regard and to give the leadership in the Police Force and the Police Service Commission an option, on Friday (November 12), there was published, Statutory Rules and Order No 32 of 2021, and it's cited as the COVID-19 Miscellaneous Amendment Order…" the prime minister revealed.
It notes that notwithstanding Sections 17, 20 and 62 of the Police Act, which deals with charges and discipline, desertion and disciplinary action for auxiliary police officers respectively, "a member of the force or auxiliary police, who is absent from duty without leave for 10 consecutive days is deemed to have resigned his office" unless declared otherwise by the relevant authorities, according to the rank that officer holds in the Force.
Saturday and Sunday are counted as part of the 10 consecutive days period.
Gonsalves also noted this week that the 10-day period does not apply for employees at the airports and seaports.
"AIA is a state company and established under the companies act. St Vincent and the Grenadines Port Authority is a statutory body, established by an act of Parliament," he said.
According to the Prime Minister, the laws which regulate these workers stipulate that they must be vaccinated by the given date; i.e today, November 19.
"If you don't do it, that's the end of that. You don't have this 'grace period'," Gonsalves said.