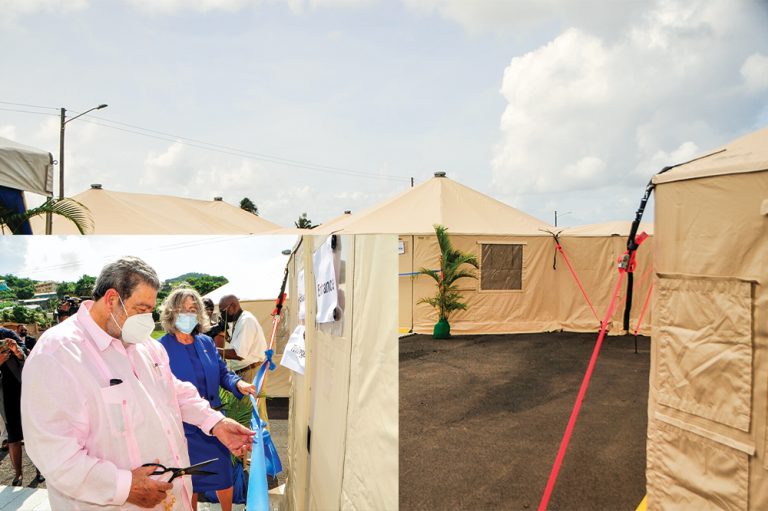 Front Page
November 19, 2021
SVG receives million dollar field hospitals from the US government
This country's healthcare system was bolstered this week when the United States government donated two 40-bed field hospitals to help in addressing both the ongoing challenges of COVID-19 and future disasters.
The donation of these facilities, which are estimated at US$1.35 million was made through the US Southern Command (US SOUTHCOM) stationed in Barbados. Officials from both countries gathered at the decommissioned ET Joshua tarmac yesterday for a handing over ceremony of the facilities.
"COVID has taken a toll on all of us around the world these last 18 months. COVID will be with us, probably in the near future, in the long term future as well and things such as this, donating this specific hospital to you will allow St Vincent and the Grenadines to do some of the things that you may not be able to do with your current infrastructure when the hospitals are overrun, when you need extra bed space, when you need extra capability to ensure that the people of St Vincent and the Grenadines are taken care of appropriately," Kevin Bostick, Director of Exercises and Coalition Affairs said.
He also told those present that donating the facilities to this country shows the resolve that the US has in the region and specifically with St Vincent and the Grenadines(SVG).
"It is our pleasure to do this to be able to show on the world stage that we, the United States of America, partner with you and strengthen our bonds and help to build a team to go forward into the future," Bostick added.
Linda Taglialatela, ambassador of the United States to Barbados and the Eastern Caribbean said that the field hospitals were a symbol of the US' commitment to the health and wellbeing of its neighbours in the region.
And she noted that the donation will increase the country's ability to address both ongoing and future challenges.
The ambassador said "2021 has been a challenging year. Vincentians know this better than anyone. The La Soufriere volcano eruption in April and the ongoing pandemic have tested our resolve. However, today is about hope".
"Our donation marks yet another step in our shared journey as we work together to end the pandemic and recovery from the volcanic eruption but today is about hope. This donation from the government and the people of the United States marks yet another step forward in our shared journey, as we work together to end this pandemic and recover from the volcanic eruption," Taglialatela said.
A field hospital is a temporary set up at a site to provide medical intervention prior to being discharged or transported to a permanent facility.
The facilities donated to SVG have six modules or tents and come with their own generators, water facilities and water management systems.
The modules can also be used in parts or as a whole.
Minister of health St Clair Prince said these facilities will enhance the health authorities' response capabilities "in a very major way".
"They will act as a back up or transition facility …if there are surges in our health system which will require clinical intervention. They will also form part of our multi sectoral training in mass casualty management," he said.
The health minister noted that the health system has come under tremendous strain in recent times, which has resulted in the authorities having to convert two wards at the Milton Cato Memorial Hospital to care for COVID-19 positive patients.
Prince added that challenges with regard to space have also arisen at the Isolation Facility at Argyle.
"Though we will not be able to predict how much space we will need in a pandemic such as this one, these two units will certainly go a long way in helping us to ease the burden on our health facilities here in St Vincent and the Grenadines."
The minister added that this country was "constantly assessing the health environment and preparedness and response is a key element in this undertaking".
"That is why these two units are so important in the scheme of things." He said one field hospital will be stationed on mainland St Vincent, while the other will be stationed in Bequia.
Prime Minister Dr Ralph Gonsalves also spoke at yesterday's event and he too thanked the Biden/Harris administration for their generous donation to SVG.
Following yesterday's handover ceremony, Gonsalves, along with officials from the Ministry of Health and other government entities toured one of the field hospitals.