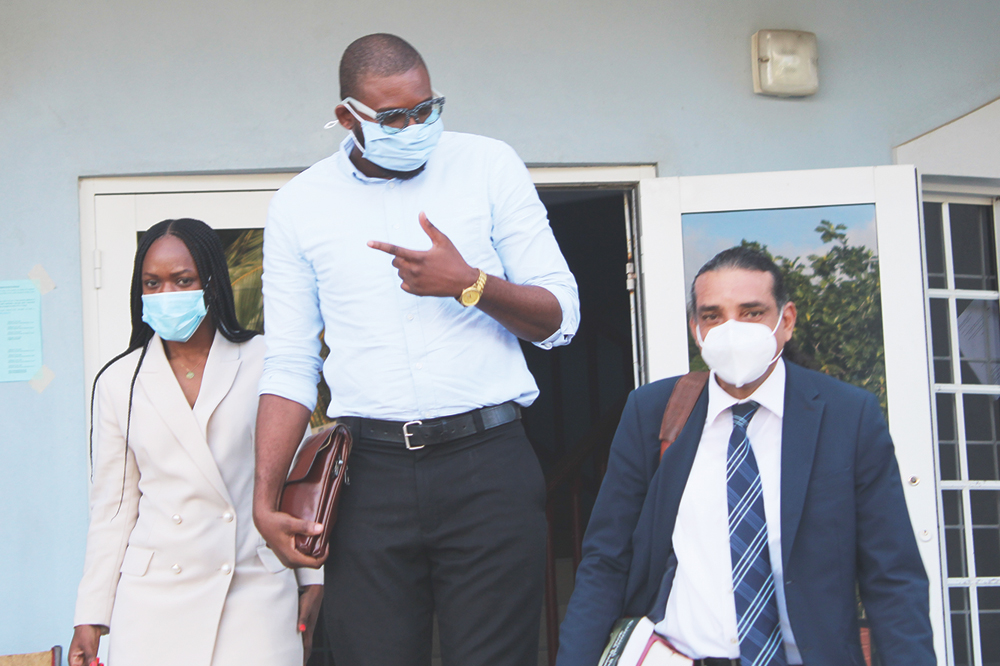 Front Page
November 12, 2021
High profile case off to fiery start
BUSINESSMAN Cornelius John took the stand on Wednesday to speak to give his account of the events that took place on April 13 at his home in Diamond, and he was then cross examined at length.
The farmer/block marker of Diamond Estate gave evidence on the first of three days set aside this week to facilitate the trial examining accusations of assault with intent to wound against Unity Labour Party(ULP) Senator Ashelle Morgan; and unlawful and malicious wounding, and unlawful discharge of a firearm charges laid against Assistant Director of Public Prosecutions(DPP) Karim Nelson.
St Lucia's Deputy Director of Public Prosecutions S.Stephen Brette is leading the evidence for the prosecution, while defence counsels Ronald Marks and Duane Daniel represent Nelson and Morgan respectively.
Lawyer Kay Bacchus-Baptiste, who represents John in his other matter, holds a 'watching brief' in this case. Therefore while she does not have a direct role in these proceedings, she has been making submissions in support of the prosecution, and is keeping an observer status.
There has been banter from the defence towards her, with quips about 'speaking brief', a term coined by Daniel.
The first witness for the trial was crime scene investigator PC 933 Quammie.
Quammie, who is accepted as an expert, visited John's home, taking his crime scene kit with him. The officer took a number of photos which were shown in court, and he recorded a number of measurements in his crime scene notebook which were read out.
John was next to take the stand and his evidence stretched over many hours. His evidence in chief maintained, as he has commented on publicly before, that it was an unprovoked attack in which a group of three persons, the Senator, a "taller" man and a short man, allegedly approached him on his property.
When it came time for him to be cross examined by the defence counsel the prosecution was so proactive in rising to object that this took the better part of the day yesterday. There have been disagreements between the two sides on what is fair, what is procedure, what is law, and what is the interpretation of the law. Nevertheless, the defence was ultimately able to ask some of the questions they originally wanted to which are intended to go towards the core of their defence.
After John finished giving evidence, he sat in the courtroom and listened to the next witness, a female auxiliary officer who helped him on April 13.
This auxiliary officer; Cornelius John's wife, Nicole; the investigating officer, and a ballistics expert are some of the witnesses who have waited for a long period at the courtroom to give evidence.
While today, November 12, was accepted as a grace period, it does appear that time is not on the trial's side before the St Lucia Deputy DPP, who is prosecuting, has to return home.