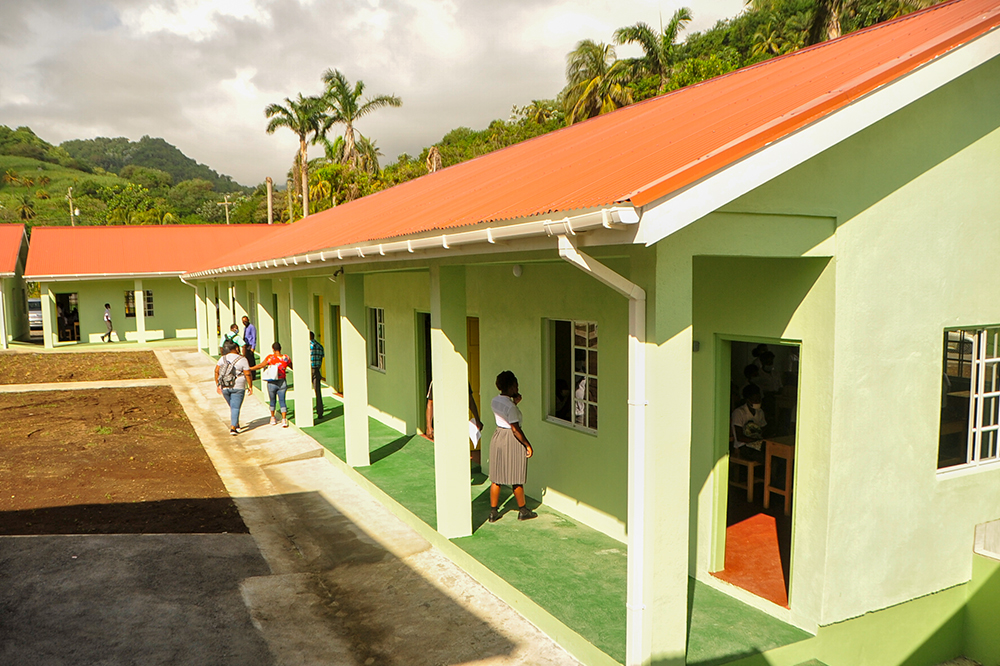 Front Page
November 9, 2021
Sandy Bay Secondary back to full face to face instruction
Following the destruction of their school plant in the April 2021 volcanic eruptions, the Sandy Bay Secondary School was back in full operation on Friday morning November 5, 2021, albeit at a temporary location at Mt. Young.
The school's principal Brendon Child, told SEARCHLIGHT that he was very excited about the development.
"I have a lot of energy built up inside of me after being at home for so many months. It is also a welcome relief for my eyes having to be staring at the computer screens going into all the online classes to check on what was taking place."
He said today (Friday November 5)one would "see the teachers, see the students, and know that something good is going to happen."
Remaining cognisant that the island is still gripped by the COVID-19 pandemic and protocols must be adhered to, Child pointed out that as the students and teachers get settled in, they too must remain cognisant of what is happening around them.
"There are new cases every day, there are recoveries, and there have also been deaths. We have to keep all of that in mind as the school resumes face to face learning after a long time."
The new school plant is more spacious than the old one, and desks and chairs are placed as far apart as possible for social distancing, one of the COVID-19 protocols.
As the students entered the school, both the teachers and principal took steps to caution them at every step of the way to avoid coming into contact with one another, and to wear their masks properly at all times. "It was a good sight to see that every child who entered the compound this morning had on a mask",Child said.
He spoke of his satisfaction that the school keeps showing improvements on its CSEC results each year and is confident that come the 2022 exams, "the more established schools will get a surprise. We have more teachers on staff now, we have additional rooms," which facilitates having more full time rather than optional subjects.
He said the aim is to be in the top 10 schools in St. Vincent and the Grenadines, "but we know that we have to work hard and…to get the students who are at the bottom level, work with all of them so they can get five or more subjects."
The school has a student population of 242 and 24 teachers, 84% of whom are fully vaccinated.
"The teachers who are not vaccinated are crucial teachers here," Child said looking ahead to the November 19 deadline for public sector employees, including teachers, to provide proof of having been fully vaccinated in order to be allowed in the work place.
He is concerned that the Sandy Bay Secondary School may very well lose the services of teachers who refused to be vaccinated against the COVID-19 virus.
"For them to leave it would give me a serious blow, it would give the school a serious blow, because like all other teachers they are very important. These are very critical for about three of them teaching at the level of the fifth form, so it is a watch and see situation now, but we hope that with the authority of GOD…these teachers change their mind and do what is right."
There was an almost seamless transition last Friday into the new school plant even though there are a few areas of work still to be completed.
Child assured that these will not hamper the day-to-day teaching.
A new Sandy Bay Secondary School is scheduled to be constructed at Orange Hill, to be funded by the Caribbean Development Bank.
Minister of Education Curtis King, who toured the school on Friday morning, reminded the students that they did not allow the disasters to keep them back. He praised them for the resilience shown and asked that they remember that true strength is shown in the face of adversity.