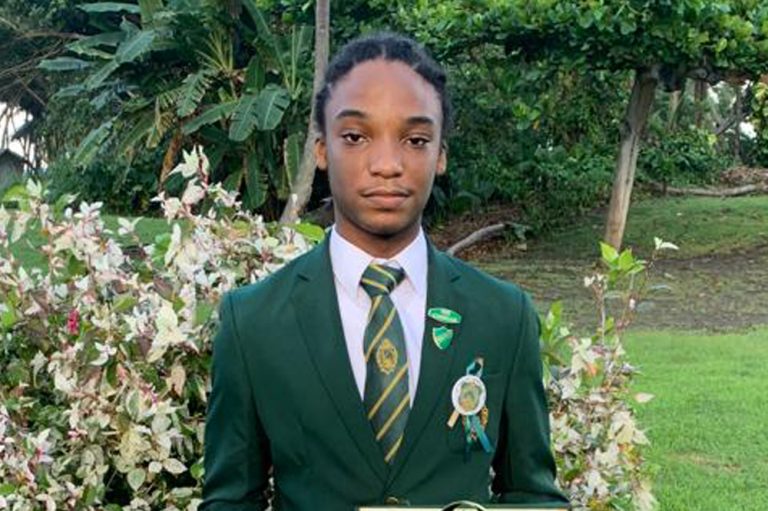 Front Page
November 5, 2021
Kajé tops CSEC with 14 Grade 1s
Having to evacuate his home in Colonaire due to the eruption of La Soufriere in April this year no doubt affected Kajé Jack's study schedule as he prepared to sit this year's CSEC examinations.
But it did not stop the 17-year-old from excelling and becoming one of this country's top performers gaining 14 Grade one passes. 
"Honestly, I'm elated, very happy," the recent St Vincent Grammar School graduate said. "I think in part it's because I really tried to do my best at this exam sitting and to be the top performer… it was really a testament that I worked hard and that all those who helped me, their works didn't go to nothing, basically." 
At the 2021 sitting, Kajé secured passes in Additional Mathematics, Biology, Chemistry, Economics, Electronic Document Preparation and Management, English A, English B, French, Geography, Information Technology, Physics, Principles of Accounts, Principles of Business and Spanish. 
He also sat General Mathematics in 2020 and obtained a Grade one pass, for a total of 15 Grade ones at the CSEC level. 
The Colonarie resident told SEARCHLIGHT that the transition to online education as a result of the pandemic was a a bit difficult at first because he found himself in an environment without the direct supervision of a teacher, which meant that he was solely responsible for getting work done. 
The volcanic eruption in April also resulted in his family having to evacuate from their home in the Yellow Zone. 
"It was hard but I managed to pull through," the teenager said. 
Kajé noted that the final year of secondary school goes by quickly and if he had to advise students who will sit the exam in the future, he would tell them; "You don't have a lot of time to waste. So stay focussed, get your work done. Trust God in everything and you will see His leading in your life".
Clayton Jack, Kajé's father told SEARCHLIGHT he was very pleased with his son's performance and happy for his achievement because he worked very hard. 
"He is committed, he is certainly a child of God, he is a Christian, and he believes that, you know, once you do your best, God will do the rest…and there's no such thing as perfect. But if there was such a word, I will say, you know, he's the perfect child. We have not had reasons…to be very concerned," the proud father said. 
Kajé plans to attend the St Vincent and the Grenadines Community College, where he will study Pure Mathematics, Physics Computer Science and Management of Business. 
The 17-year-old expressed sincerest gratitude to those who have supported him in his academic journey thus far. 
"…my Almighty Father for His constant comfort, strength, guidance, peace. I would love to thank my parents, my grandparents…my classmates, they have been a real help in those times with projects or assignments. I would like to thank the teachers at the St. Vincent Grammar School. I'd like to thank the Deputy headmaster as well. And also the teachers at the Colonarie Primary School and Georgetown Government School. I'd also like to thank my church family [at the Ebenezer Seventh Day Adventist Church] and all other well wishers…Thank you, everyone," he said.