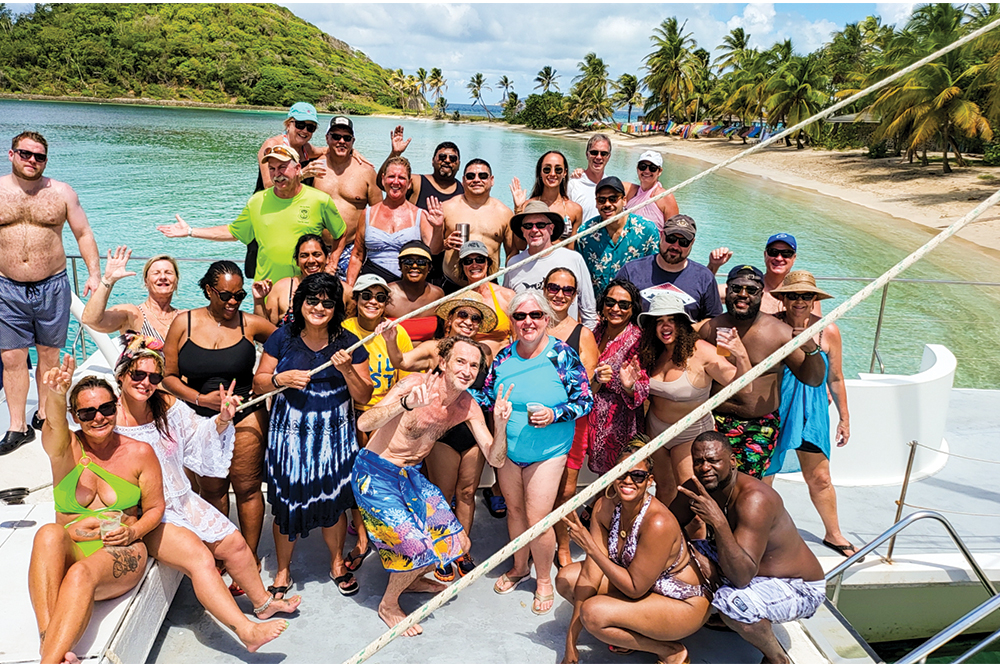 Front Page
October 29, 2021
Travel industry 'ambassadors' visit SVG on unique awareness initiative
At age 19, and making use of a $40. 00 discounted ticket from the airline for which he worked, Phil Dobson left the UK for a visit to the Caribbean via Canada, and dropped in at Petit St Vincent in the southern Grenadines.
He was totally smitten by that experience and drawn to return every year since. Now that St Vincent and the Grenadines (SVG), has become much more accessible to the international traveller, Dobson, who owns the company Staff Travel Voyage, is seeking to promote destination SVG by the word of mouth accounts of a group of 34 travel industry 'ambassadors' to whom he has introduced the multi-island nation. The 34 employees of American Airlines, Air Canada, Virgin Atlantic, Envoy Air, PSA Airlines, British Airways, and a host of travel agents from the Intele group of travel agents in the UK, visited SVG last week to experience and help build awareness about the destination.
"The best people to educate about a destination are people that are working in the business itself and they are able to spread the word," Dobson told SEARCHLIGHT in a telephone interview shortly after returning to the UK.
"People that work for airlines go everywhere in the world and they are good influencers. People ask them 'you work for an airline, where do you recommend I go'? so they are in a position to recommend destinations.
"What we are doing will significantly help in the rebuilding of the tourism industry and the recovery process will be quicker."
The group had to quarantine for the first few days on arrival, and even though Dobson described it as a "whirlwind visit", they were able to take in several sites on the mainland and in the Grenadines, and Dobson is confident that over time the initiative will bear fruit.
Using American Airlines as an example, he noted that the company has a complement of 110,000 staff who are linked internally via social media, but each also has contact with people outside the company who they can tell about the destination, creating a sort of multiplier effect.
Dobson himself celebrated his 50th birthday on SVG and he relates that a 49 year old member of the group of travel industry 'ambassadors' is making plans to come to SVG for his 50th birthday, bringing a possible 70 member party of visitors.
A slew of local businesses, from restaurants, to taxis and water tour operators, offered good rates to the group which stayed on Bequia at the Plantation House Hotel, and Dobson said he was pleased with this arrangement.
"Staff Travel Voyage is a global company that arranges for short vacations for people who are working in the travel industry. Employees are flight attendants and pilots, and travel agents," Dobson explained, and having been visiting destination SVG for the past 36 years, he felt compelled to contribute in the rebuilding of this country's tourism industry.
"We try to help countries that are in need of some assistance, St Vincent and the Grenadines is close my heart, it's my favourite place on earth in fact," said Dobson who shared that he has visited 166 countries, but wants to help develop additional tourism-related undertakings in SVG.
The germ of the idea for the October 13-23 visit was shared with this country's Minister of Tourism Carlos James, when Dobson paid a courtesy visit in June and noted then that "with covid, all of the destinations are down on their knees".
However, he is confident that destination SVG is in a very good position to rebuild and expand, and he sees as a plus, the country not having engaged in mass tourism as so many destinations did in the 1960's.
"I know everything is very bad at the moment with Soufriere and COVID, but they're in a very good starting position because everyone has to start again now after COVID, I think St Vincent and the Grenadines can come out tops because it's the most beautiful of the destinations.
" It just needs some more hotels and more airlines will come, you have to create the demand, but you don't want too many hotels and too many airlines because they would ruin the place, so St Vincent is going in the right direction and the part I can play is to help with what I can- awareness, spreading the word."
While most of the visiting travel industry 'ambassadors' left the state on Monday, three of them extended their stay for a few more days returning to the Grenadines, and flying out on Wednesday morning.
Dobson is anticipating that not only will many of them return, but others in their immediate and wider circles will fly in to for an experience on "the most beautiful place on earth".