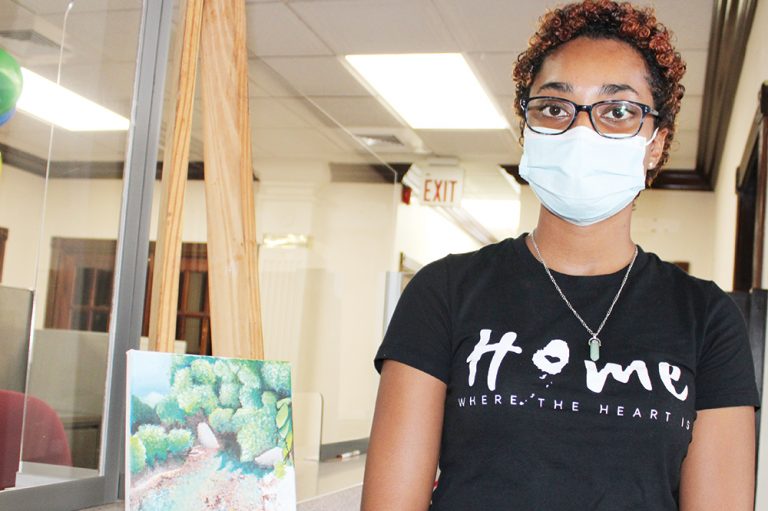 Front Page
October 29, 2021
Artists display their work at Building and Loan exhibition
Paintings of nature landscapes of Mesopotamia done by a 20-year-old resident were among a range of pieces from local artists showcased at an Independence art exhibition put on by the St Vincent Building and Loan Association (SVBLA) on Tuesday, October 26.
A range of independence activities was in full swing at the Association's Corporate offices in Kingstown, where the output of local businesses and artists was on display.
Artists Sherika Sayers, 15-year-old Girls' High School (GHS) student, Geneviéve McMaster, Peter Providence, Kareen Singh, Zen Punnett and Danville Toney all made full use of the opportunity to showcase their work.
"…We have so much talent here in St Vincent and the Grenadines and sometimes they don't get the opportunity to showcase their work or at least to a large audience, so we wanted to give them that opportunity," recently appointed Marketing officer Candice Sealey revealed.
All the chosen canvasses showcased the beauty of St Vincent and the Grenadines(SVG) whether it be the people, wildlife or the landscape.
Singh's paintings were no exception.
"I really love St Vincent so I always want to capture it," she said, whether it be the nature, or the spirit of the people.
"I know that there are a lot of Vincentians who are not in St Vincent and they miss home desperately, and they want something to look back and remember because we are very different from other countries and even other Caribbean countries; we have a very different energy, and I try to portray that in my paintings," she explained.
Art has always been an outlet for the 20-year-old, and it feels for her like it's been something she's done since birth.
She grew up in the Marriaqua valley with her grandparents who are farmers, and would often accompany them to the mountains.
Following the sage advice of other painters, she has adopted the practice of taking hundreds of photographs before deciding what she would want to paint.
In the case of one of her pieces displayed at the exhibition, it is a black and white representation with the focal point being a dasheen crop.
Her thoughts were to capture that society seems to be turning its back on ground provisions and favouring instead such dishes as macaroni pie and baked chicken.
"I'm heavy on shading, the black and white is just mainly to focus on that and take away the colour because I think sometimes you can get distracted and you don't really notice the textures, the shading techniques, all of those things. So it was nice to just practice and just focus on that alone," Singh said.
The student, who is pursuing an accounting degree, has painted on canvasses larger than herself, but these take her some months as she places emphasis on detail.
Due to her busy school schedule she paints on smaller canvasses more often, such as her second painting displayed at the SVBLA event.
This neat piece, done in colour, uses a different technique, pointillism, to capture a river and small waterfall in Mesopotamia.
"I think art is something that should inspire more people and it's something that should be shared so, it's very nice to see that they're having more exhibitions lately," she said of her inclusion in the activities.