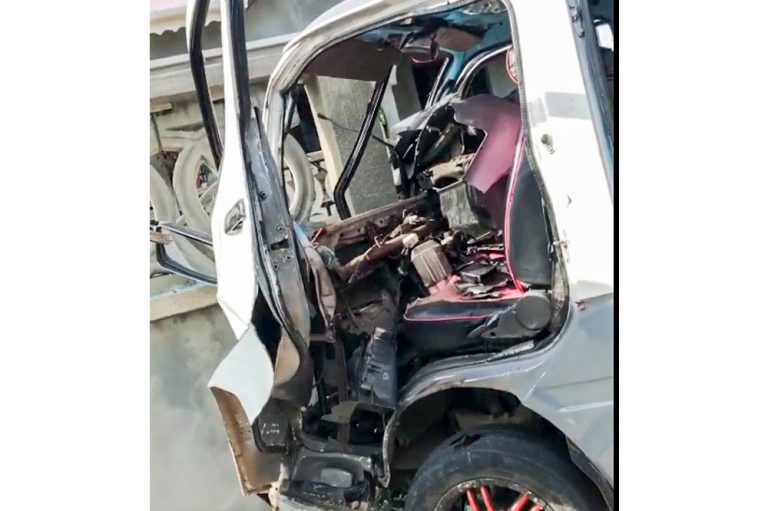 Front Page
October 15, 2021
Accident on Union Island leaves several persons injured
Four persons who reportedly sustained broken limbs in a vehicular accident in Union Island on Tuesday were airlifted to the mainland for medical treatment.

Minivan HN807 lost control and smashed front first into a wall in Donaldson, Union Island, early on Tuesday afternoon October 12.
In the aftermath, reports are that driver Noel Glasgow suffered a broken leg and damage to his ribcage, while three passengers also sustained injuries.
They are said to be: Union Island Secondary School(UISS) student Kyra Grant, reported to have broken both legs; all skills construction worker Cardel Jacobs, who is apparently nursing a broken arm; and Federal Peters who suffered a broken foot and kneecap.
The decision was taken to airlift all of the occupants of the minivan to the mainland for treatment.
Since then, there have been calls on social media for blood donations in aid of one of the passengers, but indications are that all the injured passengers were in stable condition as of the time of going to press.
The injured persons are said to have covered the cost of their evacuation out of their pockets, aided by some donations collected from the Union Island public.
However, Director of Grenadines Affairs, Edwin Snagg, told SEARCHLIGHT yesterday, October 14, "There has been some discussion between myself and the honourable Prime Minister (Dr Ralph Gonsalves) with relation to the refunding of the airlift, because in my humble estimation I strongly believe if you are at a medical facility and the personnel at that facility, for instance in Union Island the doctor and the senior nursing officer believe that you should be transferred to another facility – that the state in some way should assist in this regard."
He also reasoned that, "…if it is a life-threatening situation and there is a need for immediate evacuation, then the judgement call has to be made by the personnel at the hospital."
When the news first broke of the passengers being airlifted, persons began questioning why the Medevac vessel 'The Baliceaux' , a 52 by 16 ft vessel worth $4.3 million purchased by the state last year, was not used to carry out this task.
Snagg said that the medical personnel had not requested use of the vessel.
"…It has to be requested by the medical personnel and if the medical personnel didn't request it, then the vessel can't just leave out of the sky wherever it is to come to facilitate any evacuation if it's not requested," Snagg commented.
The public has apparently voiced the opinion that a Medevac Helicopter would be more appropriate.
However, Snagg considered that this would be a very expensive exercise "in relation to the question of maintenance and the provision of the necessary crew and then having to deal with all the FAA(Federal Aviation Administration) regulations with relation to the operation of such a helicopter in terms of its maintenance and things of the like."
The Director also submitted that "The majority of evacuations that have happened from the Union Island hospital, they actually took place by sea."