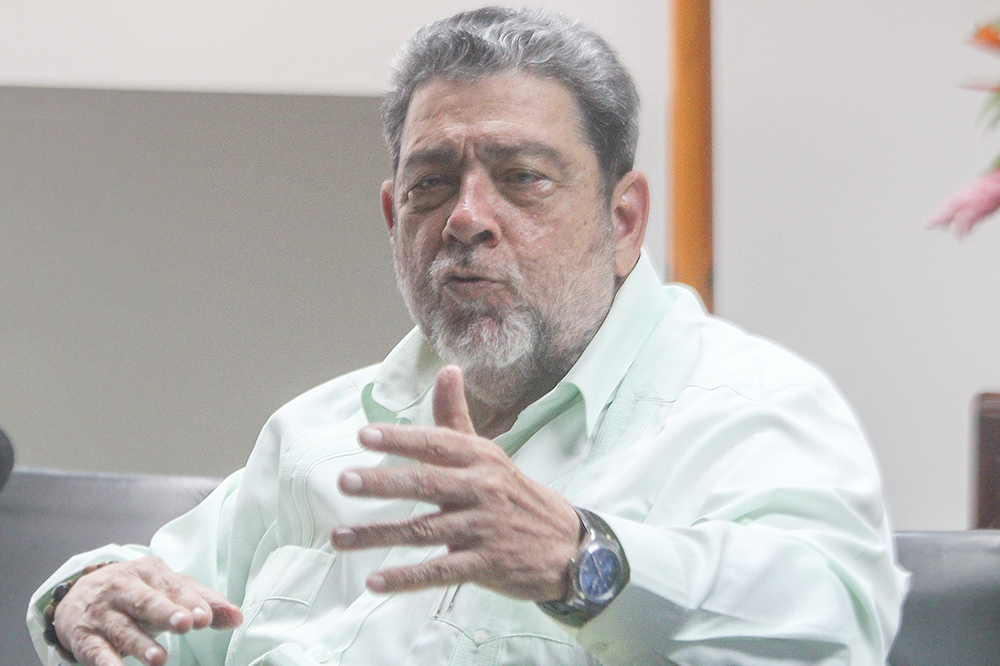 Front Page
October 12, 2021
We could lose window of opportunity – PM
This country may have very well given away more COVID-19 vaccines than have been administered to the population. 
And while there has been a recent increase in persons receiving the jab, it may not be enough to secure more vaccines in the future. 
This was made clear by Prime Minister Dr Ralph Gonsalves, who revealed on Sunday October 10, that St Vincent and the Grenadines (SVG), had given away yet another batch of vaccines last week to three different Caribbean countries. 
"…We may find ourselves that when you are ready to take the vaccine, we don't have it because the vaccines have an expiry date," he said on the Issues at Hand programme aired Sunday's on We FM. 
The prime minister said last Friday this country had given away half of the 20,000 doses it received from Canada because they were due to expire at the end of this month. 
Some from this batch had already been used to administer first doses and some was retained to administer the second dose.
"We have a lot of vaccines and…we ourselves, from the Central Government, we haven't paid for one vaccine you know. We have gotten donations of one kind or another and even those which have to be paid for, like the Sputnik, were purchased through a donation from an NGO registered in Canada but funded specifically by persons associated with St Vincent and the Grenadines," Gonsalves explained.
Among the several donations this country has received in recent months, is about 17,500 doses of Pfizer vaccines from the United States government, which also promised more doses in the future.
These vaccines will expire in February 2022.
But Gonsalves said he has already received calls from two prime ministers in the region, inquiring whether SVG had any Pfizer vaccines to spare.
"The United States government has contacted us. They want to know how much we have been using, and while other countries are going to get their second tranche, we are not in a position to tell them to give us the second tranche yet," he said.
"Would it be available when we want it? So, we have been talking thus far about the demand being slack, slow and we have been…making the assumption that the supply of the vaccines will always be there, but the supply may not be there…" So far, SVG has administered over 35,100 doses of COVID-19 vaccines to citizens, with more than 21,300 being first doses and over 13,700 being second doses.