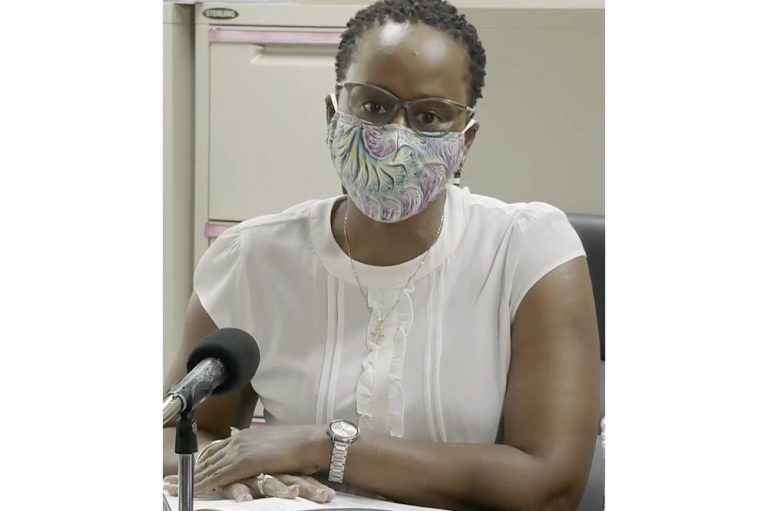 Front Page
October 8, 2021
Elderly fully vaccinated woman recovers from COVID
A fully vaccinated 74-year-old woman who was diagnosed with COVID-19 has been discharged from the Milton Cato Memorial Hospital (MCMH), after recovering from the disease.
"Today we had a 74-year-old female who was on the ward for two weeks, Covid positive, and she's been discharged today, and she's vaccinated, she's fully vaccinated," Chief Medical Officer, Dr.Simone Keizer-Beache revealed this week during the "Round Table Talk" on VC3.
"…The difference between a 74-year-old, who we know is a high risk for a poor outcome, relative to somebody who is much younger, 47 say," she noted, "…proven by evidence throughout the world over time; is the vaccination."
She encouraged persons not to wait to take a Covid-19 vaccine, and reminded that there are a range of vaccines available, including Pfizer-BioNTech, Oxford AstraZeneca and Sputnik V.
Also during the programme, the CMO noted that just as in other parts of the world, this current outbreak that we are experiencing "is mainly an outbreak of the unvaccinated persons."
According to the records, "right now in hospital we have 58 persons admitted of which we have two of them being partially vaccinated, and the others unvaccinated."
Keizer-Beache informed that all deaths have been of unvaccinated persons.
To date, there have been 33 Covid related deaths, most of them attributed to Covid pneumonia. Of these 33 persons, 21 are associated with this September/October spike.
The CMO clarified that, "…We had one person who it is reported, because we are still to confirm that in our system, is reported to have received one dose a few days before presenting as a positive case, and that person died soon after presentation."
She reiterated that "We do have persons who are vaccinated, both partially and fully vaccinated coming down with COVID-19, but the majority of those persons have very mild diseases, they don't need admission, and they recover pretty quickly."
Addressing some of the many rumours floating that are making the rounds, she said, "I can confirm, we have had no one dying from the vaccine, despite all of the rumours you always hear that we are hiding things."
"… Persons have all of these issues in terms of their privacy and their medical records. So how is it that we will be able to falsify documents and claim that somebody who died from the vaccine didn't die from the vaccine?"
Consultant and Urologist Doctor Rohan Deshong also appeared on the programme with the CMO, and he described the current situation as unfortunate.
"The simplest word is unfortunate. Unfortunate because we've had a lot of time to, as my facebook friends would say, do our research, we've had a lot of time to ask questions, to be sceptical…and it's unfortunate," he stated about the vaccination situation.
"…there is no need for Vincentians to be dying in the presence of an effective vaccine," Deshong pointed out.
"…It's so unfortunate that when I think about it, it makes me angry so I tend not to want to talk about it because it tells us the power of words, the power of misinformation and they're even those who are doubling down and trying to misrepresent what's going on."
He addressed the rumour that the health officials are escalating figures so that persons would take the vaccine.
"If anything, I mean my CMO would agree with me, we tend not to escalate the figures," he said, explaining that they have a fairly high threshold for calling a death a Covid death and a high threshold for diagnosis.
The doctor elaborated, "if you have had the infection and you have recovered from the infection, meaning your test is negative, it doesn't mean you have recovered from the effects of the virus. We know that you could have recovered from a nasal swab. But in the tissues the virus is still present, and you could have long Covid, meaning even if the virus is out, meaning the body has gotten rid of it, that fight in the body to get rid of the virus creates the situation where the body has to recover, and you can get tired, worn, brain fog,"the doctor explained.
"…But I can imagine a scenario where people have died and first of all, maybe at home, without having a test before, you know you've heard people were found dead. I can also imagine a situation where people have 'recovered', who can die subsequently. So this is a disease that is well known, but still we're gaining more knowledge," he said.