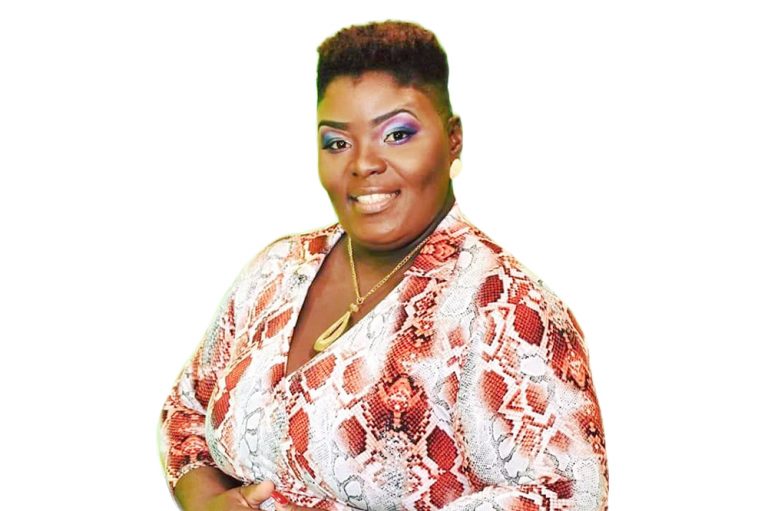 Front Page
October 5, 2021
Radio personality succumbs to Covid19
A veteran radio announcer, a Minister of the Gospel, a mother, a grandmother and a woman known to all as being full of life; lost her battle with COVID-19 in the early hours of Sunday morning.
Javelle Frank, who worked with the National Broadcasting Corporation(NBC) since November 2013, took her last breath at around 2:30 a.m on October 3. The 39-year-old leaves behind three children and one grandchild.
She was hospitalised for less than a week, but was said to be conversing normally over the phone while being on oxygen just one day before she died.
"Javelle was a very joyful person. She was always vivacious, full of energy, synonymous with her name she was very frank, and very open," Dionne John, General Manager of NBC radio said yesterday, October 4, while speaking with SEARCHLIGHT about Frank's passing.
"She always said what she had to say – whether she was being frank or not – from a position of love," John recalled, "It was not with any sense of animosity or anything like that."
Having said her piece, Frank would often add "I love my sister, I love my queen, be of good cheer."
There has been a lot of tears and emotions, "associated with her passing because she really was like a live wire. She would walk in the door and even if you didn't see her physically, you would hear 'Let there be light' so you know Javelle was in the building."
Frank's main segment NBC radio was her midmorning programme slot from nine to one. She pioneered the "Joyful Praise" programme, heard in that slot, seven years ago, which featured gospel music, local, regional and international, teachings and testimonies.
It is noted that although Frank was not vaccinated against COVID-19, she discharged her responsibility to air the promo for vaccination without hesitation.
"I am of the opinion that, had she survived, that she was going to take the vaccine, that she had a testimony to give," John stated.
Programme Manager at NBC radio Colvin Harry has known Frank since 2006.
"Her love for radio has been there long before NBC, as a matter of fact, she traces it back to Cross Country Radio, which is where she started; that would have been in the early 2000s," Harry noted, to questions about Frank's beginnings in the world of radio.
The two worked together at Total 100.5 FM between 2006 and 2008. Total FM was then absorbed by the St Vincent Broadcasting Corporation Ltd which resulted in Frank and Harry working at separate stations for a period. Frank ultimately joined Harry at NBC when she moved there from Ezee Radio in 2013.
"…We'll really miss her for all that she has contributed to the Corporation, and especially for the Joyful Praise programme," her colleague said, "…Because she's inspired so many listeners at home and abroad" with encouragement when they needed it.
At the station, "She was a very resourceful person, always willing and ready to assist whatever's happening in the department. She certainly had a bubbly spirit. Any time she walked into the room…" She was also said to be dependable, could be relied upon to get her tasks completed, and supportive of her team and co-workers.
Frank was a former Executive Member of the Public Service Union(PSU), serving for two years as second vice president with responsibility for public relations.
President of the Union, Elroy Boucher, revealed that when he heard of Frank's death he was shocked.
"…You are accustomed to see and hear this vivacious person, full of life, gospel artiste, woman of God – I mean a spiritual, absolutely spiritual person – you accustomed to seeing them and hearing them full of life and the last you expected to hear was such shocking news," he said.
"…Full of passion, a powerful person. I mean just her very presence," he commented.
Boucher said that she was a representative voice for the women and the youth through the Union.
"…She's a hard worker, she's quite outspoken, she has a powerful voice. She speaks to issues that affected the youths and women, she was a good advocate for the Labour Movement. She also served on several committees at the Caribbean Public Services Association," he listed.
The president remembered one particular rally, when "I think it was international women's day 2018/2019 and we had a function at Heritage Square in which Javelle sang. I mean tears almost came to my eyes, that's how beautiful her voice was and how powerful her voice
was. She sang a Gospel song – it touched everybody…" She offered them her experience on radio and was instrumental in launching and filling the role of moderator of the 'PSU Speaks' programme which started on NBC.
One of Frank's children, Jave Ann Frank has expressed some of her feelings at her mother's passing.
On social media, she said that she cannot eat or sleep, and expressed how much she misses her mom.
She wrote, "Ma I got 2 hours of sleep this morning, I wake up crying and screaming and I know if u were here there wouldn't be a reason to scream but if I scream at 5am you would ask me 'Child are you mad?'" Many friends, listeners and colleagues have taken to social media to share their memories of Frank and offer condolences.
[[ UPDATED on October 5, 2021 at 7:16 pm to correct part of Frank's work history and  that of broadcaster Colvin Harry.]]