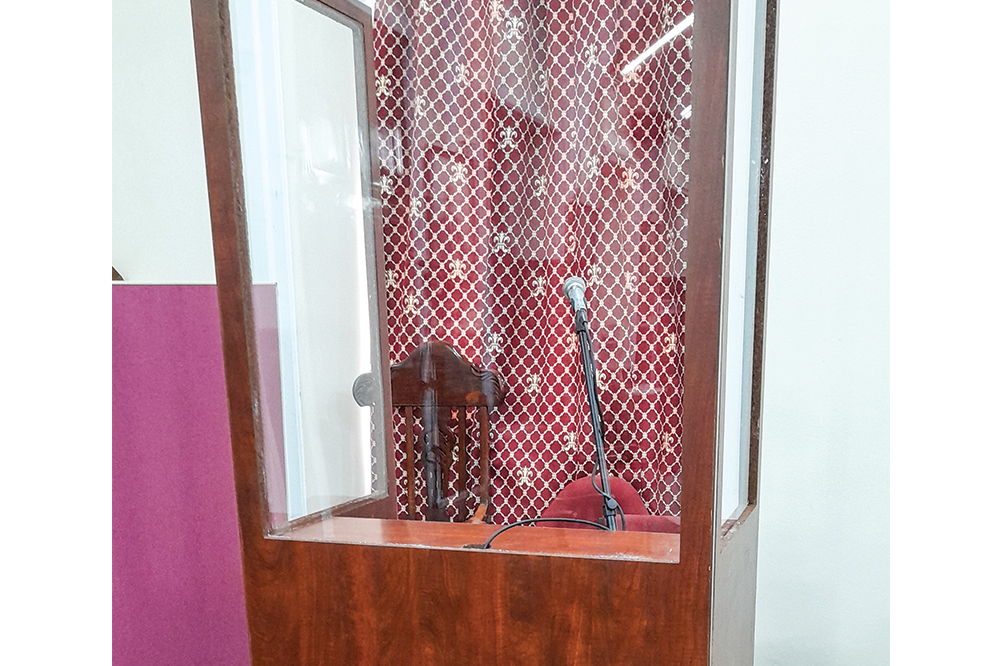 Front Page
October 1, 2021
Questions unasked in House as Opposition refuse to use speaking booth
Several questions were left unanswered in the House of Assembly yesterday, September 30 as Parliamentarians on the Opposition benches in the House refused to adhere to new COVID-19 protocols that have been implemented.
"There is nobody in this House safer than me. I came in here with a negative PCR test. Why you want me to go to a booth? I ain't selling Lotto! " Fitzgerald Bramble, Parliamentary Representative for East Kingstown said, as he protested against one of the new measures.
The new protocols, which the Speaker Rochelle Forde announced yesterday require that unvaccinated members, or members who have chosen not to reveal their vaccination status, make their contribution, no matter the length, from behind a booth.
While making the contribution behind this booth, the member is expected to be double masked. In order to be allowed entry into the Chambers, parliamentarians must present proof of being fully vaccinated or provide a negative PCR test result, which was taken no later than two days prior to the sitting.
While all members on the government side have provided proof of having been vaccinated, some opposition parliamentarians have chosen not to disclose their vaccination status.
The Speaker said during her announcement that she was "very satisfied with the full buy-in of members".
But having arrived at the sitting with negative PCR tests results some opposition members argued that they should be allowed to stay in their usual seats and make their contributions.
Senator Israel Bruce was the first to strongly protest going to the booth, as he tried making congratulatory remarks from his seat.
However, after some back and forth with the Speaker, and continued refusal to speak from behind the booth, the opposition senator was made to sit, and forfeit his chance to give congratulatory remarks.
When it was the turn of Terrance Ollivierre, the Member for the Southern Grenadines to ask a question, the Speaker instructed him that he ought to utilise the booth.
"…I'm here to do my work. I didn't expect to be treated as a second class member of this House. I expect all members should be treated fairly and as a result of that, I would have my seat," Ollivierre said while on his feet from his usual seat.
Nigel Stevenson, the Member for South Leeward also followed suit when called upon by the Speaker to use the booth to ask his questions.
He remained silent and seated for the three questions listed on the order paper to be asked in his name.
" I ain't selling Lotto, why should I go to a booth? Come on Madam Speaker. I came here to do the people's business!," Fitz Bramble also said from his seat, as he too refused to use the speaking booth.
Dr Godwin Friday, the Opposition Leader, spoke briefly on the matter at the beginning of yesterday's sitting, voicing concerns about the new protocols.
"…While we all have public health as our number one priority, you can see how a procedure that requires that members, every time they open their mouth, must get up and run to a booth to speak, is going to interfere any member with the proper functioning of that member in this House," he said. "And where it is rational and absolutely required, we can understand, but you have asked for members on both sides of the House to indicate whether they are vaccinated, and also to have PCR tests."
Friday, who is fully vaccinated, disclosed that he took the PCR test to come to yesterday's sitting, as the test is the surest way of knowing what one's COVID19 status is; not being vaccinated.
The Opposition Leader further noted that both unvaccinated and vaccinated persons can contract and spread the virus.
"So, it begs the question then, why if all members have been vaccinated or have had the PCR test, why some members would have to be banished to Siberia in the box in order to make a contribution in this House or to wear two masks," he questioned.
Friday also said that in St Vincent and the Grenadines there is nowhere that requires persons to be double masked.
"It seems to me that some of the protocol procedures that are here, it would've been very helpful for these matters to be discussed with members of the House to have an input as well," he said.
The Opposition Leader referenced Parliaments in various jurisdictions that have implemented rules for sittings; more specifically Greece where parliamentarians have to have a PCR test regardless of their vaccination status.
With this in mind, the Opposition leader suggested that all members be treated "with the dignity that all members have the right to speak in the same way as any members in this House because it does not affect the public health considerations we are seeking to address".
Forde, the Speaker of the House noted the opposition leader's concerns but reiterated that the new protocols were approved by the Health Services Subcommittee, which is chaired by this country's Chief Medical Officer.
"I asked questions very similar to those which you have raised and I was guided and advised to maintain these protocols. I understand that indeed, the rules and regulations are stringent. I understand that we've changed our protocols but locally, circumstances have also changed…," she said.
Forde added that she could not "think of a compelling reason as a responsible Speaker of the House to disregard the sound advice of the medical officers in a public health emergency".