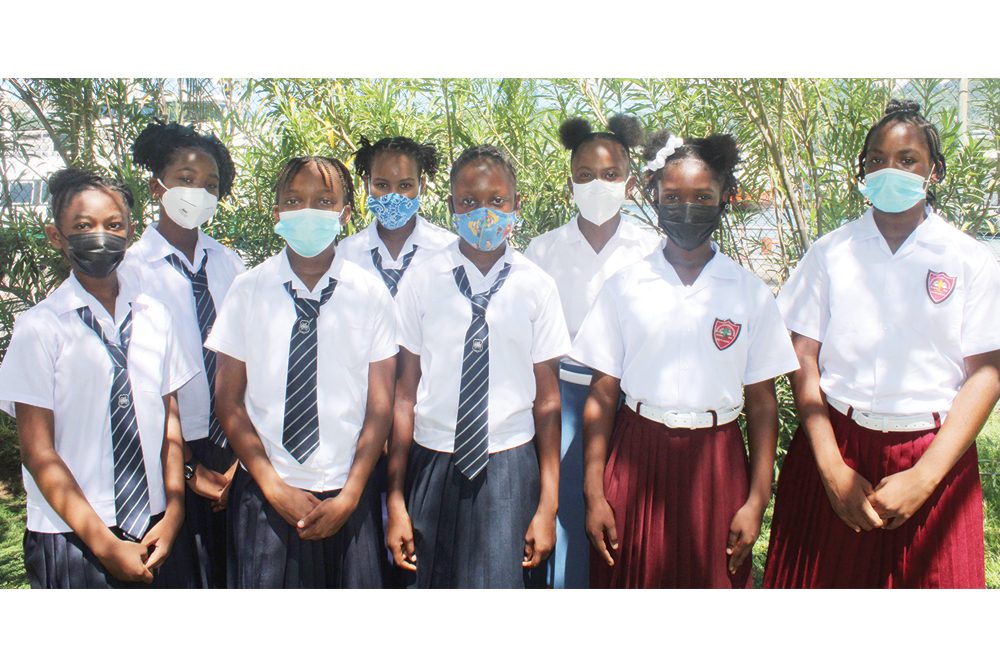 Front Page
October 1, 2021
NKSF rewards students with seven full scholarships and one busary
Seven full seven-year scholarships have been awarded to students for the first time ever in the history of the Norma Keizer Scholarship Foundation (NKSF) Incorporated.  
The seven recipients: Lucia Hillocks, Kaleigh Davis, Krystal Blugh, Mahali Gill, D'Arje King, Ciara Rose and Lasseica Alexander received the first tranche of their scholarship funds on Wednesday during a short ceremony held on the lawn of the Kingstown Cruise Terminal. 
 
A one-off bursary was also awarded to one student, Kennique Roberts during this event.  
"We have offered more scholarships than we would normally offer because of course, these are very difficult times. The competition was also keen and we got some help from sponsors who were willing to assist with other scholarships," Dr Adrian Fraser, Chairman of the NKSF said during brief remarks. 
Of the seven scholarships awarded, five students attend the Girls' High School, one student attends the Bishop's College Kingstown and one attends the St Joseph's Convent Kingstown. 
The bursary recipient is also a student of the Bishop's College Kingstown. 
"I want to say to the students, and this is important for parents and guardians, that with this scholarship comes a responsibility. You have to try to maintain your grades as high as possible or if you fall too low, there's a possibility you can lose that scholarship. But so far, all of our scholarship winners have done exceptionally well and we expect you all will continue with the support of your guardian or your parents," Fraser said. 
He pointed out that the Foundation offers support to students when necessary. 
 The NKSF Incorporated was officially registered as a non-profit organisation in July 2015 and aims to honour the sterling contribution of the late Norma Keizer to education in St Vincent and the Grenadines through the granting of scholarships and bursaries to deserving students to attend secondary and post-secondary educational institutions.
Desmory Francois, a parent of one of this year's recipients expressed gratitude to the NKSF for helping not one, but two of her daughters on their journey to secondary school. 
By way of a short anecdote, Francois told persons present on Wednesday that, "I first learned of this scholarship in 2015 and at that time, my daughter had passed to go to the Girls High School and I had applied. She wasn't awarded a scholarship, but she was awarded a bursary. At the time the bursary was awarded, orientation was fast approaching and she wasn't ready". 
The mother said she was unemployed with a small baby at the time, and that "things were really, really rough". 
 "So that day when I got the call to come to the office for 1 o' clock, I didn't even have money for bus fare, but I borrowed the money and I got there. And I just want to say thank you because that bursary was able to help my daughter prepare for secondary school in 2015, and now she has graduated from the Girls High School. She graduated last year and I know that bursary went a long way in starting her off so thank you for that," she said. 
Francois' youngest daughter, Lucia Hillocks is one of this year's scholarship recipients.
She thanked the Foundation on behalf of parents and guardians, for all who continue to lend support to the foundation, to be able to award students with this financial support. 
Kaleigh Davis, one of this year's scholarship recipients also expressed gratitude to the Foundation on behalf of all this year's recipients for allowing them to be able to pursue a secondary education without much financial stress.
These seven awards bring to 19, the number of active scholarship recipients supported by the NKSF. 
"How is this possible, given the COVID19 protocols which make fund-raising difficult? It is only through the grace of God and the generosity and sacrifice of our very caring sponsors who share the vision of our Foundation to inspire young Vincentians to aspire to greatness," Clare Keizer, the Foundation's secretary said as she gave a vote of thanks. 
Keizer made mention of several of this year's donors, including Drs Deborah and Gary Dennie of Maryland, USA, who sponsored two of this year's awardees. 
She also honoured late former educator and mistress at the Girls' High School, Jennie Jacobs, in whose memory support is given to the foundation on an annual basis. 
 Mention was also made of Alfred Fraser of Alberta, Canada, a former resident of Gomea, who has been a "dedicated and generous supporter of the foundation for the last five years". 
Fraser sponsored Zola Fraser of the West St George Secondary School, who was named student of the year at the school's 2021 graduation ceremony. 
"To the Findlay family of Barrouallie, Tus-T Water, the Arnos Vale Covenant Assembly, the Embassy of Taiwan, June Joshua, May Davy and Janet Sutherland, we are so grateful to you for your support," Keizer said. "Of course, there are many other donors, large and small, who have asked us to protect their identity…"
Keizer encouraged this year's awardees to work hard and honour the donors of the NKSF by making the most of the opportunity afforded them.