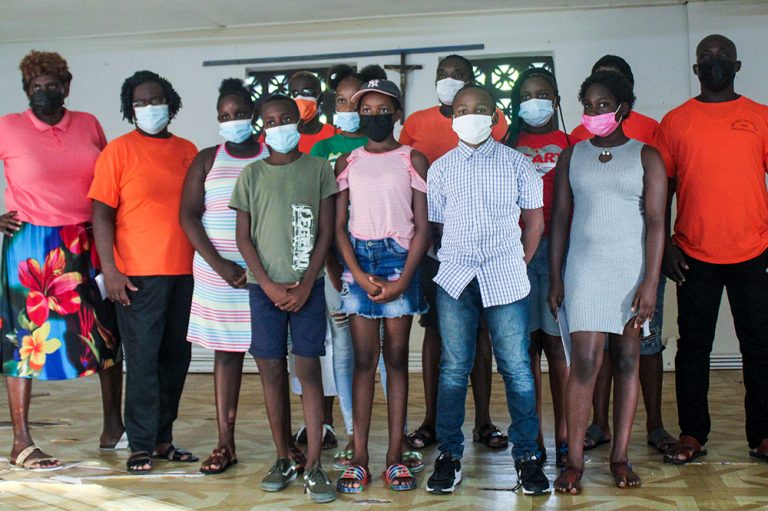 Front Page
September 28, 2021
Layou students receive gift vouchers from Becket Benefit Organisation
Ten students from the Layou Government School are this year's recipients of gift vouchers from the Becket Benefit Organisation — a reward for being successful in the 2021 CPEA examinations. 
The organisation presented the young scholars with $100 vouchers on Saturday during a small ceremony at the Catholic Centre in Layou. 
"We always see it fit to be working along with the students and we want to congratulate the students for making your parents proud, your guardian proud, your school proud and yourself proud, all of us…" Vernon 'Cooper' McDowall, president of the Organisation said at the event. 
He noted that it is still unclear whether students will return to classes in a face-to-face or online format when school resumes on October 4. 
Whatever the medium, McDowall encouraged students to "go out there, continue to do your best and continue to make your parents and your community proud". 
Stella Quow, a member of the Becket Benefit Organisation told parents that the $100 vouchers can be redeemed at Jax Enterprises.
They are also only to be used to purchase school items up to the value of the voucher. 
Quow, who is a retired educator, also offered words of encouragement to the students. 
She also urged parents not to overindulge in their children's wants and to be active when it comes to checking in and helping with school work where they can. 
One parent, Shakita Duncan thanked the organisation on behalf of other parents at Saturday's event. 
"A big thank you to the Becket Benefit Organisation for the good work they have been doing in our community and we thank you more so for today's gift voucher given to our children. We thank you and appreciate this very much," she said. 
Duncan also thanked God, for "it would not have been possible without him". 
"I want to say to us parents, this is something to support and encourage your children…children, continue to strive for excellence because the sky's the limit…continue to do your best and in whatever it is, put God first…" the parent also said. 
This year's recipients of the voucher are Jackeim John; Sarah Hazelwood; Serenity Joseph; Cuticia Young; Chizobah Nash; T-Sheika Sam; Joaquin Hazelwood; Jaria Butcher; Jaden Hunte and Cleo Taylor. 
The Becket Benefit Organisation will host a soup sale on Saturday, October 2 to raise funds in support of future initiatives like this one. (BK)