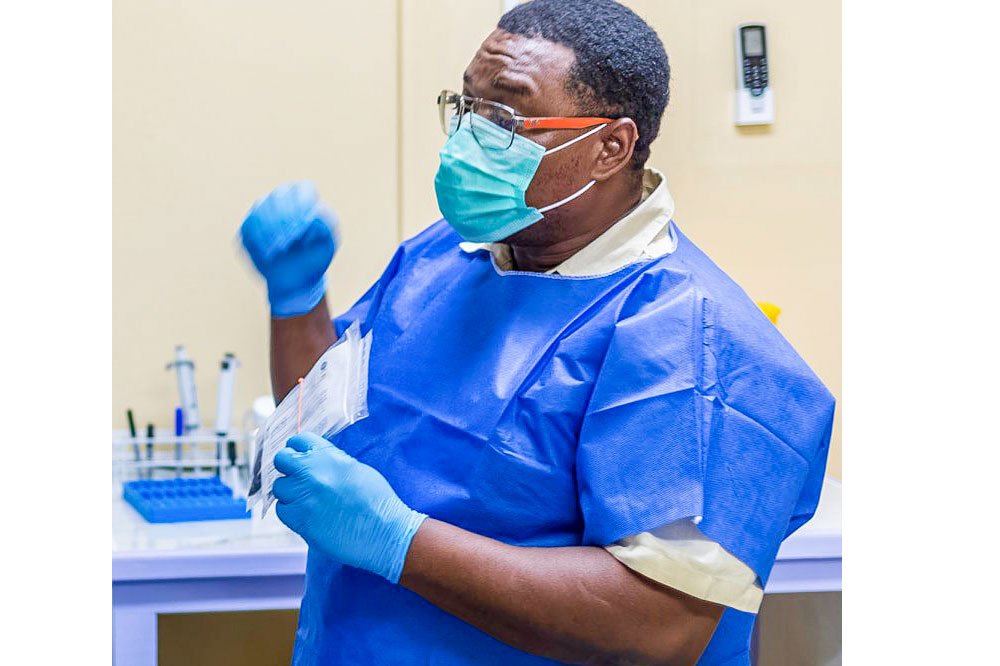 Front Page
September 24, 2021
Call for review of security at hospital and testing lab
Lab workers being threatened – CMO
The Chief Medical Officer (CMO) Dr. Simone Keizer-Beache has requested of Prime Minister Dr. Ralph Gonsalves, to address security issues for her staff at the laboratory facilities in Kingstown.
The request was referenced by Gonsalves on Wednesday morning as he spoke on the National Broadcasting Corporation's (NBC) 'Face to Face' programme ahead of the weekly cabinet meeting.
Gonsalves read from a note he said the CMO had sent to him the previous afternoon in which she pointed to some specific instances of threatening conduct by the public, and suggested that cabinet should look into it.
He spoke about a senior nursing official who, "just called regarding a man in her office threatening the staff at the top of his lungs who turns out to be a policeman," the Prime Minister said reading from the note.
Staff at the laboratory also have complained about threats made to them if exit screens are not ready, he said.
Gonsalves did not say whether the CMO's request was going to be addressed that day in Cabinet or at another time but asked in exasperation, "Why do we have to do this? Just take it easy no man way yo calling people and cussing them for, threatening them"?
He added: "you can't threaten people, you can't threaten the nurses, you can't threaten the staff there please…"
As one of the early measures to address the COVID19 pandemic, in June 2020, the government established an additional laboratory facility to handle covid19 swab tests which is staffed by 19 persons, of which seven are Cubans.
Chief Laboratory Technician, Elliot Samuel said the belligerence from the public has been ongoing and constant calls where the lab staff is being asked to provide the same information several times to the same individual is disruptive.
He revealed that persons have actually turned up to the molecular laboratory knocking on the door and demanding test results but they handle such cases individually and often persons calm down after they are spoken to.
"I think what makes people a bit 'antsy' is that it doesn't resonate with people that the lab is open 24 hours," he noted, explaining that persons who have to travel and therefore have a 72 hour window to take a test and obtain the results, may be particularly anxious and not exercise necessary patience.
However, he pointed out that the assurance given from the outset that there will be a 24-48 hour turnaround period for persons to receive their test results, still holds.
And, because the lab is open 24 hours a day, seven days a week, it is possible for persons to pick up their test results at what may be considered odd hour, such as at 3:a.m.
Due the spike currently being experienced nationally, the molecular laboratory is now handling a corresponding increase in the number of samples being taken to be tested.
Samuel said the lab is handling between 400-600 samples a day, whereas in the earlier stages of the pandemic, the daily average was around 250, but they are coping well.
"A lot has gone into the molecular laboratory, we have added instrumentation, we have added staff, we have increased capacity so we are not at a point yet where we are really overwhelmed with the number of samples we have", he assured.
"The public can rest assured that we are not in a position…where we cannot give anybody a result, we have been turning the results over in the 24-48 hour window promised," Samuel told SEARCHLIGHT.