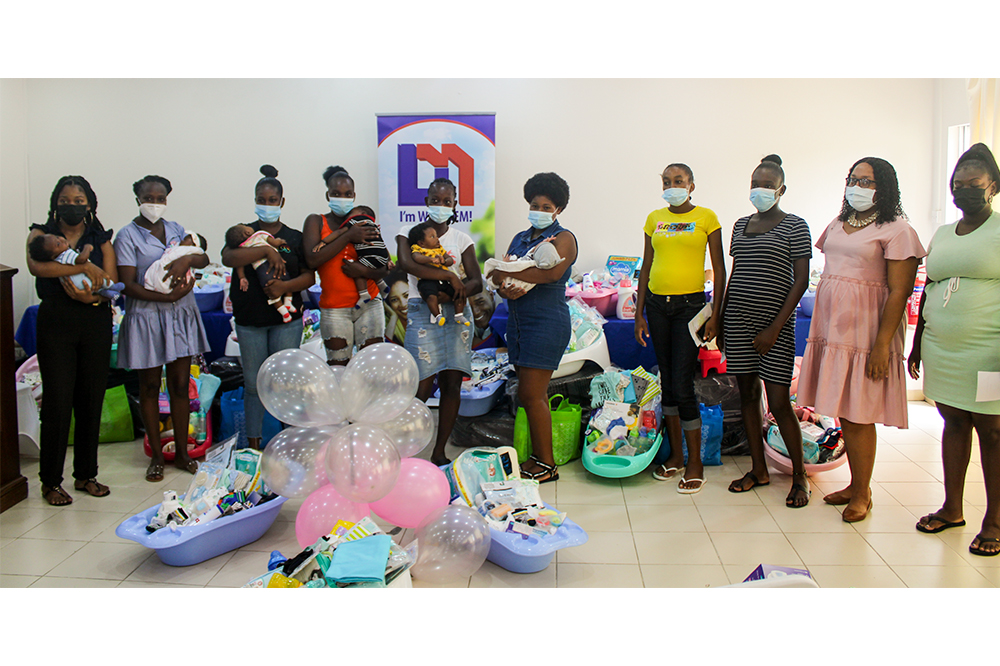 Front Page
September 14, 2021
Baby Mamas team strikes again
THE BABY MAMAS team has struck again – this time by throwing a small, intimate baby shower and distributing a wide range of items for 60 new and expectant mothers who were affected by the explosive eruptions of La Soufriere this year. The event was held yesterday, September 13, at the Sunset Shores Hotel conference room and marked the second phase of the giveaway, with over $61,000 worth of items being given away.
"…I'm hoping that all of us will be appreciative and to really thank God for this opportunity because it takes a lot to put together things of this sort," Donamie Providence, the manager of Demerara Mutual Life said at event Monday.
The insurance company covered the cost of the container that was shipped from Miami with the goodies that were presented to this new batch of mothers.
Providence, who is also a member of the Baby Mamas team, said it was a pleasure to be partnering on this initiative and that she was happy to know that the small group was able to contribute in this way.
The task of executing such an initiative involved quite a bit of mobilisation and donations on a local, regional and international scale.
The Lions Club and SVG UK Nottingham Committee were two organisations that played a major role in the distribution of baby items, but also in relief efforts since the eruptions in April 2021.
Lion Junior Bacchus told those present at yesterday's event that the Club has always been ready to assist wherever there is a need.
The Lions Club has been supportive of the Baby Mamas donation since the first phase, which was held in May and saw two separate showers taking place for 50 mothers.
Bacchus commended those involved for their dedication to help 110 mothers through this project. He also encouraged mothers and fathers present to cherish their young ones and to do what is necessary to protect themselves and families from the coronavirus.
By the end of August, the Lions Club was able to give support valued at $150,000 to several projects, including the Baby Mamas initiative. The service group was also able to deliver almost $1 million worth of supplies to people affected by the eruption.
Helen Cyrus, a representative from the SVG UK Nottingham Committee was also present at yesterday's baby shower.
The Diaspora group was instrumental in sending a 40ft container of supplies to be distributed across the island, among other things.
"It has been an honour to be a part of this as a Vincentian living abroad. We were all very upset and very concerned about what was happening here and what was amazing was to see total strangers coming together, people from other islands, as well as people local to Nottingham, which is where I'm living in the UK, coming together just because there was a need," she said.
The Baby Mamas initiative is the brainchild of La Toya DeRoche John, a graduate teacher at the Girls' High School.
DeRoche John expressed similar sentiments during her vote of thanks yesterday, as she heaped praises on Donnette Ishmael and her team at the St Lucia Tourism Enhancement Fund.
The Fund donated US$4600 towards the second phase of the initiative.
"It's incredible that persons who have never met you, persons who don't know us, we are a grassroots organisation, they just saw the work that we were doing and they decided to partner. So, to the St Lucia Tourism Enhancement Fund, Donnette Ishmael (project manager) and the rest of your team in St Lucia, I am eternally grateful," DeRoche John said.
Ishmael was supported by the Honorary Consul of Germany in St Lucia, Karolin Troubetzkoy, who also donated US$2500 towards the project. This donation wasused for the purchase of playpens for the babies.
Shimon Anderson of North Leeward accompanied his wife, Anouska Anderson and their three-week old baby girl, Kiara to yesterday's event.
And he had nothing but good words to sing on how his family felt to be receiving items for their first child.
"We're happy, grateful, joyful about everything," he said.
Aaliyah Browne, a Magum resident and mother of a six-week old baby boy, also told SEARCHLIGHT she felt really grateful to receive the goodies through the Baby Mamas initiative.
The Baby Mamas Team consists of a group of Vincentians: Deri Dickson, owner of Polished Beauty Clinic; Donamie Providence, manager at Demerara Mutual Life Insurance; lawyer, Vynnette Frederick, medical doctor, Dr Julia Akcayli and La Toya DeRoche -John.