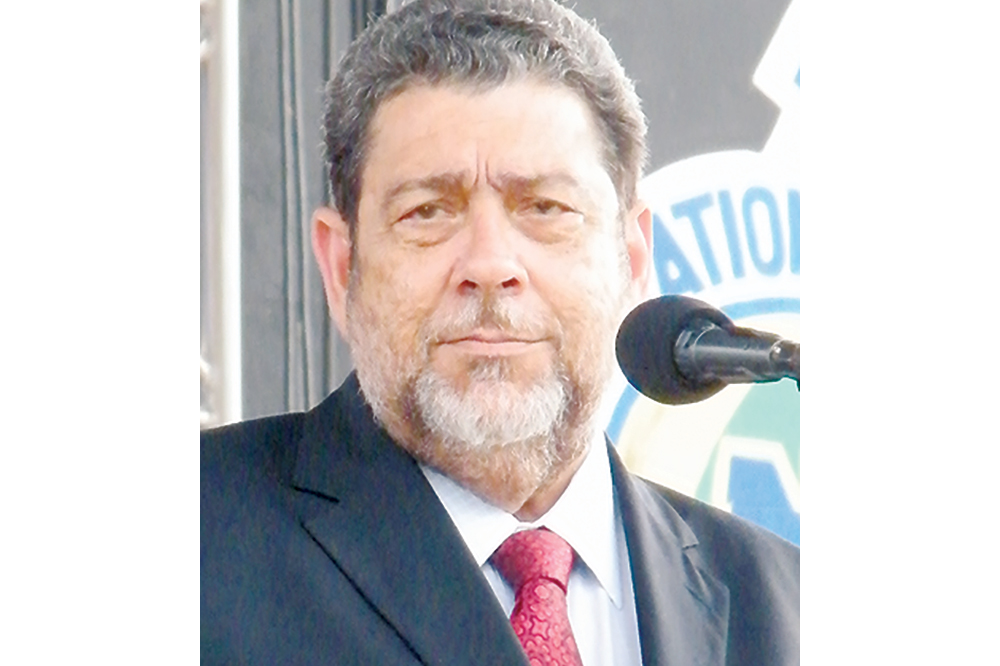 Front Page
August 27, 2021
PM appeals against industrial action
It is unlikely that the industrial action planned for September will have any impact in altering the government's decision to mandate vaccines for front-line workers in St Vincent and the Grenadines.
 This indication comes from Prime Minister Dr Ralph Gonsalves, who was commenting this week ahead of the September dates given by the Public Service Union (PSU) on which members of the public service, including essential workers, intend to withdraw their services. 
"What is that intended to achieve? That the government is going to change its position? That you're going to use industrial muscle to defeat right reason and what is in the public interest? That's what you intend to do? I don't think that people in the country will consider that to be reasonable," Gonsalves said on NBC radio on Wednesday morning.
An amendment to the Public Health Act was passed in Parliament in the early hours of August 6 which now requires certain front-line workers to be vaccinated in the public interest.
Members of the public service, and essential workers including nurses, protested against the amendment on August 5 saying that it is a violation of their right to personal choice.
Elroy Boucher, president of the PSU told SEARCHLIGHT that the decision for industrial action from September 7-10 is a direct result of the government's decision to "totally ignore" the opposition to the amendment, which has already been assented to by the Governor General and comes into force soon.
"…You hear me always talk about the nurses, how I love them. Female and male nurses, I love them. The doctors, the number of scholarships we get for them. Much has been given to you. Much is expected from you…I see them as my dear brothers and sisters so I am pleading with them, don't make this mistake," the Prime Minister said on radio as he appealed to nurses, doctors and public servants not to proceed with industrial action.
Gonsalves said that he is aware of many Vincentians including farmers and fisherfolk, who have no intentions of taking the vaccine.
He noted however, that these same citizens do not want to go to a hospital or clinic and receive care from a healthcare provider who is unvaccinated.
The Prime Minister further pointed to several other occupations where vaccinated workers are essential to the functioning of the business.
SVG's last COVID19 spike began in December 2020, and was marked by significant community spread of the virus.
Gonsalves acknowledged that the country has been doing significantly better in managing its cases, with just over 20 cases being active currently.
But he also pointed out that other countries in the region have been showing signs of a spike in recent times.
And he was heartened that more nurses are choosing to be vaccinated.
"Over the last 10 days or so, the last two weeks, the number of nurses at the Milton Cato Memorial Hospital has moved towards vaccination, from 25 per cent to 32 per cent and I'm sure that number will rise," Gonsalves said.
The Prime Minister expressed confidence in the vaccine mandate to be enforced by his government, noting that it is fully permissible under the constitution and law.
"People like Professor Rosemary Antoine who has, like me, been someone who has defended workers all her life, she said not only is this course we are following here fully permissible under the constitution and the law, but that it is also very justifiable to be done in the public interest," Gonsalves said. "The former president of the CCJ, Sir Dennis Byron in a briefing to us at the OECS, held the same position. I went through the framework of what we want to do. Now if I am going to err, I will err with all the law courts who have held that what we are doing here is correct; in Canada, in the US, in Britain, in Europe; the European Court of Justice, Australia, New Zealand, in the Caribbean including in Trinidad… and I would like to err with the 192 countries of the United Nations and all their medical establishments."
He reiterated that vaccination is essential in returning the country to a level of normalcy and keeping the population safe.
Gonsalves commented that "the nurses and doctors in this country know that Ralph and this government, at every turn, has been very good to them…" And he called on people to advise the PSU, who is spearheading next month's industrial action, that "what they are doing is not right for themselves and for the country".