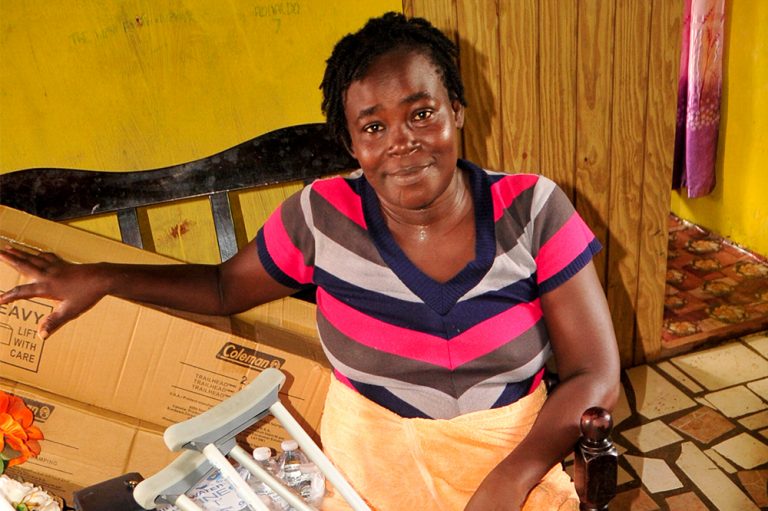 Front Page
August 24, 2021
Parents fearful for children after South Rivers nightmare
Events on the night of Friday night August 20, 2021 proved harrowing for a number of residents in South Rivers, as heavy rainfall in the mountains resulted in an unprecedented flow of water into the low lying areas.
The water breasted the South Rivers bridge, flowed down whatever channel it could find and turned the 'Pastures' section of South Rivers village into a watery nightmare for residents whose homes were flooded, leaving parents fearful for the lives of their children.
One mother who would not like to relive that experience is Varnetta Dalzell; whose situation was made even worse as a result of having lost the use of her left leg, in a vehicular accident in 2016 at Argyle. This was when the passenger van on which she was travelling ran off the road and onto the airstrip.
According to Dalzell, last Friday night was not easy for the eight persons in her home as not only is she forced to depend on others; she also has a son who suffers from mental illness.
She said they all had to sleep at neighbours, and while they were heading to the neighbour's house, her son who suffers from mental illness was going in the other direction, forcing persons to look for him in the rain.
"It was not easy with all that water coming down, but I have good neighbours who look out for each other," she told SEARCHLIGHT on Saturday.
She said early that morning she and the other able members of her household were taking clothes to the river to be washed again, remove furniture outside to be cleaned and dried, and scrub the floors.
While the sun was out in all of its glory, Dalzell was unhappy that she was unable to do anything to help. She looked on helplessly as mattresses, clothes, and other items were being cleared away, some to be permanently discarded; a result of the muddy waters which ravaged South Rivers the afternoon and night before.
However, she is confident that the family will recover despite their nightmarish encounter with an angry river.
It is not the first time that residents of Pasture have had to contend with the river in full flood.
[[UPDATE: This article was updated on August 30, 2021 at 10:33 am to correct the surname of Varnetta from Delz to Dalzell.]]