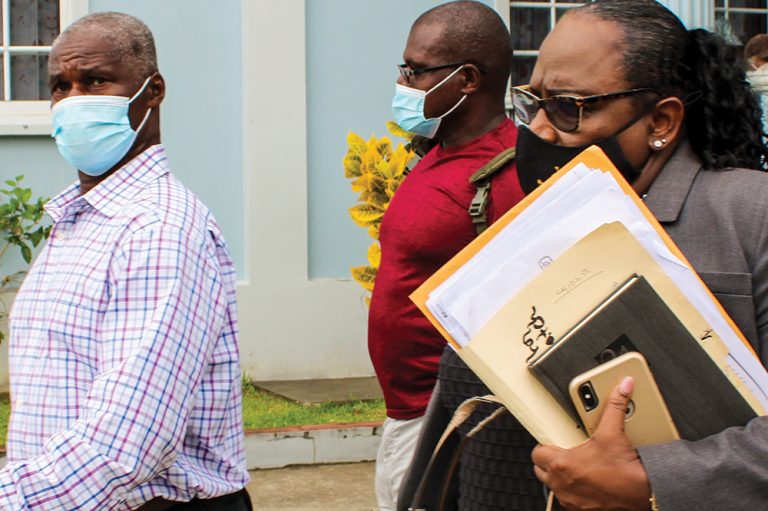 Front Page
August 20, 2021
Calliaqua Magistrate recuses herself from Cornelius John's shooting case
Magistrate Zoila Ellis-Browne will not be hearing the cases against Unity Labour Party (ULP) Senator Ashelle Morgan, Assistant Director of Public Prosecutions (DPP) Karim Nelson, and businessman Cornelius John.
Ellis-Browne, who presides at the Calliaqua Magistrate's Court, told the parties on August 17, that she is obliged to remove herself from the case because Morgan happens to be the family counsel. The implication here is that this is to avoid any risk of a lack of impartiality.
Therefore, the parties will be travelling once more, having made their first appearance at the Serious Offences Court (SOC) in Kingstown, where they were arraigned on June 25. Cornelius John must make his way to Biabou Magistrate's Court today, August 20, while Morgan and Nelson were sent to the Mesopotamia Magistrate's Court for appearance on August 27.
Further changes noted during this court session are that the Director of Public Prosecutions (DPP), Sejilla McDowall, submitted that the prosecution intends to proceed with Morgan and Nelson jointly.
Also, there has been an addition in the line up of legal representation. While counsel Ronald Marks previously represented both Nelson and Morgan, counsel Duane Daniel is now representing Morgan.
Counsel for John, Kay Bacchus-Baptiste, had previously made comments on June 25 pondering the choice to have one lawyer represent both Nelson and Morgan; but it is not certain whether this had any bearing on the decision.
It has been more than four months since the alleged April 13 incident from which this all started. The country has been up in arms to know the truth behind what really happened at John's residence in Diamond on that day, ever since it was revealed that the businessman was shot in his leg, and that he had alleged that Senator Morgan was present during the incident. The public reactions were further compounded by the fact that an Assistant DPP, Nelson, was named as a person of interest in the investigations.
Under the beady-eyed gaze of the populace, the DPP announced on June 24 that charges would be laid against all three due to cross complaints.
Morgan, a Diamond resident, is accused that she, on April 13, at Diamond, assaulted John with intent to commit the offence of wounding.
Nelson, of Calder Ridge, is charged that on the same date, and in the same place, he unlawfully and maliciously wounded John. Further, that he unlawfully discharged a firearm at him.
John is charged thrice over for allegedly causing a breach of the peace by using threatening language.
On April 13, the charge is that he threatened Morgan, saying that he "had grenades and machine guns" and that she should not get in his way, or he will kill her and his wife.
John is also alleged to have said to his wife, Nicole John, "You want me to get a machine gun and kill you and your grandchildren and children and take alyo out", and that he would chop off her neck, and sacrifice her head and blood to the devil along with him and her children.