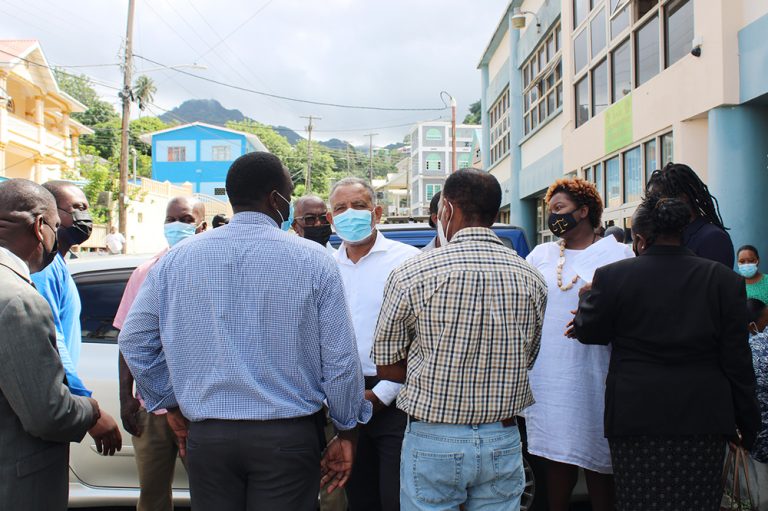 Front Page
August 17, 2021
Democracy is at stake, says Friday
Believing democracy to be at stake, the Leader and members of the Parliamentary Opposition are showing solidarity with two protesters, Adriana King and Kenson King, who were charged with organising 'illegal' protests, and attending these protests.
"I must say that it was very distressing to hear that they had been arrested on Friday and it seems to me that they (the police) waited until Sunday to bring charges which are clearly political, because (the charges) are dealing with organising a protest, being at a protest, without, they say, permission -they will have to prove that in the court " Dr Godwin Friday, President of the New Democratic Party(NDP), told reporters outside the Kingstown Magistrate's Court yesterday, August 16.
"The problem is that this takes places in a context where people are exercising their democratic right and it's clearly an effort to suppress people in the exercise of that right and to discourage others from taking part in further demonstrations," he stated.
Adriana King, a 41-year-old teacher was arrested by police on Friday while she was at home with her young daughter. She was released from custody at the Questelles Police Station on Sunday, August 15, after being granted station bail.
She said she has no previous experience with the law courts, but in describing how she felt at her arraignment yesterday, the activist noted, "I'm not sure if I should say I feel a little bit relieved. Relieved in the sense that I'm glad to be out of that station in Questelles, back with my family, so that's where the relief comes in. The procedure is just starting so we'll see how it goes."
In recapping the weekend, she spoke of the conditions she apparently faced while in custody at Questelles. "…The conditions there that's the only thing I would like to highlight at this point. I find them very dehumanising, the cells are really filthy, the bath is really horrible, and so I was not even able to have a bath in the time I was there because the baths are covered in faeces and I don't think anybody, any human being will feel comfortable in such condition."
Four charges have been brought against her. Two of them relate to a protest held on July 29. King is said to have, on this date, at about 9:30 a.m. at Kingstown, allegedly organised or was concerned in organising, a public procession without notifying the Commissioner of Police at least 24 hours before the procession, and she also allegedly took part in this public procession in contravention of Section 5, sub section (1) of the Public Order Act.
On August 5, at Kingstown, the picketer is said to have allegedly organised or was concerned with organising a public procession without notifying the Commissioner of Police at least 24 hours before the procession as is required by the Public Order Act. Further, that she did take part in the said procession.
The protest of August 5 is also the occasion during which a projectile was launched at Prime Minister Dr Ralph Gonsalves as he attempted to move from his personal vehicle to the House of Assembly building on foot, having been blocked by protesters. He received an open wound to his head and a concussion from the projectile. A Layou vendor named Annamay Lewis has been charged with the offence.
Kenson King, a 34-year-old Prison Officer of Park Hill, received similar charges as Adrianna, and for the same dates.
Both defendants are represented by counsels Kay Bacchus- Baptiste, and Shirlan 'Zita' Barnwell who were both previously NDP senators, and counsel Israel Bruce who is currently an NDP senator in Parliament.
The counsels asked for disclosure of the relevant documents in the case, and Senior Magistrate Rickie Burnett declared that it should be done by September 10. The court gave an adjournment date of November 17.
Despite the daunting prospect of a trip through the country's legal system, Adrianna remains sure of her future attendance at protests.
"I don't think it should discourage anybody. We have constitutional rights, and as much as possible we have to ensure that we uphold democracy in this country," she said outside the court yesterday.
In his comments to the media, the opposition leader contended that "Democracy doesn't mean that you elect people to go in the Parliament and every five years you make an X with a pen; you're supposed to be there defending it. And that's what they were doing, and so that's why I'm here today as well, to show solidarity with those persons whom they charged for taking part in that exercise of their democratic right because when you abandon that, basically where do we go? We're no longer in St Vincent, we're in countries where you have a police state."
Whether or not they will be seeking permission from the Commissioner of Police before protesting in the future, the Friday reasoned "That is their interpretation of what is required, we don't believe that that is the case because if that's the case then how can you have a protest?"
"…it's a right in the constitution that you have to go and do it, so long as you do so peacefully, and you do so in a way that elevates our expression of our democratic rights, and that's what we intend to do, that's what we've done in all the years that I've been in politics, that's what we intend to do going forward," he said.
Friday also commented that they are insisting upon their rights because conceding that the state can tell you when and where one can exercise their democratic rights is not how democracy functions.
On the application of other sections of the Public Order Act about which the police are now seeking to educate the public, the opposition will have a differing view. "We will have more to say about that. I know they're citing the Public Order Act and so forth and its application here, but we will say more about that at a particular time that we've set aside for that. But it's our view that that doesn't apply to dealing with demonstrations."
Following the events of August 5, the opposition leader has issued a statement in condemnation of violence. Yesterday, he noted, "…it doesn't help anybody's cause to have violence in a protest and we have always had peaceful protest in this country and we continue to do so."
Also supporting the duo at the court yesterday were Opposition MPs St Clair Leacock, FitzGerald Bramble, and Senator Shevern John.