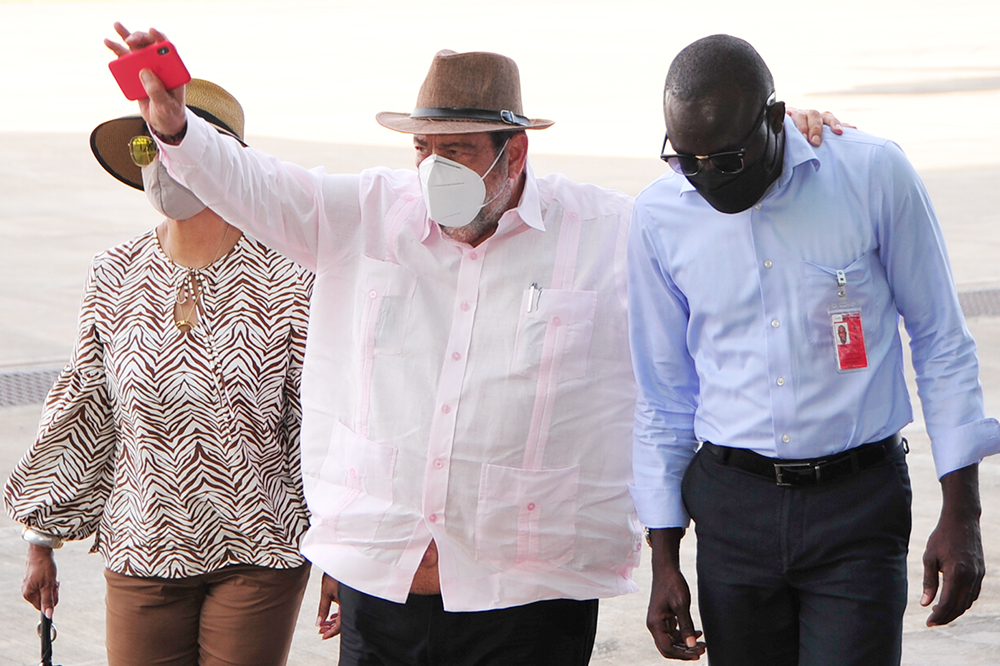 Front Page
August 10, 2021
PM returns home to warm welcome from his supporters
Prime Minister Dr Ralph Gonsalves returned home yesterday afternoon, after leaving the country last Thursday for medical treatment in Barbados as a result of a head injury sustained as people protested n Kingstown.
Gonsalves, who was struck by a projectile as he walked through an angry mob of protesters last week, arrived from Barbados sometime before 5p.m yesterday in an RSS aircraft accompanied by his wife Eloise. A medical doctor based at the Milton Cato Memorial Hospital, also accompanied him to Barbados and will be involved in monitoring his recovery for the next few weeks.
On arrival, the Prime Minister was greeted at the Argyle International Airport (AIA) by members of Cabinet and other well-wishers, before being part of a motorcade, which was led by a truck playing amplified music, a police car, and two police outriders.
Supporters of the Unity Labour Party, some sporting red shirts and carrying flags, could be seen along the side of the road waving and cheering as the motorcade made its way through various communities on its way into Kingstown.
On Sunday he called in on radio to give a medical update.
"I'm just coming from Queen Elizabeth hospital where the neurologist Dr Gill and the technician did some further tests on me and a further scan of the brain because yesterday morning when I got up, and as always, I begin to read but the pages were blurred," the prime minister said during WE FM's Issues at Hand programme as he gave an update on his health.
When he completed an MRI on Friday, one day after being struck in the head, it was found that the he had a concussion.
Gonsalves, who also celebrated his 75th birthday on Sunday, said he was advised by the doctor that blurry vision is one of the manifestations of what is called "post-concussion syndrome".
Other symptoms of the syndrome include unsteady walking, a loss in concentration and occasional loss of words.
But these symptoms, according to the doctor, are temporary and should resolve on their own within a four-week period.
The Prime Minister said he would be monitored for a further four to six weeks. He is required to be in quarantine for 48 hours.