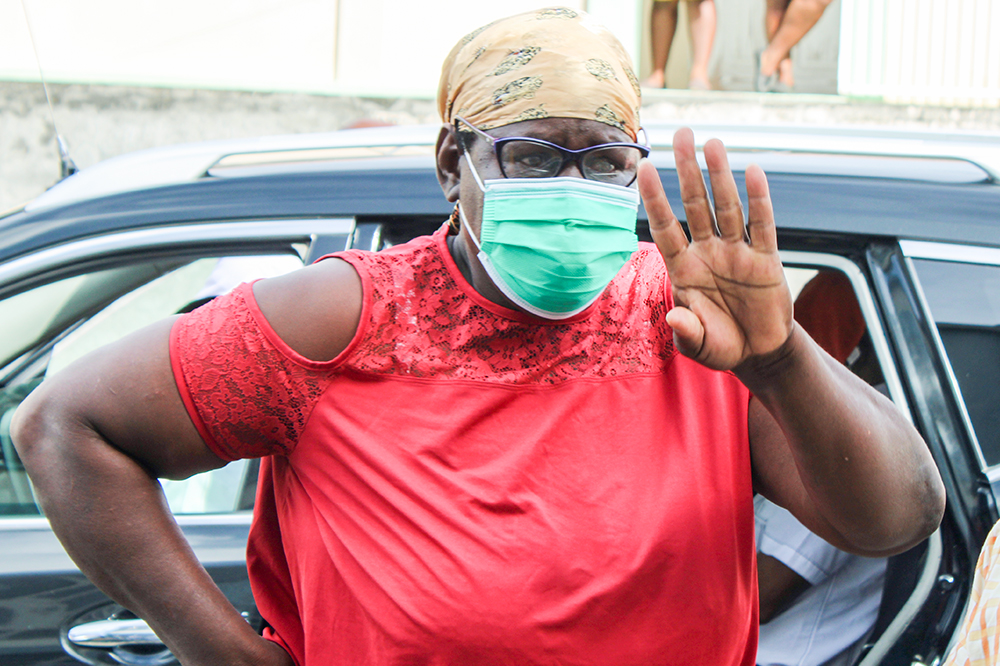 Front Page
August 10, 2021
Layou woman charged with wounding PM
The woman who has been charged with injuring Prime Minister, Dr Ralph Gonsalves, leading to concussion, appeared in court yesterday morning as a small group gathered some distance away to support her.
Annamay Lewis, a 56 year old resident of Layou at the Kingstown Magistrates Court, entered a 'Not Guilty' plea to the charge that she, on August 5, unlawfully and maliciously wounded Ralph Gonsalves, a 74-year-old Prime Minister of Old Montrose (Dasent Cottage).
Earlier, scores of police officers assumed positions around the building which houses the two magistrate's courts in Kingstown, as well as the adjoining street.
A 'Free Annamay', protest organised by the activist group 'Rise Hairouna', was slated to take place yesterday, August 9, outside the Kingstown Magistrate's Court (KMC); last weekend a poster with a reminder "United we stand for our freedom" was circulated.
While a group from 'Rise Hairouna' was present, they were only allowed at a distance from the court, as police officers maintained the protective perimeter beyond the George McIntosh Market.
The group said they were there merely to support the defendant and they could be seen waving to the 56-year-old Layou resident.
When Lewis arrived, her daughter and sister waiting outside the courtroom, were overcome with emotion. The daughter, who sat on a seat she had carried and used a cane, cried out several times "My mother is innocent", and said that her mother would not be made a scapegoat.
Tears flowed as she repeated those words insistently.
Her mother has become the focus of intense public scrutiny, as she is accused of injuring the Prime Minister by throwing a projectile at him during a protest outside the House of Assembly compound last Thursday August 5. Videos purporting to show different angles of the violent scene, have been circling on social media to varied reactions.
The police charged Lewis on Friday afternoon, and she was in their custody over the weekend.
She said that she is innocent, and alleges that she was forced to give a statement. Her attorneys Kay Bacchus-Baptiste and Israel Bruce will be the ones presenting her defence.
Inside the courtroom, Lewis pleaded "Not Guilty' to the unlawful and malicious wounding charge.
Unusual for the magistrate's court, the Director of Public Prosecutions (DPP) Sejilla McDowall, appeared for the prosecution.
McDowall indicated that there was no objection to bail for Lewis.
Consequently, Senior Magistrate Rickie Burnett allowed bail in the sum of $3000 with one surety, and adjourned the matter to September 15.
Investigating officer Superintendent Clauston Francis, will be gathering the crown's evidence.
Bacchus-Baptiste made a request for full disclosure to them of the evidence in the matter.
The DPP responded that they would do so, commenting: "that is requisite and we will comply as standard."
The magistrate asked the counsel when they would like disclosure, to which she responded "as soon as possible", because they would like the matter to be heard as soon as possible. "…My client has suffered," Bacchus-Baptiste said.
Disclosure was ordered for August 31.
On gaining freedom, Lewis declared her innocence to the media and embraced her family. When a vehicle arrived for them to leave, she helped her daughter to the car, saying "this is my sick daughter who damage her spine, have to be here for something that I didn't do."
The Rise Hairouna position is that Lewis is innocent and that " It is rather unfortunate that the Prime Minister would have suffered injury as a result of protest action last Thursday but we do believe they have the wrong perpetrator in custody and we will continue to support 'Annie-May' on every court date which she has," spokesperson Nikiesha Williams has indicated.
After the court appearance the group travelled to the main courthouse where they mounted a protest that lasted until midday.
"It was not supposed to be an all day protest, it was not even supposed to be a protest of the masses. It was simply to show our support, 'Rise Hairouna's' team supporting Annamay on this day which could more than likely be considered the toughest day of her history," Williams said.