Posted on
The Learning Page curator puts down her pen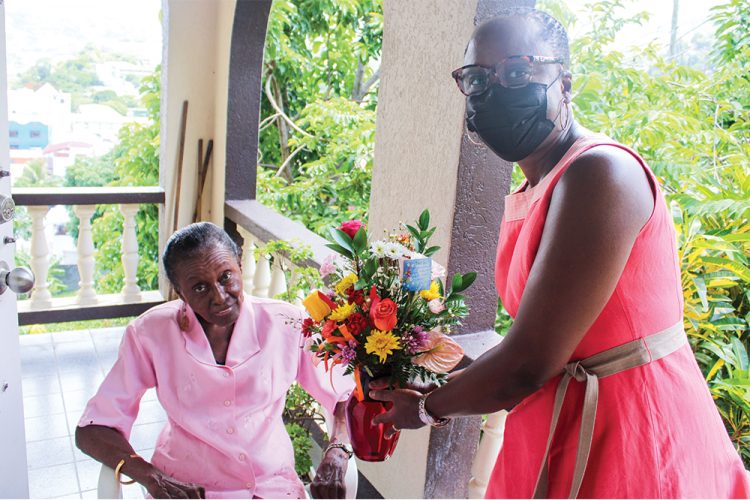 by Bria King
Many Vincentian professionals may know Louise Dick-Toney as their dedicated teacher at primary school or from her service in the St Vincent and the Grenadines Girl Guide Association.
But very few are aware that the educator was the brain cranking out Mathematics, English Language and Science and Social Studies questions featured on SEARCHLIGHT's Learning Page every Friday during the school year, for the past 25 years.
Dick-Toney penned her final questions for the Learning Page last week, having made the decision to end her tenure that began in 1996 due to medical issues.
But she remembers it like yesterday; when she first began writing questions that many students have looked forward to for years and have used as part of their revision for examinations.
"I remember that very well because that year, my brother died, Norris Moby Dick and the funeral, it was a Tuesday at two o'clock and I had to take in the Learning Page…into the office but I had to wait for my sister to take the questions down to the office…and come back so I could lock up the house for us to go to the funeral," the 81-year-old told SEARCHLIGHT this week.
"It was coming on to two o'clock and she was down the road and I understand that the pastor, Pastor Errol Daniel – the funeral was kept at the Streams of Power church in Sion Hill – he was waiting for me to come to start the funeral. He was wondering where I was; where is sister Toney? I didn't come until after a time, and I never told why I didn't come [early] but maybe he will know now, that the reason I was late to the funeral was because I was waiting on my sister, so I could lock up the house…"
Clare Keizer, Chief Executive Officer of Interactive Media Limited, the publishers of SEARCHLIGHT visited Toney this week to present her with a bouquet of flowers and to express words of gratitude for her years of service to the company.
Keizer also revealed that she had the pleasure of being taught by Toney in Junior two (Grade three).
"I really thank you. She was always a wonderful teacher and she was also my Brownie guide leader. She was always a very caring, very gentle, really excellent teacher and I just want to thank you for everything you've done for me personally and for the nation's children and for SEARCHLIGHT. Thank you so very much," the CEO said.
When Dick-Toney began teaching in the 1950s, her first salary was $6 per month. It increased to $26 per month when she became a Grade two teacher.
She has taught at several primary institutions locally including at her alma mater, the Richmond Hill Government School, which is now known as the Thomas Saunders Secondary School; the Dorsetshire Hill Government School, Kingstown Preparatory School and the Windsor Primary School.
The educator also served as headteacher at the Richmond Hill Government School from 1990 to 1995. She officially retired from the Government service in 1995.
Having been a teacher for decades, Dick-Toney has taught quite a number of the professionals both in the private and public sector.
In addition to Keizer, the Town Hill resident lists Joel Providence, the managing director of Coreas Hazells Inc; Chief Magistrate Rechanne Browne; and obstetrician and gynaecologist, Dr Camille Nicholls among her many past students.
The former guider has contributed significantly to the guiding movement in SVG, having first volunteered with the Brownie Pack at the Kingstown Preparatory School, and eventually moving on to become the secretary of the St Vincent and the Grenadines Girl Guides Association (SVGGA) and Commissioner of the Kingstown A District.
Dick-Toney was also instrumental in forming Brownie Packs at several schools, including the Windsor Primary School. She also accompanied girls to various regional and international camps.
She told SEARCHLIGHT that her years spent curating the Learning Page for the weekend edition allowed her to keep abreast of what was happening, which enabled her the opportunity to learn different things and continuously develop her mind.
As her tenure as the woman behind the weekly column comes to an end, Dick-Toney said she will continue to keep abreast of the news.
"I'd like the students to continue trying to do their best to achieve excellence. Whatever they do, they should aim for excellence because in these times, you have to show you are able to excel in order for you to reach somewhere. Continue to study hard and aim for excellence," she said, while pointing to a recent Spelling Bee competition where students performed exceptionally well.
Dick-Toney also had a few words for teachers
"To the teachers, if they want to continue to teach and they like teaching, well they stay and help the children but if not, they should try to find something else. Our children are the future and we want the best for them and our country. Teachers, continue to work hard so our children can excel; they can help their parents and they can help the country to move forward…and be recognised around the world".