Posted on
CPEA students expect good results despite serious challenges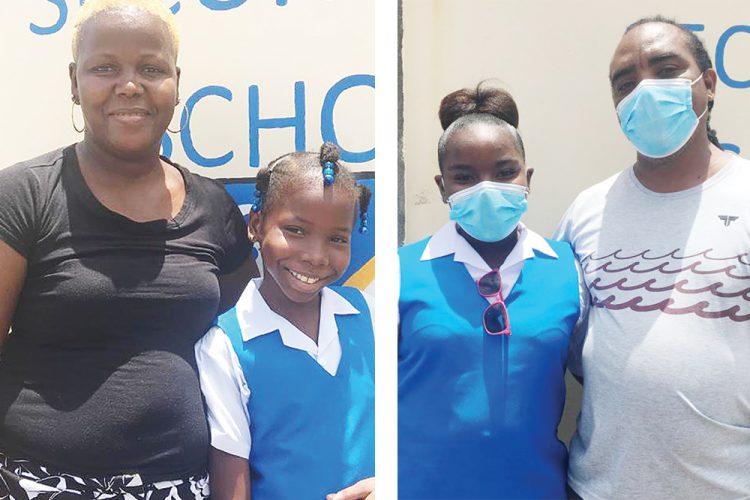 Despite having to overcome the challenges caused by a volcanic eruption and ongoing COVID19 pandemic, a cross section of students who sat the Caribbean Primary Exit Assessment (CPEA) examinations this week, and their parents, are optimistic that they will return stellar grades.
This year, a total of 1895 students – 961 males and 934 females – were registered to sit four multiple choice papers in four areas: Mathematics, Social Studies, Language Arts and Science.
Mathematics and Social Studies exams were administered on Tuesday, July 27 while Language Arts and Science papers were administered on Wednesday, July 28.
Each paper consisted of 50 multiple choice items with a duration of one hour and 15 minutes per paper.
When the final bell rang to signal the end of all exams on Wednesday midday, there was an air of excitement and relief as students exited classrooms.
At the St Martin's Secondary School (SMSS) centre, one of the first students to exit a classroom leapt off the stairs, ran across the school yard and into the arms of her waiting mother for a tight hug.
Other students filed out behind her in a similar fashion, some running, others walking to the crowd of waiting parents just outside the entrance of the school.
Students from the St Mary's Roman Catholic School, Petersville Primary School and Kingstown Government School were tested at the SMSS centre.
"Despite the pandemic and the eruption and stuff, I think they did a good job in preparing because basically, what the school did, they had them coming to school, although they had little hiccups and so on, they had them coming to school," Oxford Ferdinand, one father said of the preparation process at the St Mary's Roman Catholic School.
"They were a little behind in the syllabus but in the last week, they got to complete just about all the subjects, so I would say that despite the challenges, they did well."
Ferdinand added that he also did his best in preparing his daughter, Phoebe Ferdinand for the exams as he was able to access past papers that seemed to have helped, particularly in her Social Studies exam.
"The Social Studies, we did some past papers and one of the past papers I did with her, she said it practically…came back almost the same," he said.
From the feedback he received from Phoebe, Math had some challenging questions, which he said his daughter was able to tackle by finishing the rest of the paper before circling back to complete the challenging questions that required quite a bit of work.
When he spoke with SEARCHLIGHT on Wednesday afternoon, he hadn't yet spoken with his daughter after her final two papers, but he is confident that "she has it" and will do well.
Like Ferdinand, Roslyn Williams- John is also confident that her daughter, Casalyn John will do well in this year's CPEA exam.
The mother expressed steadfast confidence in her daughter, as she stood in the shade on Wednesday afternoon, waiting patiently for Casalyn, a St Mary's RC student to emerge from the classroom.
Williams-John, a Rose Hall resident, had to evacuate her home in April when La Soufriere erupted explosively.
The mother told SEARCHLIGHT that she stayed at a Catholic centre in Layou with several members of her family.
In addition to the volcanic eruption, she said COVID19 also made things difficult as students had to resort to the online modality of learning. "From the time she entered school, she was doing fairly well and she continues to do well so I am just hoping for the best. No stress, no worries. I know she would pass. Whatever school she goes, I'm fine," Williams-John said.
The mother also expressed confidence in all students from St Mary's RC school, saying that the school "is going to do excellent like they always do".
Casalyn was all smiles when she reunited with her mother outside the SMSS gates.
She told SEARCHLIGHT that she found the exams fairly easy except for Math, because she's not always good at the subject.
But the Grade six student is self-assured that she aced the Science and Social Studies papers.
The Rose Hall resident said preparations were a bit stressful and she was worried about how she would do in the exams.
When asked if she was confident that she did well, she gave a resounding "yes", adding that she would like to attend either the St Joseph's Convent Kingstown or Girls' High School.
Other students expressed as well that Mathematics posed some difficulty for them.
Shanecia De Roche, who met up with her cousin, Etonnia Antrobus after coming out of exams on Wednesday, told SEARCHLIGHT that Math "had some tricky questions and it was kind of hard but I think I did good".
The St Mary's RC student said Social Studies was her best subject and like the other students, she is also confident that she has passed the 2021 instalment of the CPEA examinations.
On Tuesday morning, July 27, the first day of the exams Minister of Education Curtis King visited a number of schools in West St. George, Calliaqua, and Georgetown, to see for himself, the conditions under which the students sat the 2021 CPEA examination.
He said the experiences were good for him, for "finally we are realising our potential in terms of producing this exam and having our students at the point