Posted on
CDB approves more funding for SVG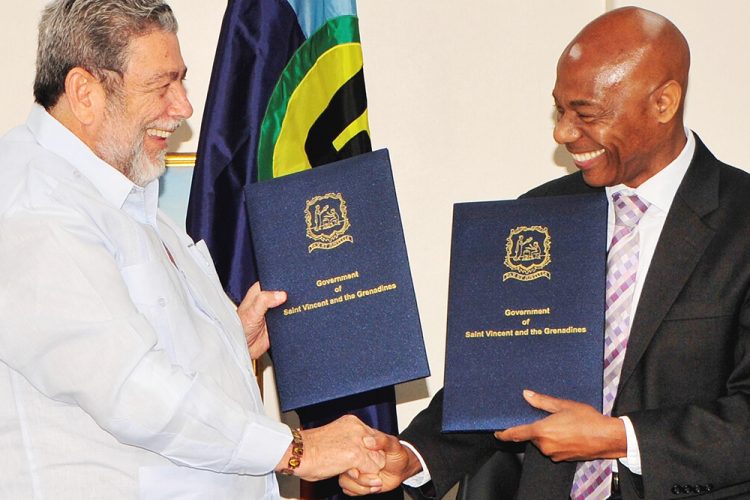 The Caribbean Development Bank (CDB) has approved financing of US$5.3 million for St Vincent and the Grenadines (SVG) in its continued efforts of recovery from the volcanic eruptions of La Soufriere in April 2021.
Dr Gene Leon, the CDB president made the announcement last Friday during a press conference held on his first official visit to SVG since assuming his position at the financial institution earlier this year.
In addition to the US$5.3 million for immediate emergency reaction response, Leon also announced that the CDB has agreed to provide US$300,000 in emergency grant assistance to this country.
"We are committed…to work with the government of St Vincent and the Grenadines with the view to accelerating…disbursements on all existing projects that we have that can help move the reaction, the response …not only the eruption, but also COVID which we have in the background, to help move St Vincent and the Grenadines faster, out of where we are, to a better place as soon as we possibly can," the CDB president said at the Cabinet room press conference.
The Bank will also be accelerating the disbursement of funds for its development projects that are currently being implemented in SVG, including the US142.5 million Port Modernisation Project which the CDB is part financing.
This country also stands to benefit from the 10th cycle of the CDB's Basic Needs Trust Fund, which focuses on improving the livelihoods of people in communities in varying ways; and the US$13.6 million School Improvement Project.
Leon said that while the bank is supporting the country's recovery, it will also bolster its development agenda by financing high priority projects that have transformative value.
Prime Minister Dr Ralph Gonsalves said at the press conference that the CDB has and continues to be a part of projects that contribute to SVG's transformation; the Port Modernisation project being the largest to date.
Gonsalves and Leon officially exchanged signed documents on Friday relating to the US$5.3 million loan for the response to La Soufriere's explosive eruption in April.
"We are partnering with CDB, them with us too, over the whole period of the reconstruction," he said.
The CDB president ended his visit to St Vincent and the Grenadines on Sunday, July 25.