Posted on
Residents anxious to get back home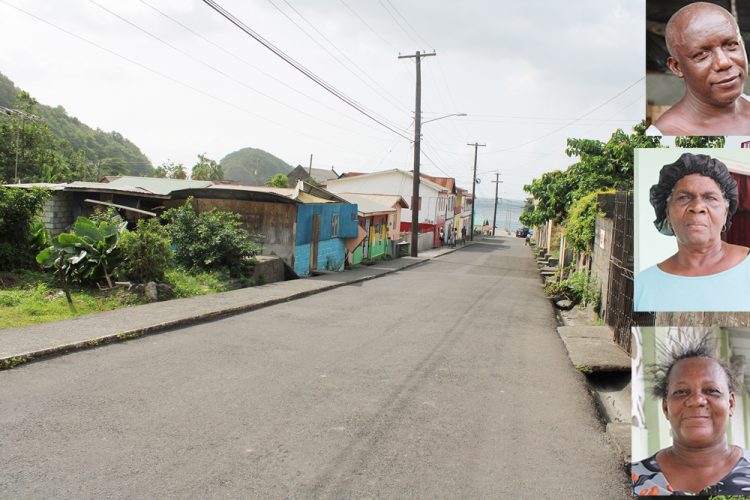 The decision was taken by Cabinet on July 13, that residents of Fitz Hughes and Chateaubelair can officially return home from July 23.
However, residents who left their homes in April to seek refuge from the fury of La Soufiere's explosive eruptions, seem anxious to move out of the shelters they have called home since April 8.
When SEARCHLIGHT visited the North Leeward communities yesterday, there was very little activity in the streets except for the occasional omnibus whizzing by and a truck, dousing the roads with water to keep the dust at bay.
Several piles of ash lined the roads in different areas, waiting to be removed to a holding point.
However, there was much activity at several houses as once evacuated residents busied themselves with cleaning in anticipation of finally returning to their homes on Friday.
Brooms, hoes, shovels, wheelbarrows and power washers were the tools of choice for the residents in these two North Leeward communities as they readied their homes for occupancy.
"No ashes here to bother us. The place very clean and everything," Eugenia Hall, a Fitz Hughes resident said from her porch as she and one of her daughters cleaned their home.
Hall told SEARCHLIGHT that she has been at her house since July 4, doing the necessary cleaning to finally return.
She said she found the roads clean and only had to remove ash from her yard and off the roof.
"I don't think they will have no difficulty to resettle. All they have to do, come, get their yard cleaned, if they haven't cleaned their house as yet, clean it and settle. The place is okay," the Fitz Hughes resident said.
Just a few yards away from Hall's home, other residents could be seen digging into piles of accumulated ash with hoes and shovels on the Fitz Hughes Government School compound, as part of a 10-day cleanup programme being undertaken by BRAGSA.
The timekeeper, Jozel Woods, told SEARCHLIGHT that the group of 10 was responsible for cleaning up the school and surrounding areas.
"We've been going good," she said in relation to the progress at the school.
While residents are only just returning home to clean, Woods said she returned long before the government made the decision for people to return home.
"Long time me dey back in Fitz Hughes…" she said. "Water and all kind of thing…come in my place. Me done call them…" Woods said she has not received any official assistance in relation to the damage at her home, but other community members helped to stop the leaks for the time being.
Like Hall, Woods believes that Fitz Hughes has been sufficiently cleaned up for people to return without many issues to be addressed.
But she said there are still some residents who may be in need of assistance when it comes to food and other belongings that may have been damaged or lost as a result of the volcanic eruptions.
Julie Jordan, one member of the cleanup crew, told SEARCHLIGHT she was at the Stoney Grounds shelter since evacuating in April and only just returned home to clean up.
She is hopeful that persons who need assistance from the government to repair any damage sustained, will be able to receive such assistance in good time.
Chateaubelair resident Clem Matthews evacuated on Friday April 9, the first day that La Soufriere erupted explosively. But, he was back home by Sunday, April 11 and has been 'going and coming' since then.
When SEARCHLIGHT met Matthews yesterday, he was standing on a roof with a power washer, assisting a friend to clean the outside of her home.
"I don't believe the people down this side need much assistance because…we have the trucks that come and clean the roads, people come and distribute cleaning materials, shovels, hoe and barrow and so on…" he said.
Matthews' assessment is that the problem residents will face is with the ash in the bushes and unoccupied places that will become a problem when it rains.
Having picked up farming in his retirement years, Matthews shared that he lost three goats; two of them stolen and one attacked and killed by dogs.
His only concern as residents prepare to move back into their homes, is what he said seems to be the lack of food distribution in Chateaubelair as part of relief efforts.
"They not distributing things in Chateaubelair…food stuff and so on. I don't know if it's because the Prime Minister didn't give the go-ahead for people to come back to Chateaubelair before, but I think people need things to eat…".
He noted that there were a few trucks that went into the community but the distribution was not orderly , and so some people who were in need were not able to receive supplies.
Residents of Fitz Hughes and Chateaubelair will be the second group to receive the green light to return home; following those in the Windward communities below the Rabacca Dry River.
The alert level of the volcano remains at Orange.