Posted on
SVG revels at NACAC championships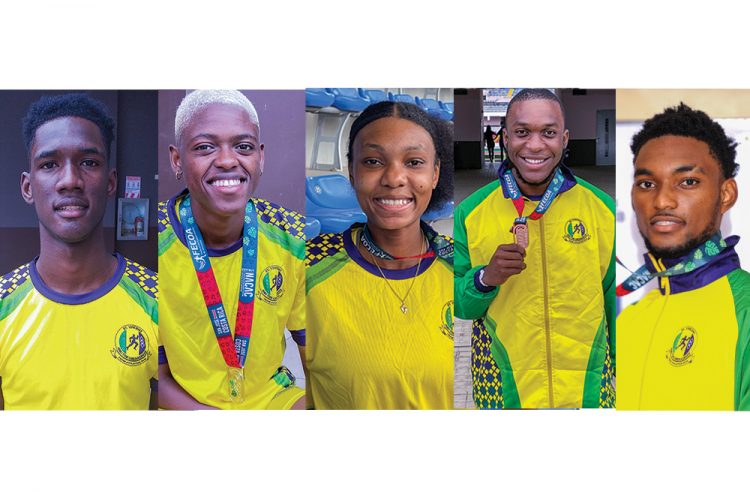 SEVEN MEDALS, compris- ing three gold, three silver and a bronze, and two national Under-20 records, were St Vincent and the Grenadines' highlights at last weekend's North American, Central American and Caribbean Athletic Association (NACAC) Under-18, Under-20 and Under-23 championships.
Staged at the National Stadium in San Jose, Costa Rica, five of the six athletes who represented the country, returned with medals.
Medalling were Handal Roban, Shafiqua Maloney, Uroy Ryan, Mikeisha Welcome and Kyle Lawrence.
Roban pouched a gold and silver in the male Under-20 category. He won the 800m in a new St Vincent and the Grenadines Under-20 record, by clocking 1:49.75. Roban thus eclipsed his own record of 1:49.94.
He added a silver to his collection, when he finished second in the 400m in a time of 48.97 seconds.
Also taking gold and silver was Maloney. Her triumph came in the Under-23 800m, when she timed 2:08.13. Maloney got a silver in the 400m, with a 52.73 clocking.
Another gold medallist was Uroy Ryan, who won the male Under-18 Long Jump. Ryan's jump of 7.40m, not only gave him the first place, but he re-established a new national Under-20 record. The previous best was 7.33m, which Ryan attained earlier this year.
Copping the third silver medal was Mikeisha Welcome, who placed second in the Under-23 women's triple jump. Welcome's best leap that earned her the medal was 13.16m.
And, Kyle Lawrence got the lone bronze in the men's Under-18 100m. Lawrence's time was 10.71 seconds.
The other member of the St Vincent and the Grenadines team was Tamara Woodley, whose 56.76 seconds in the 56.76 seconds, left her out of the medal count in the women's Under-23 400m.
Maloney, Welcome and Woodley are based in the USA, while Roban and Ryan are attending school in Jamaica. Lawrence is attending school here in St Vincent and the Grenadines.
The seven-medal haul, represents the best performance for St Vincent and the Grenadines at a championship of that level.
St Vincent and the Grenadines' gold medal count put them in sixth place, behind Jamaica, Costa Rica, Bahamas, Guatemala and Barbados. Seventeen countries contested the championships.