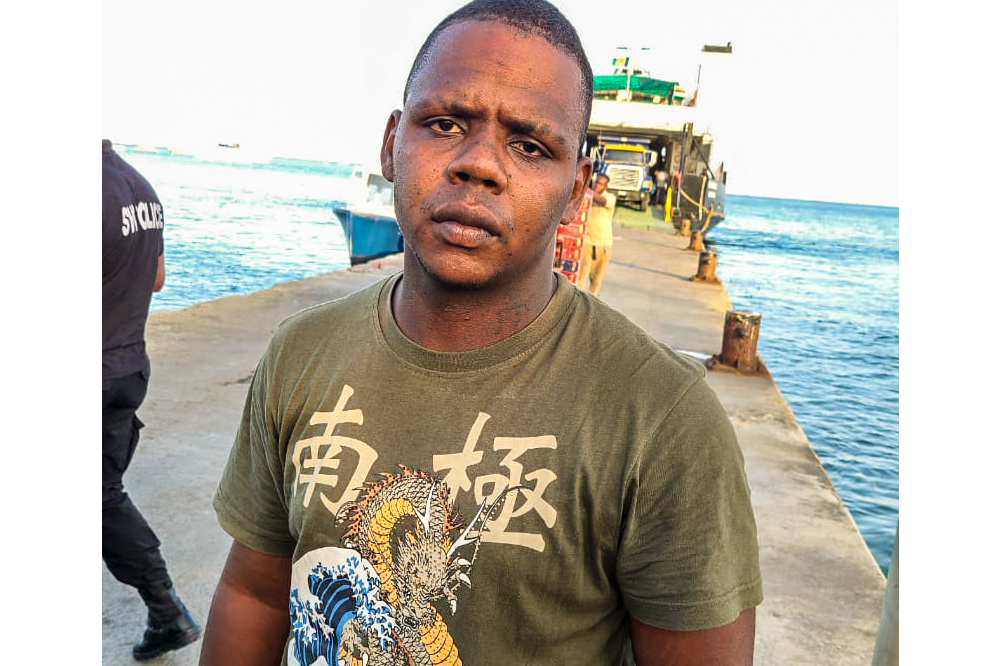 Conman admits guilt, must pay compensation or serve time
A 24-YEAR-old man who posed as an employee of the Roads, Buildings and General Services Authority (BRAGSA) and pretended to make markings to install fans and air conditioning units at schools as cover for stealing from teachers, has finally admitted guilt and been sentenced for his crimes.
The young man first appeared at the Kingstown Magistrate's Court(KMC) in September 2020, charged with multiple counts of theft against teachers. While in two of the incidents of alleged thefts the complainants took a certain course of action, the Edinboro resident still had five charges to answer as at Monday, July 5.
Namely that on September 14, at Sion Hill, he stole $200 the property of Kendra King of Sion Hill; $500 belonging to Carol Douglas of Queen's Drive; and $60 the property of one Nadia Windsor of Fountain. On September 9, at Kingstown, he also stole $300 cash, the property of Katesia Fergus of Sion Hill.
However, for one of the charges he gave a false name to the police, but the defendant insisted that he also goes by those names. The prosecutor Sergeant Cornelius Tittle, chose to withdraw this charge.
All the teachers named in the complaints, and the principal of the Sion Hill Government school Verona Richards, were present in court as was the teacher who was targeted from the School for Children with Special Needs.
The court heard that on September 14, Delplesche made his way to the Sion Hill Government School at around 12:30pm. He introduced himself to the principal, Verona Richards, as 'Kevin Browne', a representative from BRAGSA. He informed her that he was sent to install some ceiling fans and he wanted to mark the spots to place the fans. The principal took him to a particular classroom and the pupils were taken outside to facilitate the work. The impostor went about his business, asking where they wanted the fans to be placed. He made markings and checked electrical sockets, and was left alone at some point to carry out his 'duties'. Later, when the teachers checked, a number of them found that their cash was missing.
At the time of the discovery, Delplesche was still on the compound, and in an attempt to convince the teachers he hadn't stolen, he showed them his wallet. Investigations carried out led to 'Kevin Williams' being arrested in Union Island by Corporal Caesar.
In the September 9 incident, Fergus, from the School for Special Needs was present at the school on the morning when Deplesche appeared and told the auxiliary officer on duty that he is a representative of BRAGSA and was there to install air conditioners. He was taken to the principal, who showed him around, and then handed him over to the secretary. Again it happened that while Delplesche was still on the compound, the discovery was made that a purse was missing. The impostor 'found' the purse in a bin by the bathroom, showed the teacher where it was and she confirmed it was hers. After claiming he was not the one responsible, Deplesche left the compound.
The young defendant, who told the court that he started a job in catering a week earlier admitted that he was never an employee of BRAGSA, but used to go and sell at their building on mornings.
"So that's all that you're thinking about sir? I mean I don't understand this thing. He actually went and pretend as though he's observing the area and putting marks and so on to install. What's the matter with you?" Senior Magistrate Rickie Burnett asked.
Further, his criminal record showed a list of crimes of dishonesty, which began when he was a juvenile.
The magistrate noted that the first offence he committed was theft, and then, at about 17 years, burglary, "…then theft, then burglary – burglarising the office of the Attorney General… theft again…" "…One of the persons from Biabou, one from Queen's Drive, this one is from Cane End, theft again – Kingstown, theft again – Calder Ridge, Harmony Hall, Lowmans, Lauders, Chateaubelair…" Burnett noted.
The defendant insisted that since being attacked and hit in the head in September, he has started seeing life differently.
"I just wanna go and make a difference your honour," he told the magistrate, who pointed out that he has almost consistently been in prison. The defendant said he wants the chance to pay back his victims now because he "never had the chance to go on bail before."
The headteacher of the Sion Hill Government School took the stand, and said that reflecting on the incident realised …I could have been killed…" This is because Delpesche had asked her for a hammer, and after she lent him one, he doubled back to her office asking her if she saw a screw that he dropped. She did not look for the screw, remembering he had dropped one earlier.
" I am thinking that maybe when I was probably bending to look for the screw or something, he would have attacked me, nobody would know… because the office is not very close to the classrooms. So I am giving God thanks and praise for me to use my wisdom not to assist him to look for the screw, because I might have been dead today," she said.
She recalled that when the teacher raised the alarm that her money was missing, she ran immediately to the classroom, "and I met the teacher trembling, almost in tears."
"…the very moment we started asking the children questions, he came up and he took out his wallet, this is what I have in my purse," Richards said. This aroused her suspicions and she stepped out of
the classroom to hint to the other teachers, but as she did so, the defendant also stepped out behind her and went up the corridor. He disappeared as other discoveries were made.
The magistrate said that he imagined that the teachers would want their money from him.
"Yes your honour, teachers really need their money," she replied.
Burnett observed that she made this statement "with a lot of feelings", and she noted, "I know how hard they work, they use every bit of their resources in these professions so.." Teacher Carol Douglas said she doesn't like to think about it, she has been working at the school for 15 years and nothing like that had happened before.
"I had to go and apologise to the parents," she revealed, adding that she would be mad if someone did this to her children.
"I had this little money to go and pay my utility bills," she also noted.
Hearing him speak she didn't think that he could pay her back the $500, even while the defendant insisted he could pay back his victims and change his ways.
"…Every day in this court room, what you are telling me now, they tell me that every day, and they go outside and they come back in…" the magistrate told him.
"The complainants generally want back their money but it means that if I do not order any compensation for them, for them to get back their money, they have to now wait until he gets out of prison and then file a civil claim against him to get back their money," Burnett commented.
On the other hand, "The court has to be mindful and to be careful as well that the defendants cannot be allowed to commit acts of theft and feel that when they are convicted or they enter a guilty plea, the most the court will do is to ask them to pay it back."
The prosecution felt that the crime could be classified as a grievous violation of trust, as he went to a primary school and tricked the teachers there.
"…he did his act really well because he made them really believe that he was sent from BRAGSA," Tittle noted, and "The auxiliary who was on duty at the School for Special Needs, he tricked her too."
He contemplated the likelihood whether any compensation would be able to be paid within a timely manner.
"You do what you have to do, but I done make up my mind that I am not going to get back that $500," Douglas said, "You do what you have to do to teach him a lesson."
However, the teacher Fergus, who also took the stand, commented that they wouldn't get back their money and prison wasn't changing Delplesche.
The magistrate told her "you raised a question that I always have to ask myself every day, but then what do I do with him because clearly prison is not helping him, but what else?"
He also said, "I do agree with Mrs Fergus that prison has not helped and is not helping this defendant but how do we rehabilitate a defendant like him? What else do we have?"
After some consideration, the magistrate came up with a solution.
"I'm going to put you in a position to compensate the complainants, but I'm also going to have a prison sentence hanging over your head as well," he told Delplesche, and that whether he goes to prison depends on him.
He must compensate Fergus $300 by August 31, defaulting which he will spend four months in prison. Douglas must be compensated $500, and King,$200, by August 31, with a default penalty of four months incarceration. The sum of $60 belonging to Windsor must be paid by August 31 or Delplesche will spend two months in prison.
Further there is a 12-month prison sentence for the offences of theft related to Fergus, King and Douglas, which will be suspended for 12 months. For the offence involving Windsor, there is a prison term of six months, suspended for 12 months.
If Delpesche fails to comply with any of these he will have to serve time. If the default is on charge for the September 14 crime, the penalties will run concurrently. However, if he defaults on both the September 9 and 14 incidents of theft, the sentences will run consecutively.
"Once I am alive, it is possible that I may be here for a while still, I do not expect to see Jason Delplesche back in my courtroom on any matter similar to these or any matter at all and you are on that side, standing guilty before me," Burnett concluded.