Posted on
Income support payments to farmers and fisherfolk begin this week
Financial Lifeline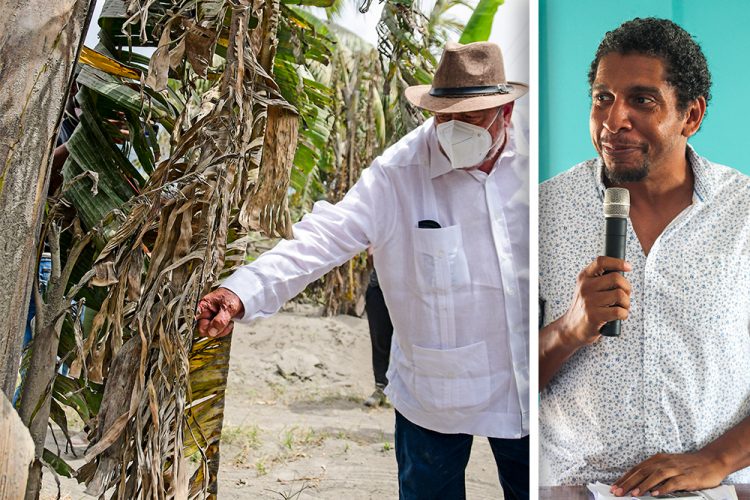 Registered farmers and fisherfolk will from this week begin to receive income support from the government in light of the financial burdens brought on by the eruptions of the Soufriere volcano.  
However, farmers and fishers in the red and orange zones will receive more money than those in other areas.  
This was stated on Sunday by Minister of Finance, Economic Planning and Technology, Camillo Gonsalves on WE FM's' Issue at Hand' live interactive radio program with hosts Cecil Ryan, Philbert John and Lanceford Weekes. 
Gonsalves said that from tomorrow Wednesday 23, some 10,000 farmers and fishers across the country will begin to receive EC$500 each, costing the government EC$5 million.  
"Those who are in the green and yellow zones, they will receive that one-[off] $500 payment and that will be the extent of their income support, and those who are located in the red and orange zones, that would be the first of seven monthly payments of income support," the Finance Minister explained.  
He said that because the payouts are expected to reach 10,000 persons, the Minister of Agriculture, Saboto Caesar and his team at the ministry have tried to simplify the payout by making the money available in alphabetical order, using the surnames of persons. There will also be multiple payment centres.  
Persons with last names A through E will be paid tomorrow Wednesday June 23; F through J will be on Thursday June 24; K through O on Friday 25; P through U will receive payment on Monday 28; and those with surnames beginning V through Z will get their payment on June 29. Those in the Northern and Southern Grenadines will receive payments in Bequia, and Union Island on June 30. 
Persons living between Fancy and the Mt. Young Bridge can collect at the Georgetown Community Centre, while those between Mt Young down to the Belleview River will collect their payment at the Colonaire Learning Resource Centre. Those living in South Central Windward should collect at the San Souci Learning Resource Centre, and persons in South Windward should go to the BRAGSA office in Biabou. Payments in Marriaqua will be made at the La Croix palletization centre, while persons in East St George will be paid at the Calliaqua Town Hall. In West St George payments will be done at the public works yard in Arnos Vale, while all payments for persons in Kingstown will be made at the Peace Memorial Hall.   
Persons living in South Leeward should go to the forestry headquarters in Campden Park, and Central Leeward residents must go to the Barrouallie Anglican School. North Leeward residents from Richmond to Petit Bordel, are asked to go to the Chateaubelair Learning Resource Centre, while persons between Rose Hall and Belle Isle should go to the Rose Bank Community Centre.  
Persons who miss their pay dates will be able to collect their money on Wednesday June 30.  
"It is going to be a large operation. I don't know if we have ever distributed this sort of support in dollar terms to that many people in that short a period of time," Gonsalves said.  
"We are very proud and pleased that we are able to begin this income support as promised in the supplementary budget," he added.  
The Finance Minister is encouraging persons to show up on their date and location, and public servants who are farmers, should check with the Ministry of Agriculture given that they are getting their full salaries and may not be eligible for the payments.  
Gonsalves said the government knows the farming community has been severely affected by the eruptions, but they are unable to make a determination how active of inactive some farmers were, so some persons may slip through the cracks and receive payments when they should not.   
"It is hard for the bureaucrats to sit in their offices and when people show up to ask them when last they planted.
 
"There would be some farmers who are getting support even if they have not been farming," Gonsalves stressed while noting that they have managed to move the list of farmers and fishers from 12,000 down to 10,000. 
"One or two people would be dishonest and collect support, but we believe the overwhelming majority of people are active," Gonsalves said.