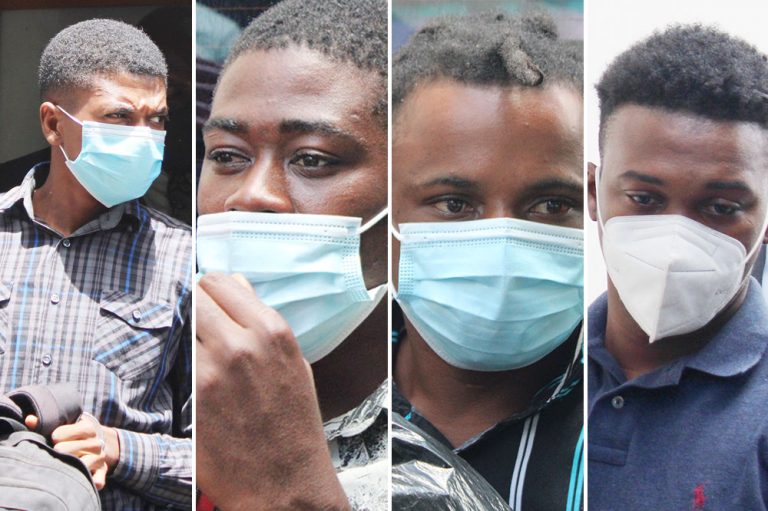 Ex-cop, 3 others charged in stolen guns, bullets case
Four persons who have been charged in connection with missing firearms and ammunition from the armoury at the Georgetown Police Station appeared in court Monday.
Three of them, including a former policeman, were initially denied bail as the Major Crimes Unit (MCU) is still attempting to recover a firearm and a quantity of ammunition.  
First to take the dock at the Serious Offences Court (SOC), yesterday June 21, was recently discharged police officer, Zackrie Latham (formerly PC 1055). Latham was previously stationed at the Georgetown Police Station before he was transferred to Calliaqua, effective June 4, 2021. He was one of 10 members of the Royal St Vincent and the Grenadines Police Force (RSVGPF) who were transferred following the launch of the investigations into the missing weapons. However, it has been confirmed that he now no longer works within the RSVGPF.  
The 25-year-old of New Grounds was followed by Avi King, a 26-year-old labourer of Diamonds, 26-year-old Meshach Dublin of Diamonds, and Myron Samuel, a self-employed man of Layou, aged 28 years.  
Together, these defendants have thus far wracked up a total of 20 charges ranging from illegal possession of firearms and ammunition, selling these without a license to do such, dishonestly obtaining bullets and a gun reasonably thought to have been stolen, burglary of the armoury, corruption, and possession of criminal property.  
 Latham and Samuel, who were represented by attorney Grant Connell, have both maintained their innocence.  
 King has pleaded 'guilty' to all but one charge detailing that he had been in possession of a Glock 22 pistol, serial number LNL155, without a license. Dublin, who was also represented by lawyer Grant Connell, admitted guilt to all the charges laid against him.  
 Prosecutor Sergeant Renrick Cato presented no objection to bail for Samuel, who is charged with receiving a firearm and ammunition he suspected to be dishonestly obtained. Chief Magistrate, Rechanne Browne, granted the Layou resident bail in the sum of $20,000 with one surety. Samuel must report to the Layou police station every Monday, and has been ordered to surrender his travel documents to the court. He will return to court on July 13.   
A friend/colleague signed Samuel's bail and he was free to go home. He left, limping slightly, and leaning on an older woman outside the court, as he has a medical condition.  
 His co-accused were not as fortunate. The prosecution, although accepting the guilty pleas, asked that facts and sentencing be set aside. Cato submitted an objection to bail for Latham, Dublin and King, firstly noting that the offences which saw them taken before the court, were serious and that a quantity of the ammunition had not yet been recovered.
"… There is also one firearm that was not recovered, and we are fearful if granted bail now, to the defendants, that they will hinder or obstruct the investigation, or should I say, efforts that police are making to recover these ammunitions and firearm," Cato told the magistrate.
"This is not 20 rounds of ammunition, this is plenty ammunition still outside. Prosecution is asking for at least two weeks your honour, to complete investigation into these matters," he added.
Connell argued, among other things, that his client Latham was innocent until proven guilty, and, "He is a good young man of good character, exceptional qualities…" Also, "…(investigators) have charges before the court. So to come at this stage and say you have to continue a fishing expedition…which I humbly submit with greatest respect it is, to restrict his freedom; it is not fair."
"…it's not an automatic bar to deny him bail because he is a police, and the allegation is a building that supposed to have the security of a police station," the lawyer submitted at another point.
He said that his client could be sufficiently shackled by attaching conditions to the bail.
Connell also commented, "Not because of the nature of the case and who may be involved and who not pleased – that has nothing to do with what happen in these four walls. Who out, stay out. It's you to make the decision."
And further, "The common denominator in this court is justice. You put everything else above, and divide it by justice…".
However, in considering both sides, the magistrate determined that she would not grant bail, but will have a review on July 1.
Connell asked for full disclosure in the matter, including records at the armoury connected to Georgetown, and station diaries.
Therefore, when the time comes, Latham will fight charges that he, between January 31 and April 1, 2021, at Georgetown, entered the Armoury of the Georgetown Police Station as a trespasser and stole one box containing 50 rounds of .40mm ammunition valued at EC$250, the property of the Government of St Vincent and the Grenadines (SVG).
Between the same dates, he is also charged that he entered the Armoury and stole three boxes of .40mm ammunition valued at EC$750, the property of the Government of SVG.
Latham is also alleged to have, between January 31 and June 17, 2021,
being employed in the Government Service as a member of the RSVGPF, and being charged with the performance of duties by virtue of his employment, corruptly received property for himself on account of an action done by him in discharge of the duties of his office.
The former policeman is accused alongside King, that between June 1 and 4, at Georgetown, they had one M-4 Rifle, Serial Number W877775, a prohibited weapon, without the authorisation of the Minister.
Further, they both face charges that they, between June 1 and 18 at Georgetown, had in their possession three Glock 22 Pistols serial numbers LNL 155, LNL 151, and LNL 144, without a license issued under the Firearms Act.
King is charged singly with, between June 1 and 4, at Georgetown, entering the Georgetown police station as a trespasser with intent to commit an offence, to wit theft. Dublin, as well as King and Latham, allegedly had in their possession, between June 2 and 18, at Diamond, criminal property to wit EC$3,200 in cash.
The trio were also arraigned on a charge that they had 305 rounds of .40mm ammunition on June 17.
Dublin, King and Latham, not being licensed firearm dealers, are accused of selling one Glock 22 pistol, serial number LNL 155, and one magazine with 15 rounds of .40mm ammunition to one 'Pet' of Sion Hill between June 2 and 17, at Sion Hill.
Police investigations also allege that the three men, on June 17, at Kingstown, not being licensed firearm dealers, sold one Glock 22, serial number LNL 144, and one magazine with 15 rounds of .40mm ammunition to Myron Samuel of Layou.
Dublin on June 17, at Diamond, had an M-4 Rifle, serial number W87775, a prohibited weapon in his possession, and between June 2 and 17 at Sion Hill, he had a Glock 22, serial number LNL 155 in his possession without a license.
On June 17, at Kingstown, Dublin had one Glock 22 pistol serial number LNL 144 without a license.
Samuel pleaded not guilty to charges laid against him that he, on June 17, at Layou, knowing or believing one Glock 22 LNL 144 and 15 rounds of .40mm ammunition to be stolen goods, did dishonestly receive it for his own benefit, and that he did have these items in his possession without a license.
When the three men who were remanded left the court, a small group had gathered, who seemed supportive and encouraged them not to hide their faces, that there was no reason to do so.