Posted on
Three missing fishermen alive
Fishermen rescued!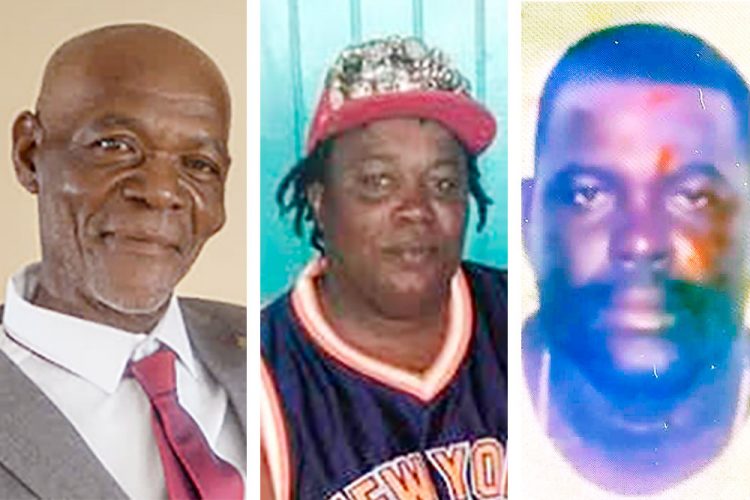 Being missing at sea for 11 days will not deter Edinboro resident Angus 'Pharoah' Webb from going out to make his living as a fisherman – an occupation he has had for the past four decades.
Webb and two other fishermen; Lennox 'Grand Charge' Phillips and Bernard 'Butters' Dublin, had gone missing on June 1. The trio was found alive last Friday, June 11, having been reportedly picked up by a tug boat 190 miles west of St Vincent.
"That not gonna stop me from going to sea. I ain't too long I get my lines and everything, my tools, because I walk with tools too," the fisherman told SEARCHLIGHT yesterday afternoon.
The only thing he will do differently is ensure that he goes out with a boat that is better equipped in the event of an emergency.
"I don't want to go out with no ship wey don't even have a flare gun. Most of the owners of the ships – because I don't own my own ship, I work with people, and I find the owners for the boats, they should equip their boats. Life jackets, flare gun, even a VHF radio. Because these cellular phones, sometimes when you dey all above Balliceaux, you couldn't get no reception…and you know what could happen there…," he said.
Though he still has vivid flashbacks of the difficult experience, Webb said he has already begun healing physically and feeling better in his body.
The men arrived in St Vincent on Saturday and the 54-year-old said they were given drips at the Milton Cato Memorial Hospital because of their dehydration. After some time, he was allowed to go home, and has since been back at his residence at Edinboro.
Webb told SEARCHLIGHT that he and the two other fishermen went out to sea on June 1, travelling up the northern end of mainland St Vincent.
He explained that they were making their way back down when the engine failed.
According to Webb's account, the fishermen were off Fancy point, when they put up the sails and continued their attempts to paddle to shore.
It was during this time he said they saw a speed boat and made their first attempt at getting help.
"Well the man ain't make no attempt to come, but eventually he come. When he come, he watch we. He say 'why alyo aint call Coastguard' and the man just leave. We couldn't even believe the man just leave and go. We dey waving, waving. The man go straight out of sight," the Edinboro resident recounted.
The boat began drifting on the water, getting further and further away from St Vincent.
The fisherman noted that they saw several ships as the waves pulled them away from shore, but he is not sure if the occupants of the vessels saw them.
He speculated that if they did, the people aboard those vessels probably felt that they were pirates and didn't want to take the chance in helping.
But the 54-year-old is sure that God played a major role, not just in keeping them alive at sea, but in them eventually being rescued as well.
"We had to recondition our minds now, nobody there to rescue we, so we have to try to see how we could make life in the condition of how we dey," he said.
The Edinboro resident, who is also known as Pharaoh, said all their water and food was finished, but they managed to catch dolphins, which they corned and ate.
"I skin the fish, the dolphin and kind of fillet it. I leave on a piece of skin on it, and I bore a piece of string to it, and hang it up on the line I run from the spar right back to the engine. If you see that!," he said.
Webb said those fish spoiled, but they were able to catch some old wife. This time, they ate it raw.
The fishermen were already counting how long it would be before they eventually drifted into Venezuelan waters, when Webb said he was sure that he saw a boat, at which point he turned to the captain and said 'da is the boat wey carrying we home ahna'.
It was indeed the boat that would return the men safely back to St Vincent.
"How the water was so bouncy, it wasn't easy to climb up onto it, but we were still praying to God that each and every one of we get up in that boat safe…I get up first, then the other fellow that sick, God put strength in him so that he could get up second on the boat," Webb said.
The captain followed; and they also managed to save the men's fishing boat.
The trio were given food, water, clean clothes and were able to shower after being rescued.
This is not the first time that the 54-year-old has been lost at sea. His children told SEARCHLIGHT in a recent interview that their father had once gone missing some years ago for about three days.
Webb said this experience was worse than his previous encounter. And though he never believed that he wouldn't make it home this time around, he admits to being scared when his captain began to seemingly have a mental breakdown at sea.
Luckily, they were rescued before anything dire happened. But he is sure that a lack of communication devices on board, and other tools such as a flare gun, played a critical role in them not being rescued sooner.
"…It show me how you have to equip yourself to go to sea. It show me how you have to equip yourself serious because sometimes you go to sea, you break down and you don't have no electrical device to call back on land and tell people what's your position. That's one of the greatest problems. We didn't have no cellular phones, nothing," he said.
Webb declared it one of his biggest lessons and vowed to make sure that he was always equipped with items like matches, a lighter or flashlight.
He also told SEARCHLIGHT that he really missed his family, and was very happy to return home and see them.
Karen Richardson, one of Webb's daughters said yesterday that she and the entire family feel very good that he returned safely.
"I mean, I never used to eat, never used to sleep, nothing like that. It just make my heart at rest right now because I used to worry a lot. I had the faith [he would come back]," she said.