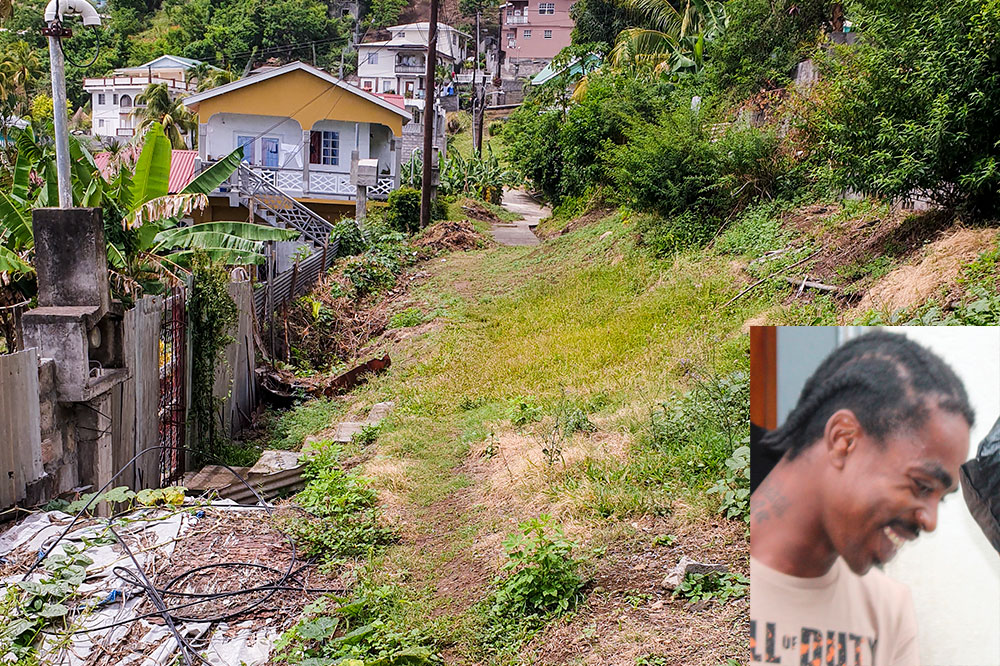 'Parch Nuts' shelled down at Coconut Range
Jemark "Parch Nuts" Jackson is in the news again, this time, as this country's 18th homicide victim.
A resident of Coconut Range, Campden Park where Jackson resided, said that at about 9 p.m., on Friday June 4, he heard about four gunshots ring out and saw Jackson running and bawling "Oh God".
He said Jackson ran to the home he shared with another man where he died.
The neighbor, who preferred not to give his name, said he knew Jackson, as the 29 year old would sometimes ask his wife for food. He said he sometimes heard people say bad things about Jackson, but the now deceased man had never shown a bad side to him.
Jackson is well known to the press and the police. He made national news when back in 2008, he survived a brutal beating at the hands of three policemen who were at the time attached to the Criminal Investigations Department (CID).
The facts are that on November 18, 2008, Jackson was detained at the CID where he was beaten by corporal Kasanki Quow and constables Hadley Ballantyne and Osrick James.
The policemen were charged and after a trial, were told on February 2, 2010 by then Senior Magistrate Donald Browne who was based at the Kingstown Magistrate's Court, that they were guilty of assaulting Jackson, causing him bodily harm.
Quow, Ballantyne and James, were each fined $1,500 to be paid in one month or spend six months in prison.
During the trial, it was revealed that the day after Jackson was beaten, he was taken from the Central Police Station to the Milton Cato Memorial Hospital (MCMH) where he slipped into a coma.
The coma lasted seven days, and it was noted that three of the four doctors who looked at Jackson told the court that Jackson had no external injuries but his heart and lungs were seriously damaged, most likely by the blows he received.
Doctors also said that Jackson could have died if he was not put on a ventilator.
On February 21, 2011 the Eastern Caribbean Court of Appeal dismissed the appeals filed on behalf of the police, and upheld their convictions, but in a strange twist of events, the Commissioner of Police (COP) at the time, Keith Miller, returned the three police officers to their jobs.
On April 3, 2012, just over a year after he won his case, Jackson was sentenced to two years in jail, after pleading guilty to burglarizing a New Montrose residence on February 12, 2011. He was also a suspect in other burglaries and robberies.
Since his release from jail, Jackson, in March 2015, appeared before the court to answer charges of gun and ammunition possession.
About six years after Jackson's beating, he was back in the news again when he, this time, faced attempted murder and robbery charges. He was accused of shooting Regiemus Andrews, a 25-year-old fisherman of Clare Valley, in the chest at Campden Park on February 25, 2016.
He was also charged jointly with Raheion Williams, 21, of Lowmans Leeward, and Renson Roberts, 19, of Clare Valley, with robbery, aggravated burglary, and burglary.
The three were charged that being armed with guns, they robbed Delroy Harry, 21, of Vermont, of a black Blu cellular phone valued at EC$400, and EC$1,003 in cash, the property of Rosette Bennett of Rilland Hill.
They were also charged jointly with robbing Maradona Duncan, a 26-year-old bus conductor of Vermont, of a black and white DL700 cellular phone valued at EC$300, and a gold chain valued at EC$500. The men are reported to have pointed guns at Duncan.
Both robberies were committed on May 12 at Campden Park. The men were additionally charged with robbing Marcia Samuel of Campden Park on June 26; aggravated burglary at the home of Margaret Williams on July 2; and burglarizing a shop belonging to Lawrence Stapleton on July 2.
Also in 2020, Jackson appeared before the court along with Quincy Boyde, a 26 year old laborer of Rilland Hill, and Rimando Andrews, a 29 year old laborer of Clare Valley/ Diamond.
The men were charged for damage to property, attempted burglary, burglary, and handling stolen goods in relation to an incident that occurred between August 8 and 9.
The men allegedly committed the offences at the Triple S Supermarket and the 2-Go Restaurant, businesses attached to the gas station at Peruvian Vale. The stolen items were valued at EC$7070.
The men were denied bail when they appeared in court and it was reported that 21-year-old Keithon James of Campden Park, was shot and killed during the same incident after he fired at police officers.
On Monday, police investigators said the motive surrounding the shooting incident is unknown at the moment. A post-mortem examination will be conducted and persons with information pertaining to this investigation are asked to contact the police.