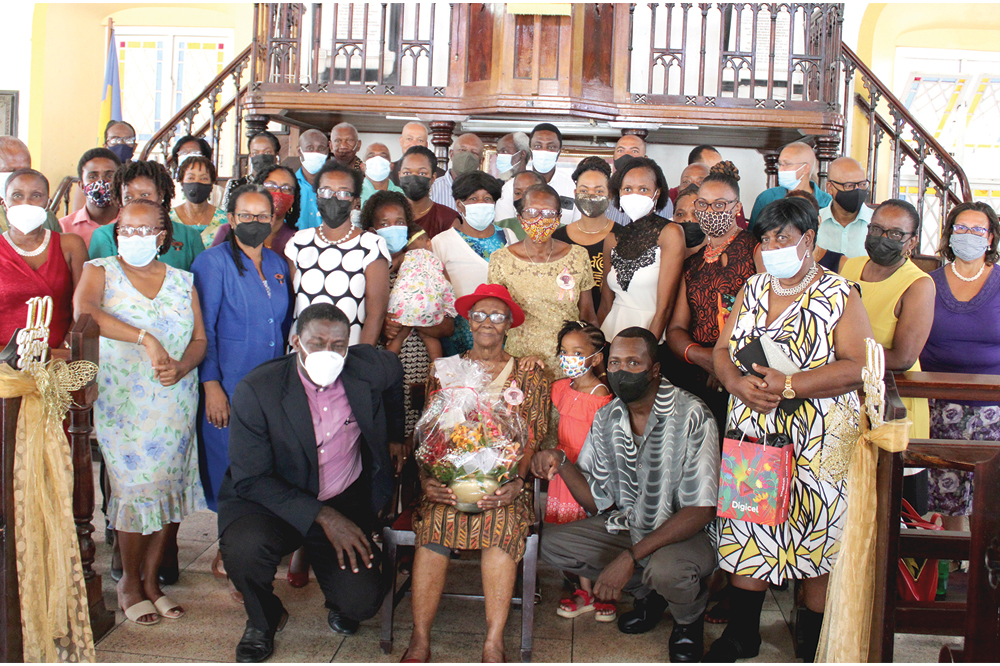 Kingstown Park woman celebrates 100th birthday
Victoria Moses, St Vincent and the Grenadines' newest centenarian believes that the key to reaching the milestone age is for one to take care of themselves.
Moses was born in Chateaubelair to Arthur and Maryann Moses (nee Collis) on June 1, 1921. She was the fifth of 10 children; three brothers and six sisters.
The centenarian, who has outlived all nine of her siblings, celebrated her 100th birthday on Tuesday with a service of thanksgiving at the Kingstown Methodist Church.
"I'm glad to reach to this age and I thank the Lord for sparing me to see so many years. In spite of what is happening, he still carried me through these days. I reach to 100, and 10 children my parents have and my mother and father, they went young too. So, if it goes well, I will be the only one to reach three figures. I reach to this age and all they have to do is take care of themselves, and try and follow in my footsteps to reach to this age," she said in a pre-recorded video that was played at the commemorative event.
In the video presentation played at the church, Moses talked about her time growing up in Chateaubelair in a farming household.
She said as a farmer, her father would plant all kinds of provision, while her mother would plant crops like peas.
In addition to eating what they grew, they would also sell produce to make money.
"We would go in the mountain, help our parents to weed the grass and all things like that. When we go to school, come at evenings, who to wash the dishes wash them and you gone to meet your parents again in the garden," Moses recalled of her childhood.
In times when the family planted corn, the children would often go into the community to sell and "at evening, if any leave, we make fire in the coal pot and roast. We had a stone heap in the yard and we sit down and eat at night, especially if is moonlight night. We all sit down and eat. Sometimes people pass in the road, they call out, we give them and all those things".
Whereas students today have an opportunity to go to secondary school, this was not the case for Moses back in the day.
Following her schooling, her mother sent her to a relative to learn sewing.
The centenarian eventually moved to Kingstown on December 26, 1952 to be with one of her sisters, where she did domestic work- laundry and ironing.
In her 100 years of life, Moses has been able to experience several historic events in St Vincent and the Grenadines (SVG). These include the electrification of the country, which occurred on May 25, 1931. 
In a recent interview with SEARCHLIGHT, she said there was still no electricity for her family in those early day. 
In fact, it was not until she was in her 40's and living on her own that she received electricity. 
She has also witnessed La Soufriere eruptions.
"When I come out and look up, see the red, red thing on the cloud and then little grains, like little grains of sand falling down, and everybody running up and down and watching, I was living down in Level Gardens at them time when Soufriere erupt…" Moses said in a video documenting her 100 years of life.
The video can be viewed on the iMaculate iMagez Facebook page.
She settled in Kingstown Park three decades later, on December 9, 1980, where she continues to live today.
"I achieved many things here more than when I was at home. I will tell you this, up to now, don't matter what, I don't take on thing. No matter how hard that thing might be, I feel it but I don't go down deep to think about it," the centenarian said.
Moses is mother to two daughters, Lorna Horne and Catherine Moses. She has five grandchildren.
In her spare time, she enjoys listening to cricket.
Her granddaughter, Cornelia Moses also told SEARCHLIGHT that prior to losing sight in one of her eyes, she enjoyed reading.
"It's amazing. My grandmother has a very beautiful spirit. She's very content. She is satisfied with what she gets. She's not easily bothered. She doesn't make things worry her and she's always that nurturing type," Cornelia said.
"If you visit her, she always has to find something to give you to eat. She always wants to make sure that you're happy, that you're not hungry. That's the kind of individual she is."
Reverend Adolf Davis was the officiating minister at Tuesday's service of thanksgiving for the centenarian.
Popular calypsonian, Kenneth 'Vibrating Scakes' Alleyne, also paid tribute to Moses in song for her milestone birthday.