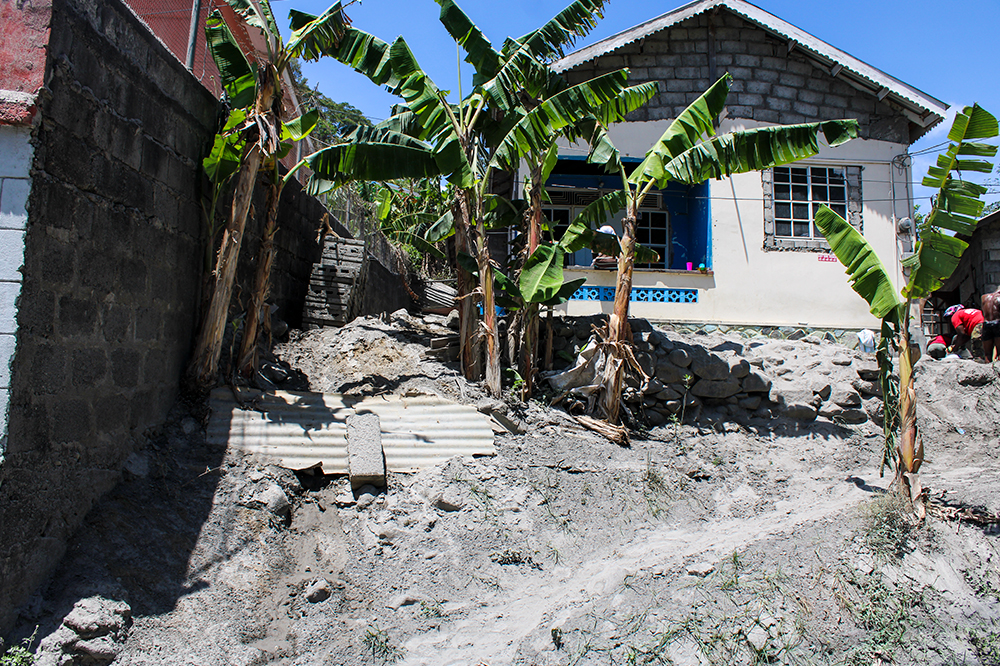 Peto residents daunted by ash
MANY RESIDENTS OF Petit Bordel are said to not be returing there for the long term as they are worried about the health effects, and quality of life because of the level of ash still in the community.
Shop owner of the 'La Casa' Grocery and Bar, Movis Matthews, regularly visits her North Leeward village home where she has been living for 20 years, but still hasn't moved back with her children.
"…My husband has moved back permanently, but because I have kids, I definitely cannot bring the kids in the condition…," she explained to SEARCHLIGHT on Wednesday, May 26.
"…I have three sons, and two of them are asthmatic, so I cannot bring them."
Although La Soufrière remains in a state of unrest, the seismic level of activity remains low, and the last explosive eruption was recorded on April 22. The volcanic alert level was moved down from red to orange, and cleaning was supposed to be underway for residents to return to certain areas.
While the main road to Petit Bordel has been well cleaned, there is still much ash in the trees, the hills, the side roads, abandoned properties, and some piles of ash are still lying around.
"..We're still in the cleaning process because you might clean the bedroom this morning, and by this evening you go back and the bedroom is… the same thing, because when the wind blow and it appears like dust, but it's not dust it's actual ash," revealed Matthews, who is staying at a private home in the green zone.
Their shop had been covered in ash on the inside, and her downstairs snackette flooded with water coming off the road. Some gutters along the side roads are still filled with clumps of ash.
Thirty-two-year-old farmer Delmore Delplesche, sat opposite Matthews in a seating area outside the grocery and bar. He estimated, when asked, that less than a third of Petit Bordel residents had returned.
His child remains in the green zone with their mother.
"…You can't come and live like for say permanent. People could come and clean and do what they haffu do for now. People with kids and elderly people, it go be real
hard for them, people with breathing sinuses, asthma and ting, it go be hard."
"The cleaning process ah go on, but everything nah go happen in ah one day. Even a month…" he concluded, "…It go tek a while."
The main fear of the residents, Matthews said, centres around whether the environment is safe, for the children especially.
"Because when I go home, whenever I am down here…it's hard to be in a mask all the time although it's what you're supposed to do, and your chest it's like it just pain at night-time," she explained.
"I have been drinking more water than usual and then I find myself in the night now, the only thing that would help calm it is tea, you have to make tea in the night. So that in itself just tell you that it's not safe."
Another aspect to living with the ash is the extra care one has to take not to fall. This was the fate of 66-yearold Evadnie Edwards, who returned for some days from the private home where she was staying at in the green
zone, because she wanted to help her family with cleaning.
It was not raining that day, rather "…it's just the dry ash on the ground that slipped her. Because you have to be careful when you're walking with it…" one of her daughters, Veneshia Harry, explained. Their home is to the side of a steep incline, with adjoining tracks still having a lot of ash piled up as at last Wednesday.
"…It's very soft, where you see like the sun hitting it constantly it would be like powder," she said, "… and you have to be like careful how you walking in it."
Tractors had taken up the bulk of the material, but apparently some had remained.
At the time of the fall, on Wednesday, May 19, her mother was carrying dust covered laundry to wash at a relative's house but on her way down, she slipped.
She continued as normal at the time, but as the days went by, it became harder for her to move, and her left foot became swollen. She went to the Accident and Emergency Department the following Saturday, and was bandaged, as their assessment was that it was broken.
The daughter noted that they told the authorities about the incident, and they washed down some of the area because her mother had to go back to the hospital that day (May 26).
Considering whether Petit Bordel was ready for villagers to return to, she said, "No, nope, nope, nope."
Commenting on how much ash was still around, she pointed out you "Clean your fan today, your fan on during the night, and you check it in the morning, you would see the dust. Or you wipe a surface tonight, you go to bed, you wake up in the morning and you just pass your hand and you will see".
"When I just came down, there are times when you wake up in the morning and your throat feel like groggy, like you going
catch a cold or something…"
Harry contemplated that quite a few persons had returned to Petit Bordel but fewer than one third.
Another mother, Sasha Hooper, who returned from the shelter on the Tuesday night, on notice of the authorities, was in the process of a major clean up while ash still covered her yard.
Some persons expressed displeasure saying that they were ousted from the evacuation shelters, but Hooper's position was "You have to come home, ya cyar dey in the school because we as mother we need the school to open for the children to go and get their education, becah the online class not working."
Hooper agreed that the ash is a problem, but said that they wear their mask.
Seventy-eight-year-old Carlos Frederick moved back on May 17, and was surprised by the sight.
"…The ashes all over the place, over the bed everything, everywhere you look," the elderly man stated.
The first night back, "… It was like Alice in Wonderland, I couldn't sleep the night for how the dust coming in… "Life rough. But thank God we alive," he also commented at another point, as he sat in the porch of his house, facing the large piles of ash in his yard.