Posted on
Evacuees skeptical about returning home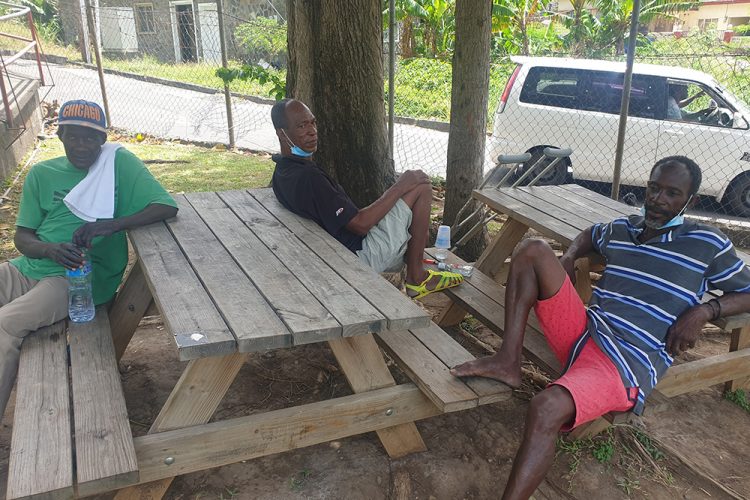 The government has given the all-clear for persons in the Soufriere orange zone up to Petit Bordel on the Leeward side and Mt Young on the Windward side to return home.  
But, this decision is generating mixed feelings among evacuees.
Some have said they cannot wait to return home; while others are saying they feel as if they were being forced out of the emergency shelters to homes that are not yet liveable.  
"Give me a shovel and a wheel barrow," a woman at the Kingstown Preparatory School (KPS) shelter told SEARCHLIGHT said on Thursday.  
She said she recently visited her home at Chateaubelair and the amount of ash in her community is unbearable and needs outside help to clear but she is not sure when or from where that help will come.  
Unwilling to give her name, the North Leeward resident added that she feels unwanted at the shelter and would like to return home, but she does not see how that is possible unless some serious cleanup is done.  
"Every minute them (NEMO) ah interview you. Them asking me the same thing over and over, pushing you to go home without talk; actions speak louder than words," said the woman who complained that several of her animals are missing.  
Prime Minister Dr. Ralph Gonsalves said on NBC radio on Wednesday that persons in communities located in the orange zone, except Fitz Hughes and Chateaubelair, have until Tuesday May 25th to return home. 
It seems there may problems with the information in circulation as another woman at the KPS shelter, who also refused to give her name, said they were told that persons from Georgetown have until this Tuesday to leave the shelters.
 
The order to return home is for people who live in windward communities as far as Mt Young, explained Michelle Forbes, Director of the National Emergency Management Organisation-NEMO.   
The woman who lives at Georgetown, said her home is filled with ash and it would be hard for her to return there without support. 
Mary Forde, who also lives at Georgetown told SEARCHLIGHT that she suffers from a slipped disk, her back and her feet are swollen, and she cannot return to her community unless she will be able to access medical care.  
"It is not to say that I do not want to go back home because your home is your comfort, but I can't go back home knowing that there is no hospital out there in case of anything.  
"I also have sciatic nerve pain, which is when I walk, I have shock and I normally get headaches and the dust is terrible because when I went out there, the place need to clean up," said Forde.  
She added: "we just can't go home and treated like animals, because even if you have your animals, you still sorry for them because when I go home and I see the dogs them on the road and the way how the dogs them looking, it is not nice." 
"We don't mind gong home, but we want to know when we tek sick we know that the hospital is over there so that we can look after ourselves," Forde commented.  
She said there are few vehicles operating in Georgetown at this time and she will not leave the shelter unless the hospital in her area reopens.  
She noted also that the conversation seems to be revolving around the clearing of the school compound,but while the students may need school, some persons have nowhere to go.  
Evidence of miscommunication was found when SEARCHLIGHT visited the Girls' High School (GHS) shelter minutes after leaving the KPS camp. 
Three men at that shelter, Egbert Thomas, Verrol Ince and Conroy Toney, also from Georgetown, said they were not told that residents of their community had to leave the shelter by Tuesday 25, in complete contrast to what the evacuees at the KPS said.  
"Nobody say that as yet, so we can't just leave so," Thomas commented.  
The farmer said he wants to return home, but nobody has told him that his area is safe for return.
 
Ince who is from Chili Village said he wants to return home but he is waiting to hear from the authorities.  
"Me ready, me like my home, me love my home, me like par me live," Toney, a farmer said.  
On Thursday Forbes said the areas between Mt Young on the Windward side, and Petit Bordel on the Leeward side have been cleaned up, and persons are being asked to return to their homes there to do further cleaning.   
"If their house is not damaged they can leave," Forbes said, but noted that NEMO will deal with persons on a case by case basis as some persons will have legitimate reasons why they cannot return home.  
Forbes said in another week or two they may ask other persons from other areas to return home as the cleanup process is ongoing.  
She said there is not enough equipment to give to persons to do their own cleaning but they have been working with the community organisations and can provide equipment on loan to these entities to help with the cleaning.  
"What we have been doing is that BRAGSA has been hiring contractors to clean…," Forbes said, adding that persons have started returning and some are happy to do so.  
In relation to persons who may have problems getting food and other items, Forbes said there are supplies available for these persons.  
"Especially when you are in the shelter, the shelter has already received supplies…so when persons are going back home, they can get some food boxes," Forbes said. She pointed out that there is support up to a certain point and the Ministry of National Mobilisation will be giving out food vouchers.  
Prime Minister Dr. Ralph Gonsalves said on NBC radio on Wednesday that persons in the orange zone, except Fitz Hughes and Chateaubelair in the north west have until Tuesday May 25th to return home. 
He said persons from Fitz Hughes and Chateaubelair will be allowed to remain at the shelters a while longer because of the amount of ash.  
The PM noted that persons at the shelters can go to their homes to clean and return to the shelters until their time comes to leave.  
He said that announcements will be made later about Chateaubelair and Fitz Hughes.  
In relation to communities in the red zone, the PM said that between Mt Young and Rabacca, there is still a little ash in places like Dixon and Valley, so the deadline for these persons to leave the shelters is Tuesday June 1.  
He said that north of the dry river and in places like Richmond, cleaning and the restoration of water and electricity will have to be looked at before people resettlement is considered.