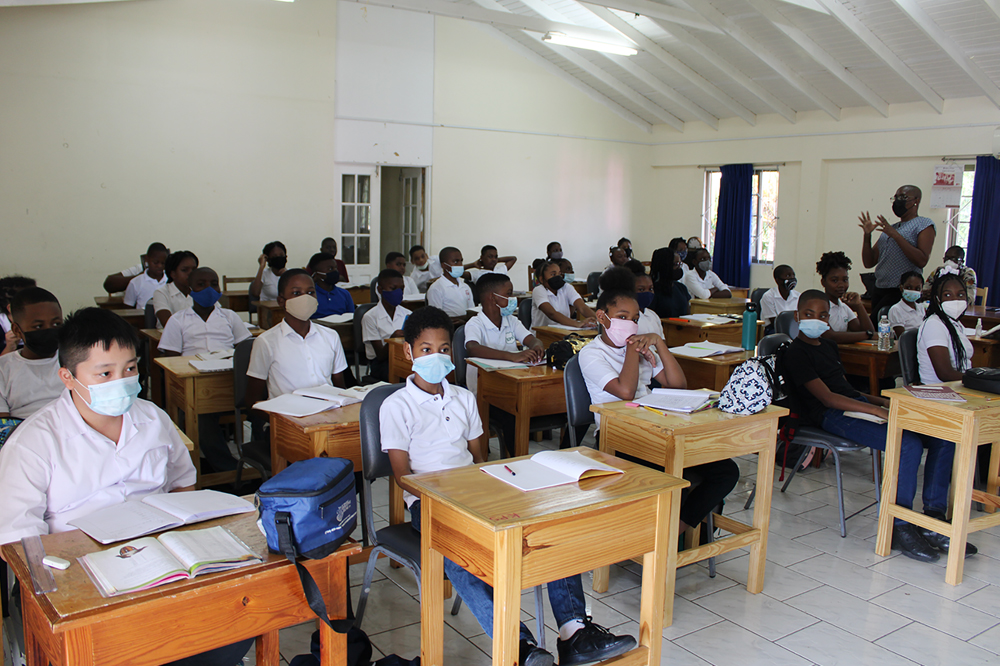 Some students resume face-to-face classes at learning hubs
Face-to-face instruction for students sitting external examinations, (CPEA and CSEC) commenced at various learning hubs yesterday, May 17.
This return to the physical classroom is phase three in the Ministry of Education's phased implementation programme, 'The continuity of learning', being implemented to address present education deficits as a result of the volcanic eruption and COVID19.
Suzette Hoyte-Holder, a teacher at the Kingstown Preparatory School (KPS) has expressed confidence that teachers across the country will be able to get students on track to be successful in the upcoming CXC administered exams.
"Teachers in prep school and throughout St Vincent on a whole at Grade 6 and…Form 5, there is something about this particular set of teachers. If we have to meet a deadline, if we have a task to complete, come what may, even if we have to burn the midnight oil, we get it done," the Language Arts teacher said.
She added that teachers "are accustomed to work hard, we are accustomed to going the extra mile to make sure our children are well prepared because at the end of the day, we want to know they have gone into the exam with as much knowledge as possible…"
For this phased reopening, students from the KPS occupy the learning hub set up at the Girl Guides Headquarters at Level Gardens.
Hoyte-Holder told SEARCHLIGHT yesterday that she thinks students have adjusted well to yesterday's return to a physical classroom, though some appear to be more enthusiastic about seeing friends and teachers and less about the actual school work.
"Some of them would not keep the mask on…it is very hot inside…and we would…have loved to have them spaced out more, but it is difficult to keep up with social distancing. It's really challenging, but we just have to hope for the best," the teacher said.
Schools have been physically closed since the start of the year. Students were scheduled to return to the classroom on April 12 but this plan was foiled by La Soufriere's explosive eruption on April 9.
Curtis King, the Education Minister gave an update on the state of education in SVG at a meeting of Parliament last Tuesday, May 11.
He said "The continuity of learning" programme is designed to return all students to the classroom and the first phase began early this month on May 3.
The first phase, Return to Happiness, offered psychosocial support to students at various shelters, while the second phase, which began on May 10, involved a set of informal teaching/ learning activities for these students as well.
"The final phase which is scheduled to commence by the 25th of May, will involve the return of all students, except those doing external examinations to the virtual classroom, meaning of course, online instruction," King said in Parliament.
He added that schools whose location and population size allow for the safe return to face-to-face instruction will do so.
The Education Minister said the safety of students remains paramount, and so safety protocols outlined by the Ministry of Health will be observed during all face-to-face engagement.
"In preparation for this continuity of learning programme, the Ministry of Education has identified and contacted several owners and operators of building facilities for use as learning hubs," he said.
"These learning hubs will be used to host face to face instruction for primary and secondary school students who are preparing for their 2021 external examinations."
Over 6600 devices are also being distributed to the primary school students between the grades 2, 3 and 4 to facilitate their participation with regards to the virtual classroom.
"The physical reopening of school is critical for the development of our children but in the absence of this kind of engagement, schooling will continue virtually. We do not know how long the volcano will threaten or continue to erupt explosively," King said.
He added that, "what we know is that the longer our schools remain closed to face-to-face instruction, the greater will be the learning loss experienced by our students, hence, the reason why we are working to return all students to this modality of instruction in the shortest possible time".