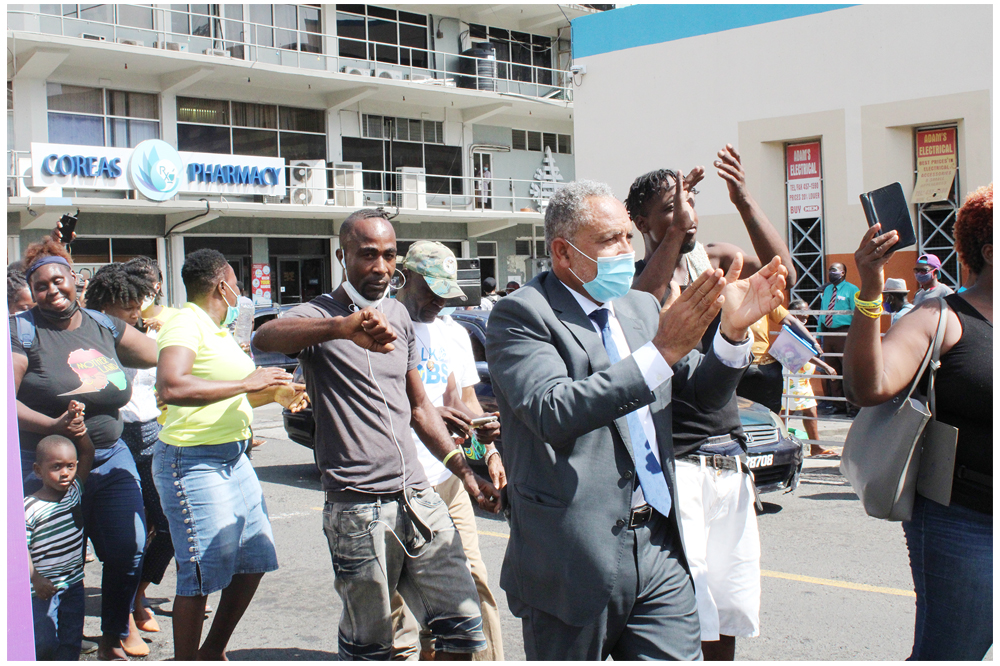 NDP mounts protest against Deputy Speaker
By the time Senator Ashelle Morgan arrived at the House of Assembly on Tuesday morning, more than a dozen people had already gathered on the streets to protest her presence in Parliament amidst allegations of her being involved in a matter ins which a Diamond resident was shot.
Businessman, Cornelius John alleges that the senator on April 13, pointed a firearm at his head and threatened to shoot him in the mouth. He also alleges that during the assault he was shot in the left leg by one of two men who were in Morgan's company.
Allegations have also been levelled at Karim Nelson, the Assistant Director of Public Prosecutions, who has since taken leave from his job to allow for an investigation into the incident.
But Morgan has not stepped down from her post as Government Senator and Deputy Speaker of the House, despite public calls to do so pending the completion of the investigation.
"An ordinary civil servant may commit a crime allegedly and he is asked to step aside for investigation," Joel Poyer, one of the first protesters on the picket line told SEARCHLIGHT on Tuesday morning.
"This is going in a month and we haven't heard anything more than the Prime Minister coming on air and saying we must be silent because [we don't] know anything. Why?" he queried.
The protester, who considers himself a social activist, said there are many instances of injustice in this country.
He also said his stance has nothing to do with politics.
"This is about the law of the land and the law supposed to cover everyone. Everyone is supposed to be equal in the eyes of the law, not some have the law on their side and others don't. There should be…impartiality when it comes to handing out justice but that is not the situation here," Poyer said.
The retired public servant and trade unionist encouraged Vincentians "to get rid of the fear that they have in them and stand up for equal rights and justice once and for all in this country".
Across the street, several other civilians, many not wearing face mask, stood with placards which called for accountability and transparency of the government and for the Senator to step down from her position.
Kerisa Stephenson, whose placard read "gangster government" told SEARCHLIGHT that Vincentians have been settling for less than they deserve for too long.
"I'm tired, I'm tired. I'm fed up with St Vincent and this sort of nonsense…today, we are letting our voices be heard.
We've had enough. Too much injustice and dictatorial leadership in this country. We deserve better and we stand here for better Today, I'm hoping that the Prime Minister and those involved…they listen," she said.
In her opinion, justice will only be executed and carried out properly when Morgan steps aside.
Stephenson added that "we can't have this sort of behaviour in our Parliament. What are we saying to our youths? What are we saying to civilians, what are we saying to Vincentians? It's not good enough. Let justice take its course. We live in a land now that's lawless and we won't have it. I will stand, if nobody else stands with me, I will stand for justice," she said.
While the protest took place outside the House of Assembly, Opposition Leader, Dr Godwin Friday rose in Parliament to protest Morgan's presence in the House and asked that she step down or be made to step down while investigations into the shooting incident took place.
However, the Speaker, Rochelle Forde ruled against the Opposition Leader's request explaining that the rules of the House did not allow for his request to be accommodated, and after he refused to abide by her decision, Forde asked that he withdraw from the House.
By this time, the numbers at the protest outside the House had grown and behaviours escalated as persons became more forceful in their reactions.
Additional police arrived at the House on Tuesday afternoon with shields and teargas cannons to guard the front gates, which they closed, chained and locked.
After some time, Dr.Friday exited the House with other members of the opposition in tow. After speaking with journalists, the opposition leader made his way into the crowd, where he made additional remarks.
Protesters dispersed sometime in the late afternoon, while Parliamentarians on the Government side of the House continued with debate and passed a supplementary bill to address volcano relief efforts.