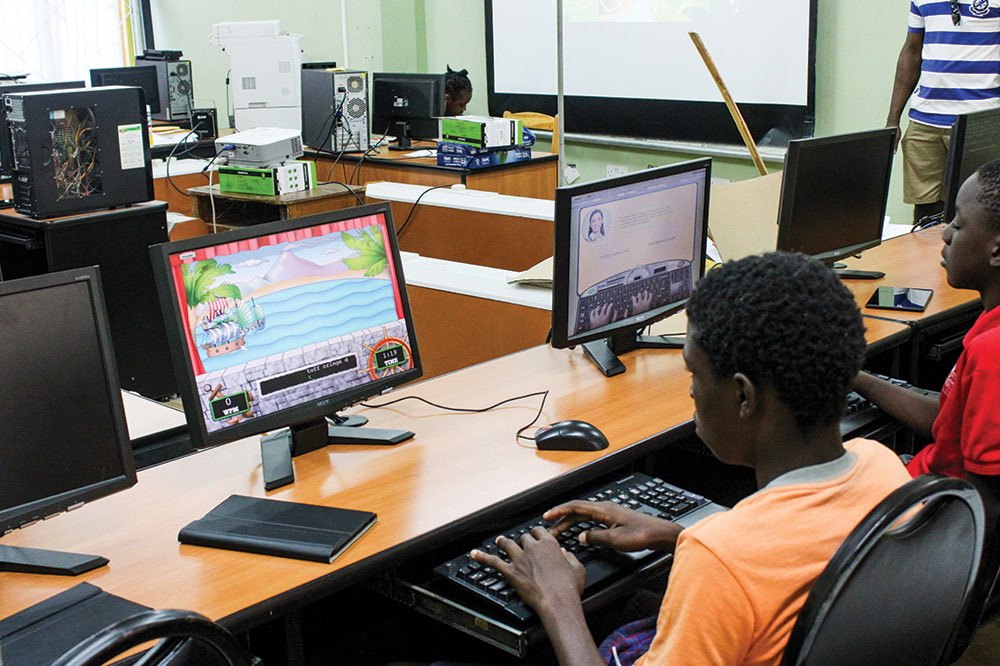 STEM organises IT activities at Buccament shelter
Local organisations have been mobilising to carry out various activities at emergency shelters in the hopes of making the lives of evacuees a little more stress-free and comfortable.
STEM St Vincent and the Grenadines (STEM SVG) is no exception.
The organisation, whose aim is to expose young people to technological and other learning experiences, began implementing science and introductory information technology sessions for the displaced children at the Buccament Bay Secondary School shelter in mid-April.
"I really like the idea of touching base with this cohort of children and as I normally say in the stem programme, they are all intelligent children, they just need that exposure…they are willing to learn, they are interested in learning," Petrus Gumbs, the founder and director of STEM SVG told SEARCHLIGHT this week.
For at least one hour a day, children at the Buccament Bay shelter engage in either simple robotics or IT related activities, and taught simple office procedures like typing and general knowledge of the computer.
The children range from those in fourth and fifth grades to first and second formers.
When SEARCHLIGHT visited the shelter on Tuesday, the children were sitting in the IT lab behind computers and attentively listening as Gumbs educated them on the different kinds of keyboards.
The IT teacher also took the children through a typing lesson using the Mavis Beacon platform, which also allowed for some gamification to take place as a way of injecting fun into the lesson.
"So far, it has been fairly comfortable. I think each of us [has] to do our part seeing that we are in this predicament.
I think I will always play to my strength in terms of helping along the lines of IT…" Gumbs said.
He acknowledged that his activities are not fully academic, but serves as a means of helping the children to take their minds off the current situation and work together and relax in a safe space.
The educator added that "even though they are having fun while they are doing work, I know that when they leave this shelter here, they walk away with more knowledge than when they came in".
In fact, word has spread about Gumbs' work at the Buccament shelter and has attracted children from other shelters in the nearby areas of Dubois, Layou and Barrouallie.
The STEM SVG founder told SEARCHLIGHT that he would not turn them away, especially when it's taken into consideration that children at the shelters, who are mostly from northern communities like Rose Hall, may not have necessarily been able to attend regular STEM activities in Kingstown during the summer months.
Gumbs, who is a teacher at the St Martin's Secondary School, also said he will continue to volunteer his time to the shelters, once it is possible to do so.
"I like doing it, it's different from the regular school time and the students are really looking forward to it. It personally rewards me…to see these children appreciate it in the way they appreciate it," he said.
He is particularly grateful to the shelter managers and principal of the school, who granted permission for the use of the IT lab, and the various other persons who have pledged their support and assistance to the activities.
In addition to Gumbs' STEM activities, other engagement programmes are available for children at the Buccament Bay Secondary School.
Ronen Francis, the shelter manager told SEARCHLIGHT that volunteers who wish to organise activities for adults are also welcomed at the shelter. Interested persons should present a negative COVID19 test before they can start implementing activities.
Other shelters across the island have also been engaging evacuees in such activities as physical education, sewing as well as everyday activities like cooking, which benefit the entire shelter population.