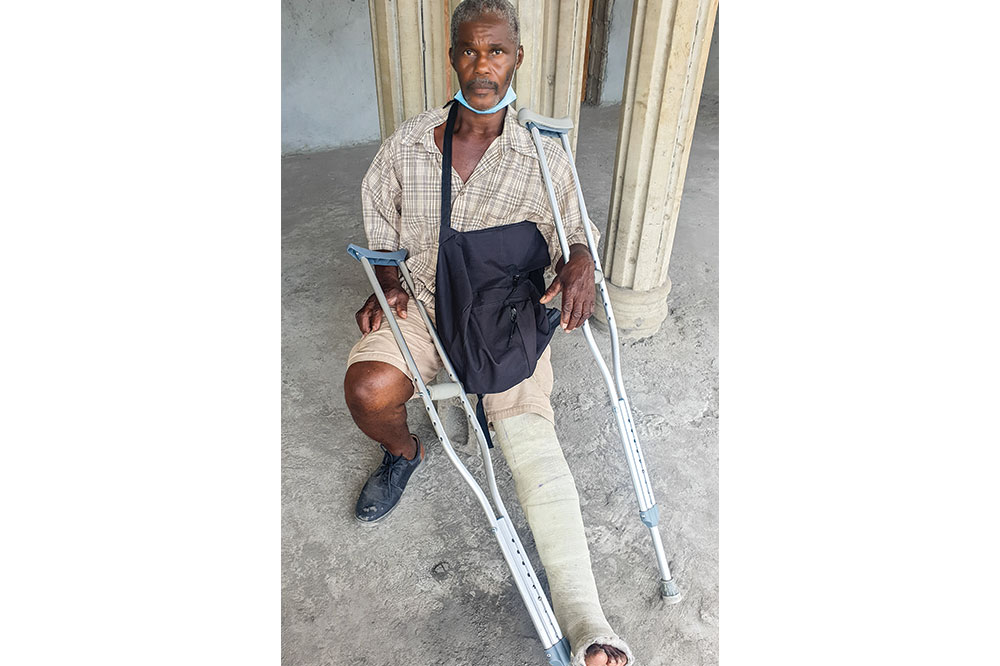 Front Page
April 30, 2021
Man alleges he was threatened with a gun by senator
Cornelius John, a businessman of Diamond claims that he was beaten, shot and threatened during an exchange with two high ranking government officials and is now unable to work.
John told SEARCHLIGHT that the incident took place at his home on Tuesday April 13, 2021 and one of the persons involved was a senator who he alleges pointed a firearm at his head and threatened to shoot him in the mouth.
All this took place, alleges John, in the company of another man, who did nothing to hinder or help with the assault which left him (John), with a broken left leg where he was struck by a bullet.
On Wednesday, while sitting on a block under the canopy of his unfinished house, the exact spot where he claims he was beaten and shot, John told SEARCHLIGHT that he feels violated.
The businessman, who farms and also makes blocks, balusters and pre-cast columns said at about 6:30 pm on the day he was shot, he was at home sitting when three persons entered his yard.
He said two men and a woman headed in the direction of the back of his home and he shouted "hello", after which they turned back, then the woman and one of the men stood a little distance from him, where he could see them, while the other man stood behind him.
He said the taller of the two men addressed him as "Mister John" to which he replied: "Good afternoon sir," after which the man asked: "You want to kill the senator, you want to kill the senator?"
John said he asked the man "What you talking about, what you talking about?" and also commented, "Leave my family alone.
I am an old man, I need my wife to support me in my business. Why you trying to mash up my family?"
He said he did not address his comment to anyone in particular, as the person to whom he was referring knew what he was speaking about.
He claims that as soon as he finished speaking, "The guy run off from where he was out dey, about 12 feet from me, and kick me off of this blocks.
"Kick me on the ground, as I fell over that side. Then he kick me on the right side, then he began to stomp on me, stomp in my belly and kick me all over the floor, kick me and stomp me, 'til I reach up to the corner there close to the window," John said while pointing to the spot that the kicks sent him to.
He said the shorter guy commented, "You don't have to do all of that, it don't call for all of that, you don't have to do all of that."
John said after that, "the tall guy" who was stomping and kicking him, pulled out a gun from his waist and charged it, while the other guy was still saying, "Man you don't have to do all of that."
John said he held on to one leg of the man who was speaking and commented, "Leave him let he kill me. I am a living dead already, leave him let he kill me," after which "the tall guy who was raging and kicking and stomping me, pulled my foot straight, … and shoot me in my foot, shoot me in my left leg right below my knee here so." He noted that at this point, the shorter of the two men kissed his teeth, walked out the yard and went up the road.
John alleges that after the shorter man left and he was lying on his back, "the senator come around, … and she point a gun in my face and say if I call her f-ing name she will shoot me in my mouth."
"And then after they see the other guy leave, they leave me on the ground there bleeding and run go up the road," John said.
He said he has no idea what caused the attack as he has never had any altercations with the individuals.
He says he knows the senator because she and his wife are friends.
"My wife was going around with her say she going to visit shelter. I say 'Nicole, I want you to assist me in my business, you is my wife and I am an old man. I need you to assist me' but she fail to respect me and obey what I said, so she go her own way," John told SEARCHLIGHT.
He said although he and his wife live in separate houses, approximately 100 feet apart, she sometimes comes to his home and does things for him.
"Write a bill, sometimes she sleeps with me certain times, till about 2'o clock she might get up and say, 'I gwine home, I ain't sleeping out whole night' and she will get up and go back over where she live.
"…And so we communicate, we work together, we do business together," John explained while noting that he still maintains his family which also includes their three children — one girl and two boys, all of whom are dependent on him for an income.
"Willful shooting for no reason, no reason at all they have shoot me.
"I feel miserable because I am the only bread winner in my family…if I don't implement ways and means to get things doing, organize the business, nothing doing, we is actually at a standstill, we have no employment," John stressed.
He added that he has an unfinished house to complete, as well as a loan to pay off for a block making machine and a piece of land be bought for his son, but because of the bullet wound he cannot work.
"I handicap…right now I can't work and get money to pay the bank.
"These people just come up in my place and shoot me for no reason at all. Me and them had nothing, absolutely nothing. No conversation, no quarrel, no cussing, no nothing at all we had," the injured man said while adding that when he was being kicked and stomped on, his wife was on her porch "bawling 'hey, hahaha, hey, celebrating'."
He said he is not sure what his wife may have said to his attackers to encourage the attack but it seems as if she was "over there celebrating when they over here killing me."
John noted that his wife has not checked up on him since the incident. He claims that he and his wife did not have a disagreement prior to the attack, but he did tell her that he needed assistance with the business and he was angry when he told her so.
"But we had no dispute. It was going good. Even in the morning before I left to go work, me and she was at the gate speaking," John said.
He said while he was speaking to his wife that morning of April 13, "the lady" came and he even alerted his wife to her presence and told her she should be back by at least 1 pm that day to help him.
"We had no dispute. We were going fine but this lady just want to come and wedge herself between the relationship and bring destruction so I was annoyed about it. That's the story," John said while adding that he is planning to take his attackers to court.
"I need compensation for my damages because I have a business. I lose business every day. I make at least 800 blocks per day at $3 per block, that's $2400 a day.
"I have workers that I employ. The workers out of a job right now. I out of an income, and my bills going up, nobody to support.
"They have to compensate me. I looking for compensation and I looking for criminal charges for who all involve in this matter," John stated.
He said it is being said by some that his attackers acted in self-defence but to him that makes no sense as they came on his property.
"Could they come in a man house, in his own property, attack the man and say they acting in self-defence?
"I didn't invite them in my property… How could they act in self-defence when they come … on my property? Almost inside my house.
"So if I am not safe in my own home? Where can I be safe?"
John said he took his medical certificate, detailing his injuries, to the police on Monday, April 26.
"That is when they take a statement…they came in the hospital one time and ask me what happen and say they will come back to take a statement but they didn't get back to me," John said of police investigators.
John alleges that the female involved is Senator Ashelle Morgan, deputy Speaker of the House of Assembly.
When SEARCHLIGHT reached out to her on Wednesday she said she did not wish to comment on the issue as she had given a statement to the police and investigations are ongoing.
"Thank you for the courtesy of attempting to verify the facts of this story," Morgan said via WhatsApp.
It is alleged that Assistant Director of Public Prosecutions Karim Nelson is involved in the incident and has taken leave from his job to allow for an investigation into the incident.
He could not be reached for comment up to the time of publication of this article.
Yesterday, Thursday April 29, Commissioner of Police (COP) Collin John confirmed that Nelson is on leave and also confirmed that the matter is under investigation and involves Nelson, Morgan, John and another man.
COP John noted also that the incident has taken on the form of cross complaints in that the parties involved (Nelson, John and Morgan) have all reported that they were violated in some form or the other during the incident.