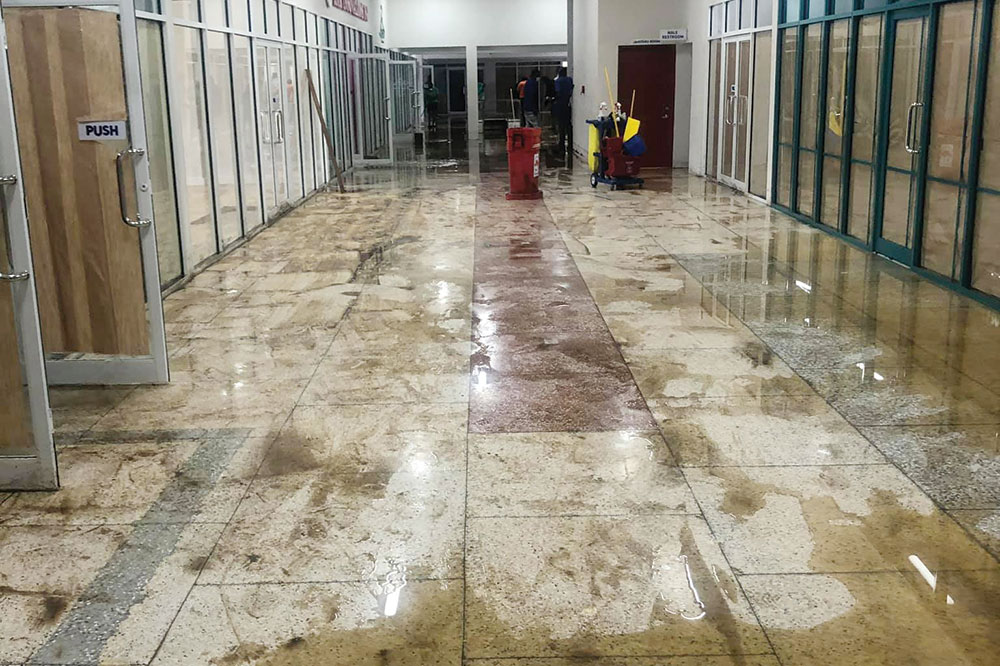 Front Page
April 30, 2021
Joshua Centre flooded
Flood waters, unexpected in April, created an issue at the Joshua Centre on Thursday, but did little in relation to infrastructure or property damage.
And, Hans King, general manager of National Properties Limited which overseas the Centre, located at the decommissioned ET Joshua Airport at Arnos Vale, said that there are already several things in place to stop future flooding and other flood mitigation plans are in the pipeline.
Unstable conditions, enhanced by a favourable upper-level atmosphere dumped rain on much of the region including St. Vincent and the Grenadines (SVG).
King reminded SEARCHLIGHT that the area around the decommissioned ET Joshua Airport has a history of flooding and they are aware of that, and as a result, have certain mitigation measures in place.
He however noted that unfortunately some of the things that should have already been done were not done, but rain of this magnitude were not expected until June.
"April has given us another surprise. We had this before where we had April floods and that is exactly what happened this morning," King said, noting that none of the stores at the facility was damaged except for minor issues created by water.
He said the proprietor of one boutique said some shoes that were on the ground got wet but other than that, there was no significant damage, and the Patriot Company Ltd, a cleaning entity operated by Noel Jackson, had things back to normal in a few hours.
He said the flooding has seen sandbags placed at the facility but he is of the opinion that the opening of one of the doors at the centre is what led to water getting into the main corridor of the facility.
"But no stores were damaged," King stressed. He added that storm shutters will be installed next week ahead of the rainy season, while the drains and rivers in the area will be cleaned.
"There are long term drainage issues that will be addressed nearby, and this has been discussed for a very long time," King said, noting that the tenants have not spoken about abandoning the facility.
Chief Executive Officer (CEO) of Coreas Hazells Joel Providence, the operators of Ace 2 which is located at the Joshua Centre, said there were hardly any issues at the store, and they were able to open within 45 minutes of their regular opening time.
"We were anticipating such things and the design of Ace 2 allowed us to avoid flooding, and we were good to go," Providence said.
"I would like to think that there is no location in St. Vincent right now that is better than this one for the present and for the future.
"I would like to see persons patronise the shops in this location. It is a great initiative and I am very confident that it will succeed," Providence said.
He noted that at a national level, there is work to be done to resolve the overall flooding issue in the Arnos Vale area as well as traffic.